Gazpacho
Cookbook
Published by Houghton Mifflin Harcourt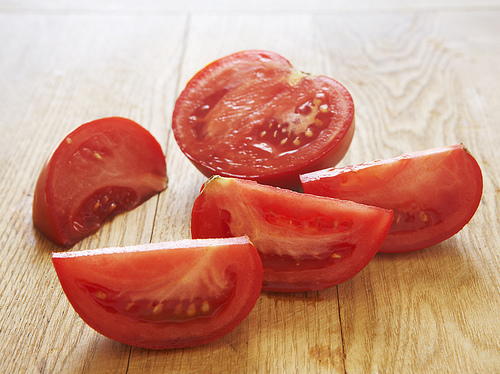 This image courtesy of Joseph DeLeo
Editor's Note: When life hands you tomatoes, make...gazpacho! This easy gazpacho recipe is just what you need to make a dent in the abundance of tomatoes from your backyard or farmers market. This delightful gazpacho recipe can be served at your next cookout or when dining al fresco with the neighbors. The chilled soup recipe has some heat and spice, making it a welcome addition to almost any meal you have planned this summer. Although you can serve this gazpacho as an appetizer, you can also serve it as a light dinner. The recipe's author has also shared variations on the recipe so you can make it just the way you like it.

I always think of gazpacho as a wonderful vegetable salad with all the ingredients so finely chopped that you can drink it instead of eating it. It's also one of those soups that people never completely agree on; some insist on including bread, others vinegar, still others yogurt, or cream. I don't think any of this is terribly important; I just throw in ingredients, tasting as I go along, guided by my own whims and what's sitting in the refrigerator.

But with due respect to spontaneity, a few guidelines are helpful. I'm sorry to report that gazpacho is always better when the ingredients are chopped by hand. If you really must use a food processor, at least process the ingredients separately so they have slightly different sizes and textures. The easiest and least appealing method for making gazpacho is just to put everything in the blender. The action of the blender turns the tomatoes an unappetizing shade of pink, and the other vegetables are reduced to a puree. You may wish you'd just made a Bloody Mary instead.

Most gazpacho in the United States is served with all the ingredients already mixed into the soup, but you can also serve it Spanish-style with some of the chopped ingredients — onions, cucumbers, peppers — held back and passed at the table for guests to help themselves.

If you want to make gazpacho in advance, add all the ingredients except the ice cubes. Gazpacho will keep in the refrigerator for several days.
Makes8 servings

Occasional Fresco, Buffet, Buffet Meal, Casual Dinner Party, Cocktail Party, Family Get Together
Recipe CourseCold Appetizer
Dietary ConsiderationVegetarian
EquipmentMortar And Pestle
Taste and TextureGarlicky, Herby, Savory, Spiced, Tangy
Ingredients
Gazpacho
8 large or 12 medium-size tomatoes, peeled, seeded, and chopped
3 garlic cloves, peeled
2 large onions, preferably Bermuda, Maui, or Vidalia, finely chopped
2 regular or 1 hothouse cucumber, peeled, seeded, and finely chopped
2 bell peppers, preferably yellow or green, seeded and finely chopped
2 jalapeño chilies, seeded and very finely chopped
Juice of 3 lemons or limes or 3 tablespoons sherry vinegar
Cayenne pepper (optional)
Salt
Pepper
1 cup small ice cubes
Small croutons (see below)
Croutons
4 slices of white bread
½ cup of unsalted butter or ½ cup extra virgin olive oil
Tabasco sauce
Instructions
To Make the Gazpacho
Crush the garlic to a paste in a mortar and pestle or by chopping it and crushing it on a cutting board with the side of a chef's knife. Stir the garlic paste into the chopped tomatoes in a mixing bowl.

Prepare the remaining vegetables and stir them into the tomato mixture or reserve some of the vegetables to pass at the table. Stir in the lemon juice, a pinch of cayenne if you want the soup hotter, season with salt and pepper, and add the ice cubes. If the soup is too thick, thin it with a little water.

Ladle the finished soup into bowls and sprinkle a few croutons on each serving. I like to leave the Tabasco bottle on the table for people who want extra spice.
To Make the Small Croutons (about 8 servings)
Cut 4 slices of white bread into ½-inch cubes. 

Melt a stick (½ cup) of unsalted butter or ½ cup extra virgin olive oil in a wide sauté pan over medium heat. 

Toss the bread cubes in the butter until crispy and golden brown. Drain the croutons on paper towels.
Suggestions and Variations
If you make gazpacho regularly, you'll probably start altering the proportions to suit your own taste. Some people like their gazpacho burning hot and full of garlic, while others prefer tamer versions.

Fresh herbs are also good for giving the soup an individual character. Chopped fresh marjoram is both common and delicious. Even though it's more Mexican than Spanish, I often add freshly chopped cilantro. Another Mexican touch is to add some cooked, pureed, and strained tomatillos to the tomato base and to pass a bowl of sour cream at the table.

Many cooks like to add extra virgin olive oil—about a tablespoon per bowl—for an extra note of flavor before serving. You can also stir in 2 cups yogurt or heavy cream for a richer, almost wintry variation. Gazpacho can be converted into a wonderful saladlike soup by tossing it with large cubes of toasted French bread that have been brushed lightly with olive oil.
2001 James Peterson
YOUR RECENTLY VIEWED RECIPES
Free recipes, giveaways, exclusive partner offers, and more straight to your inbox!