Three Sisters Chili
Cookbook
Published by St. Martin's Griffin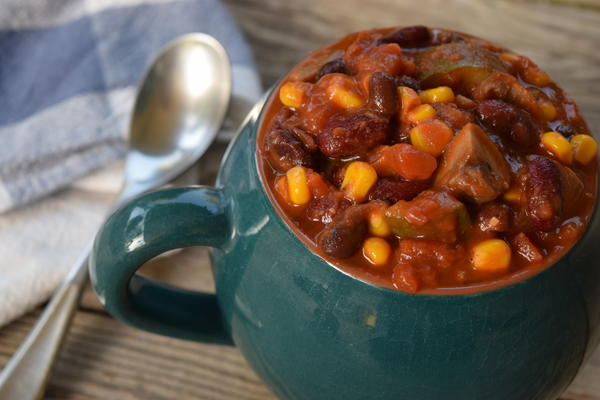 This recipe was inspired by the brilliant crop-growing strategy of Native Americans who planted beans, corn, and squash together because they were so beneficial to one another. The corn provides the structure for the beans to grow (no need for poles), the beans provide nitrogen for the soil, and the big squash leaves create shade, which helps prevent weeds from growing. Harmony and cooperation in the garden: I love it!
Serves4 to 6

Ingredients
2 tablespoons oil
1 onion, chopped
1 teaspoon crushed or chopped fresh garlic
2 medium to large zucchinis, sliced and quartered (2 to 3 cups)
1 cup chopped mushrooms (5 or 6 mushrooms)
1 teaspoon sea salt
1⁄2 teaspoon freshly ground black pepper
1 teaspoon ground cumin
1 teaspoon cayenne pepper
One 15-ounce can kidney beans
One 15-ounce can black beans
One 15-ounce can corn kernels
One 15-ounce can tomato sauce
One 15-ounce can diced tomatoes
1⁄2 cup water
Instructions
Lightly film the bottom of a large pot with oil. Add the onion and sauté on low to medium heat until the onion becomes slightly translucent and golden brown on the edges. Add the garlic and cook until fragrant.

Add the chopped zuchinni and mushrooms. Season with the salt, black pepper, cumin, and cayenne. (If you like your chili extra mild, start with a smaller amount of cayenne and work your way up. One teaspoon of cayenne will give this chili "medium" heat. At least to my taste buds!)

Add all of the canned ingredients. Stir in the water and simmer on low heat for 45 minutes to 1 hour, stirring every 10 minutes or as needed to make sure nothing sticks to the bottom of pot.

Taste to see if it's as spicy as you like your chili—if not, adjust as needed. Enjoy!
YOUR RECENTLY VIEWED RECIPES
Free recipes, giveaways, exclusive partner offers, and more straight to your inbox!