Tyler Florence's Fried Chicken
This chef-approved buttermilk fried chicken recipe uses herbs to flavor the frying oil.
Updated November 28, 2022
Cookbook
Published by Clarkson Potter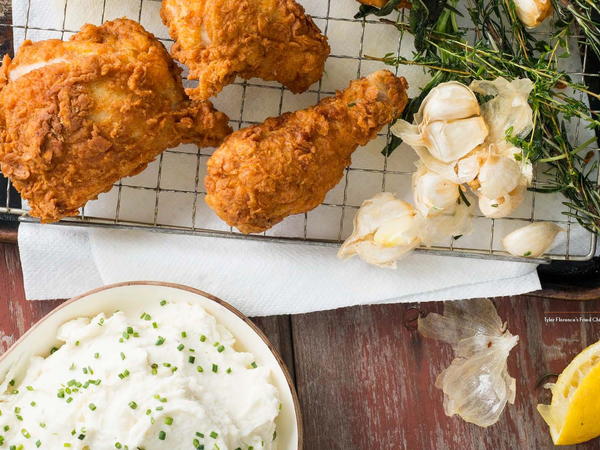 Tyler Florences Fried Chicken
This image courtesy of Evan Sung
Editor's Note: If you can't get to the South for traditional fried chicken, then bring a bit of the South to your dinner table with Tyler Florence's Fried Chicken recipe. Crispy, crunchy, and using a medley of lemons and herbs, this is one fried chicken recipe you will want to make again and again. This recipe includes a multi-step process and includes brining the chicken prior to frying it, so plan ahead when making this quintessential Southern dish! You will definitely wow the crowd at your next potluck with this recipe up your sleeves. 

I love nothing more than a simple, delicious, down-to-earth meal, and virtually all of Tyler Florence's food fits the bill...especially his fried chicken, which will always have a place at the top of my list. He may now live on the West Coast, but one bite of his chicken reminds you that his heart still resides in his hometown of Greenville, South Carolina. As part of a dinner he hosted at the 2012 Food Network New York City Wine & Food Festival, he served this dish, which brings together many of the best elements of the genre: brining, buttermilk batter, and double-dip in a heavily seasoned dredge. But what takes it over the edge is the oil he perfumes with fresh herbs and garlic — and the squeeze of fresh lemon — which infuses every bite with an extra layer of flavor.
Serves4
Occasional Fresco, Buffet, Buffet Meal, Card Night, Casual Dinner Party, Family Get Together, Game Day
MealBrunch, Dinner, Lunch
Ingredients
1 whole chicken, cut into 10 pieces
3 tablespoons kosher salt, plus more to taste
3 cups all-purpose flour
2 tablespoons garlic powder
2 tablespoons onion powder
2 tablespoons paprika
2 teaspoons cayenne pepper
Freshly ground black pepper to taste
4 cups buttermilk
2 tablespoons hot sauce, preferably Crystal or Tabasco
Peanut oil, for frying
¼ bunch fresh thyme
3 large sprigs fresh rosemary
¼ bunch fresh sage
½ head garlic (about 12 cloves), smashed, husk still attached
Lemon wedges, for serving 
Instructions
Brine the chicken: In a large (at least 5-quart) bowl or container, cover the chicken with 3 quarts cold water. Add 3 tablespoons salt, cover, and refrigerate at least 2 hours or overnight.

Make the dredge: In a large shallow bowl, whisk together the flour, garlic powder, onion powder, paprika, cayenne pepper, and salt and black pepper to taste until well blended. In another large shallow bowl, whisk the buttermilk and hot sauce with a fork and season with salt and black pepper. Line a baking sheet with parchment and set aside.

Dredge the chicken: Remove the chicken from the brine and pat it dry. Working a few pieces at a time, dredge the chicken pieces in the flour mixture, then dip them into the buttermilk, then dredge again in the seasoned flour. Set the pieces aside to rest on the parchment-lined sheet while you prepare the oil.

Fry the herbs: Pour about 3 inches oil into a large (at least 6-quart), deep pot. Add the thyme, rosemary, sage, and garlic to the cool oil and gradually heat over medium-high heat to between 360 degrees F and 365 degrees F on a deep-fry thermometer (the herbs and garlic will perfume the oil with their flavor as the oil heats).

Fry the chicken: Working in batches, add the chicken to the oil, 3 or 4 pieces at a time. Fry, turning the pieces once, until golden brown and cooked through, 12 to 13 minutes. Remove the chicken and herbs from the pot, shaking off as much oil as you can, and drain on a wire rack set over a rimmed baking sheet. Sprinkle all over with more salt and black pepper. Arrange the chicken on a platter and scatter the fried herbs and garlic over the top. Serve hot, with lemon wedges and Tyler Florence's Velvety Mashed Potatoes.
2014 Lee Brian Schrager & Adeena Sussman
YOUR RECENTLY VIEWED RECIPES
Free recipes, giveaways, exclusive partner offers, and more straight to your inbox!