Tandoori-Style Roasted Chicken Legs
Cookbook
Published by W.W. Norton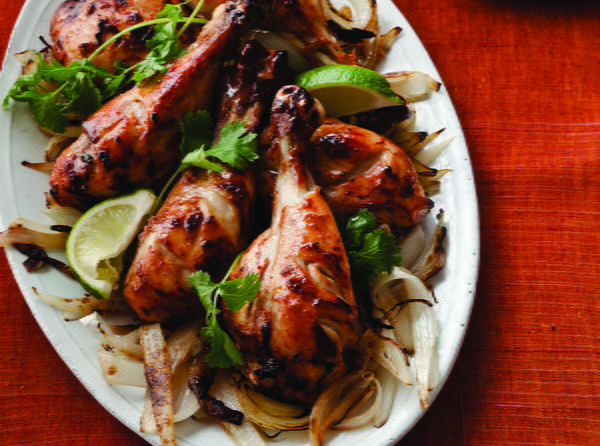 This image courtesy of Quentin Bacon
Editor's Note: If you are thinking of cooking something to satisfy your craving for Indian food, this is definitely the dish. Tandoori-Style Roasted Chicken Legs will transport you to another land of spice and color. This dish will take some work, but it's well worth the effort. This chicken is named after an enormous cylindrical clay pot that Indians use for cooking. The pot, which serves as an oven, is heated by a layer of hot coals underneath it. The chicken is then suspended above the coals to roast. The combination of the dry hot air and the heated clay give the food a certain earthy-type quality. A traditional yogurt-based tandoori marinade and cooking at a very high temperature in your own kitchen will help you develop that earthy taste and feel in your chicken as well.

Authentic tandoori chicken takes its name from a tandoor, an enormous cylindrical clay pot used in Indian cooking. The "oven" is heated by a layer of hot coals on the bottom of the pot, and skewers of poultry (or meat) are then suspended above the coals to roast. The combination of the very hot dry air and the heated clay gives foods cooked in a tandoor a distinctive earthy character. Even without a tandoor at home, you can come deliciously close to the real thing by starting with a traditional yogurt-based tandoori marinade, roasting at a very high temperature, and serving the chicken on a bed of charred onions with fresh cilantro and lime. If you've eaten tandoori chicken in an Indian restaurant (or in India), you may recall the vivid red-orange hue of the roasted meat. This comes from a natural dye added to the marinade for the sole purpose of appearance. If you want the authentic experience, purchase tandoori coloring at a specialty food store or by mail-order and add a few drops to the marinade. I find that the golden pieces of chicken flecked with crisp bits of cooked-on marinade are gorgeous enough without the added coloring. One word of caution when using a yogurt-based marinade: The natural enzymes in yogurt are such effective meat tenderizers that the chicken can become mushy if left in the marinade for more than 6 hours. Serve the chicken with fragrant basmati rice.
Serves4 to 6
OccasionBuffet, Casual Dinner Party
Dietary ConsiderationEgg-free, Gluten-free, Peanut Free, Soy Free, Tree Nut Free
Ingredients
2½ pounds bone-in, preferably skinless, chicken drumsticks, thighs, or a combination
½ cup plain yogurt, whole-milk or low-fat
3 garlic cloves, minced
2 tablespoons finely grated fresh ginger (from a 1-to 1½-inch piece)
2 teaspoons fresh lime juice
1½ teaspoons cumin seeds, toasted and ground
1 teaspoon garam masala (see Notes)
1 teaspoon kosher salt
½ teaspoon paprika, sweet or hot
¼ teaspoon cayenne
3 tablespoons unsalted butter, melted
1 large white onion (about 12 ounces)
1 tablespoon peanut oil or other neutral-tasting oil
Kosher salt
¼ cup lightly packed fresh cilantro leaves and tender stems, coarsely chopped
1 lime, cut into wedges
Instructions
Marinate the chicken: If necessary remove the skin from the chicken pieces. With a paring knife or boning knife, cut diagonal slashes about ½-inch deep into the fleshy parts of the chicken pieces. Make 3 to 4 slashes in each piece, about 1 inch part. Transfer the chicken to a zip-top bag or baking dish. The chicken legs need to marinate for at least 4 hours and no more than 6.

In a small bowl, combine the yogurt, garlic, ginger, lime juice, cumin, garam masala, salt, paprika, and cayenne. Toss the chicken with the marinade, massaging the pieces so the marinade gets into the slits and evenly covers all surfaces. Seal the bag or cover the dish with plastic wrap and refrigerate for 4 to 6 hours.

Heat the oven: Position a rack in the center of the oven and heat to 500 degrees (475 degrees convection). Let the chicken sit at room temperature as the oven heats, at least 30 minutes.

Roast the Chicken: Arrange the chicken pieces skin side up about 2 inches apart on a broiler pan or on a wire rack set above a heavy-duty rimmed baking sheet, leaving on as much of the marinade as possible. You can scrape any extra marinade onto the chicken, as long as it doesn't puddle up on the pan; it will cook down and make a sort of crust on the chicken as it roasts. Drizzle the top of the chicken pieces with 1 tablespoon of the melted butter. Roast, flipping the chicken after about 10 minutes and drizzling with another tablespoon of butter. (Start the onions at this point; see step 4.) Continue roasting until tender and cooked through, 20 to 25 minutes total. The best doneness test is to cut into a piece with a paring knife to see that it's cooked throughout and the meat pulls away from the bone easily. If you use an instant-read thermometer inserted into a thick piece of chicken (not touching bone), it should register 180 to 190 degrees.

Meanwhile char the onion: Cut the onion in half lengthwise (through the root end) and trim the ends, cutting the base at an angle to remove the root end. Slice each half crosswise into ¼-inch half-moons. With your fingers, separate the half-moons into shreds.

Heat a heavy 8- or 9-inch skillet (cast iron is best) over high heat until very hot, about 2 minutes. Add the oil, immediately swirl the pan to distribute the oil, and add the onions. Do not stir until the onions begin to color, then add a pinch of salt and sauté, stirring occasionally, until charred in spots and slightly softened, about 8 minutes. Transfer the onions to a warm serving platter and cover with foil.

Serve: Transfer the chicken to the serving platter, nestling the pieces among the onions. Drizzle the remaining tablespoon of butter on top, sprinkle with cilantro, and arrange the lime wedges around the edges. Cover with foil and let sit for 5 to 10 minutes to allow the chicken to rest and the flavors to meld. Serve the chicken accompanied by the charred onion and lime wedges.
Garam Masala is a highly aromatic spice mix often used in Indian cooking. The spices, which are toasted and ground, can include cumin, coriander, cardamom, cinnamon, black pepper, cloves, and others. You can find garam masala at markets that specialize in spices and, obviously, in Indian markets. I avoid generic supermarket blends of preground spices like garam masala, because most will have lost much of their flavor and vibrancy. If you don't have access to good (and fresh) spice blends, you'd do well to make your own garam masala.

Making your own: Break open 3 or 4 green cardamom pods, discard the pods, and put the seeds in a small skillet. Smash a small cinnamon stick (about 2 inches) with a rolling pin to break it into small pieces and add these to the skillet. Add 2 tablespoons cumin seeds, 2 tablespoons coriander seeds, 2 teaspoons whole black peppercorns, ½ teaspoon whole cloves, and 1 dried bay leaf. Heat the spices over medium heat, shaking or stirring often, until fragrant, darker in color, and just showing the first signs of smoking, about 2 minutes. Immediately transfer them to a bowl or plate to cool. When cool, grind to a fine powder in a mortar or spice grinder. This makes about 1/3 cup. Store in an airtight container for a month or so.
2011 Molly Stevens
YOUR RECENTLY VIEWED RECIPES
Free recipes, giveaways, exclusive partner offers, and more straight to your inbox!