Poached Chicken Thighs
Learn how to poach, or boil, chicken thighs with this simple recipe!
Cookbook
Published by Workman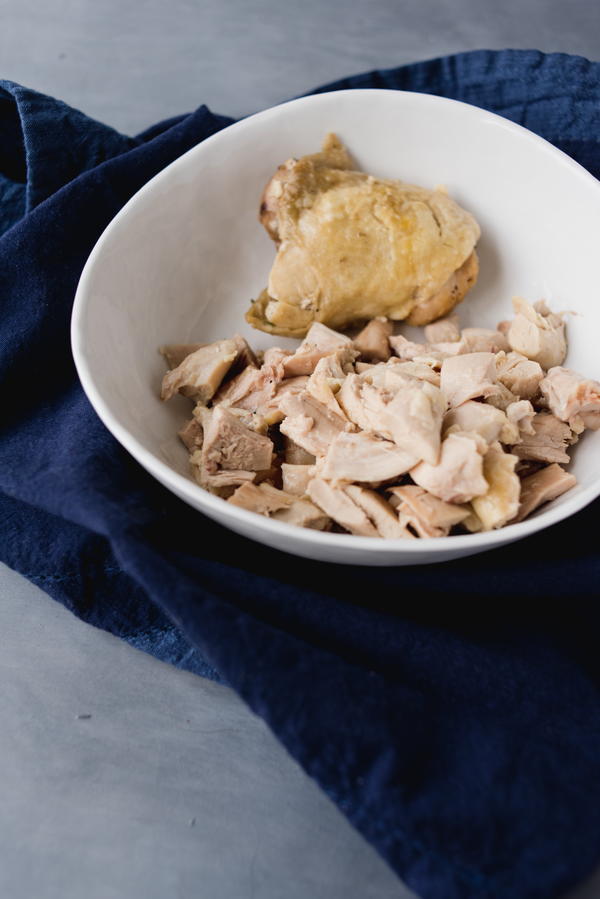 Poached Chicken Thighs
This image courtesy of Cookstr
Editor's Note: Poaching chicken makes for flavorful, juicy chicken every time. This simple recipe for Poached Chicken Thighs will teach you how to make poached chicken that will be perfect for any meal. Using chicken thighs ensures that your meal will have more flavor than if you were to use lean chicken breast. As an added bonus, thighs are also more affordable. You can make a large portion of poached chicken and then store it in the freezer for any use imaginable. This poached chicken recipe will transform how you cook chicken. This recipe is so easy to make and is one that you will use again and again — and your family will love it, too!

It's a simple matter to poach chicken thighs, after which the skin slips off easily and the tender meat practically falls off the bones. Once the skin and bones have been banished, the juicy chicken can be used in any recipe that calls for cooked chicken, such as casseroles and salads.

Join Our Community! Sign Up For Free eNewsletters & Over 10,000 FREE Recipes

Dietary ConsiderationEgg-free, Gluten-free, Halal, Kosher, Lactose-free, Peanut Free, Soy Free, Tree Nut Free
Ingredients
4½ to 5 pounds chicken thighs (see Notes)
1 large onion
1 rib celery
1 large carrot
1 teaspoon dried tarragon (see Notes)
1/4 teaspoon black pepper
Salt to taste (optional)
→ Free Cookbook Download: 13 Easy Chicken Recipes for Dinner and Beyond
For more flavorful chicken recipes and recipes that use poached chicken, be sure to check out our free downloadable cookbook.

If you're stuck in a rut when it comes to planning meals, then these chicken recipes will help you out! You'll love trying something new every night of the week with the recipes in this eCookbook. Whether you fire up the grill or roast chicken, these dishes will be tasty ideas for lunch or dinner. You will want to start cooking when you see these amazing chicken recipes!

→ Get it here:  13 Easy Chicken Recipes for Dinner and Beyond
Instructions
Place the chicken thighs in a 6-quart Dutch oven or soup pot. Peel the onion, cut it into 4 pieces, and add them to the pot. Cut the celery into 4 pieces and add them to the pot. Peel the carrot, cut it into roughly 1-inch pieces, and add them to the pot. Sprinkle the tarragon and black pepper over the chicken and vegetables. Add just enough cold water to cover the chicken and vegetables completely, then sprinkle in the salt, if using.

Cover the pot and bring to a rolling boil over high heat. As soon as the water reaches a vigorous boil, reduce the heat to low and cook the chicken, uncovered, at a very slow boil for 10 minutes. Then remove the pot from the heat and let it stand, covered, until the chicken is no longer pink in the center, 25 to 35 minutes. (Test for doneness by removing a thigh and cutting into it. The exact time will depend on the size of the thighs.)

When the chicken is done, remove it from the pot, using tongs or a slotted spoon. (Reserve the chicken stock in the pot for later use.) Allow the chicken to cool enough to remove the skin and any visible fat. Pull the meat from the bones. Cut the chicken into bite-size chunks for future use.
Notes
If you don't have a 6-quart pot, use a 4½-quart pot and cook only 3 pounds of chicken thighs.

Other dried seasonings beside tarragon work well, too, such as basil, marjoram, herbes de Provence, thyme, or Italian seasoning blend.

Because chicken thighs are poached bone-in and with skin on, the poaching liquid should be flavorful enough to use as stock.
Storage Notes:
Refrigerate or freeze the chicken chunks in 1-cup portions in microwave-safe containers. To defrost, remove the container lid and microwave on the defrost setting according to the oven manufacturer's instructions. Or defrost in the refrigerator overnight.

The process for poaching chicken thighs is similar to that for breasts, with a few modifications. You'll have to use a larger pot because chicken with bones takes up more room, and you need more poundage to yield the same amount of meat. In our poaching method for boneless breasts, the pot is removed from the heat as soon as it comes to a vigorous boil. However, thighs require a bit more heat, so you'll need to simmer them for a bit before they finish cooking off the heat.

Cooking thighs with the skin and bones gives you an added bonus for your efforts: an extremely flavorful cooking stock that can be used in place of canned chicken broth in all of our recipes. Just remove the vegetables from the broth and then strain it. (We like to use a strainer lined with a paper towel. Ladle the stock through the strainer, and replace the paper towel whenever the accumulating fat slows down the draining: You may have to do this three times. Discard the accumulated fat along with the paper towel.)

Refrigerate the stock until it is cold. Then skim the hardened fat off the surface and discard it. The remaining stock can be refrigerated for 3 days or frozen for up to 2 months. We like to freeze the stock in 1-cup portions for flexibility.
Additional Note from the Editor
What's the difference between boiling and poaching chicken?

For a busy home cook, having a few containers of cooked chicken stashed in the freezer for last-minute meals can save a lot of time. If you're looking for an efficient cooking method, then you might think about boiling or poaching chicken. At first glance, boiling and poaching chicken might appear to be similar cooking methods. After all, both methods essentially involve placing chicken meat in a sauce pan or pot filled with water. However, boiling versus poaching a chicken may yield completely different results.

Poaching chicken, which includes cooking the chicken at a low heat until the meat is no longer pink, is an easy method for preparing chicken, as demonstrated in the recipe above. In addition, the meat from a poached chicken is tender and juicy, and can be used in soups, stews, stir-fry — you name it!

Boiling chicken, which involves keeping the heat at a gentle boil for the duration of the cook time, may result in chicken that is tough or even dry. If you find yourself with a platter of overcooked boiled chicken, you don't need to toss that bird into the garbage. You can simply use a generous portion of your favorite herb vinaigrette recipe or sauce to inject some flavor into the cooked chicken while also mitigating the dry texture.

If you want to keep you chicken tender and easy to eat, then consider poaching chicken instead of boiling it for your next meal.
2005 Beverly Mills and Alicia Ross
YOUR RECENTLY VIEWED RECIPES
Free recipes, giveaways, exclusive partner offers, and more straight to your inbox!