Grilled Chicken Pesto Topped with Marinated Tomatoes
Updated February 13, 2023
Cookbook
Published by Clarkson Potter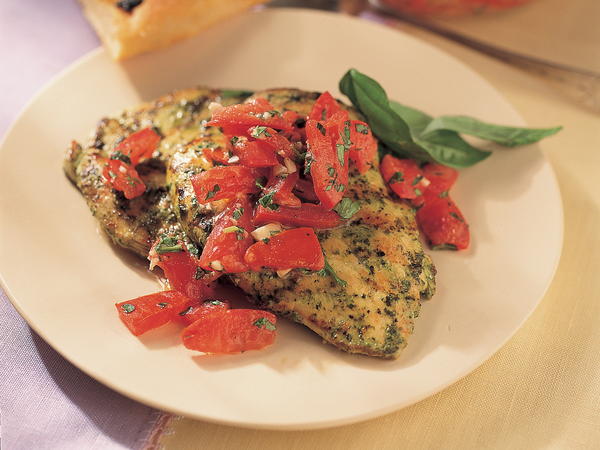 Grilled Chicken Pesto Topped with Marinated Tomatoes
This image courtesy of Mark Ferri
Editor's Note: This Grilled Chicken Pesto Topped with Marinated Tomatoes is an easy Italian recipe that's perfect for a weeknight dinner. Homemade pesto and marinated tomatoes really give this chicken its own special flair. The basil pesto recipe includes a splash of lemon for a tangy twist that makes this chicken recipe ideal for the summertime, and best of all, it takes hardly any time to cook. If you don't have a grill available, you can easily modify the instructions and make it on the stove. You'll use this pesto chicken recipe as your go-to dish all summer long!

Tender grilled chicken is flavored here with a lemon-spiked basil pesto and served topped with a piquant mixture of fresh tomatoes, garlic, and herbs. Since the dressing for the tomatoes is so flavorful, you really can get away with less than summer-ripe specimens. And, although homemade pesto is fabulous, feel free to substitute your favorite store-bought refrigerated brand. So, although this dish, on paper, screams "summer," if you have a stove-top grill pan (and a good exhaust fan), it's just as doable any other time of the year.
Serves6 to 8 servings as a main course
OccasionCasual Dinner Party, Cooking for a date
Dietary ConsiderationDiabetic, Egg-free, Gluten-free, Halal, Kosher, Low Carb, Peanut Free, Soy Free, Tree Nut Free
Taste and TextureGarlicky, Herby, Juicy, Light, Savory, Tangy, Tart
Ingredients
8 large skinless, boneless chicken breast halves
Kosher or sea salt and freshly ground black pepper to taste
1 cup Basil Pesto, or use a favorite store-bought brand
¼ cup strained fresh lemon juice
1/3 cup extra virgin olive oil, plus more for brushing
Strained juice from 1 juicy lemon (about 2 tablespoons)
1 tablespoon red wine vinegar
2 garlic cloves, minced
2 generous teaspoons Dijon mustard
1 teaspoon kosher or sea salt
Freshly ground black pepper to taste
¼ cup each freshly chopped basil leaves and cilantro
16 ripe plum (Roma) tomatoes, cut in half through the middle and seeded (skins intact)
6 basil sprigs for garnish (optional)
Instructions
To flatten the chicken breasts, position each breast half, boned side up, on your work surface. Put your nonworking hand on top of the breast to keep it in place. Use your working hand to position the blade of a sharp carving knife horizontally, parallel to your work surface, with the blade placed halfway up the flesh on one long side. Carefully, while keeping the blade absolutely parallel, drive the knife into the flesh, moving the blade up and away from you and then down and toward you, leaving about ½ inch of flesh attached at the opposite end. Open the breast and lay it flat. If, after opening, you see that you didn't go in far enough, use the blade to slice a little deeper.

Lay one opened breast half (cut side up) in the center of a sheet of waxed paper and place another sheet of paper on top. Using a smooth, heavy meat mallet, give the chicken several firm taps (not whacks) starting at the center and going out toward the edge of the meat. The aim is to thin the meat slightly and to level the outer surface. Run your hand over the top layer of paper and, if not level, give those higher areas several more soft taps with the mallet. Do this same procedure with the remaining chicken. When finished, remove the paper from each piece and stack the chicken in a 13 × 9-inch nonreactive dish.

Sprinkle the chicken pieces on both sides, lightly but evenly, with salt and black pepper. Mix the pesto with the lemon juice and pour this over the chicken. Using clean hands, rub the pesto all over both sides of each piece. Cover the dish and chill until 30 minutes before ready to cook.

Assemble the tomato topping. Use a whisk to combine the 1/3 cup of olive oil, the lemon juice, vinegar, garlic, mustard, salt, pepper, and chopped herbs in a medium-size nonreactive bowl. Add the prepared tomatoes and fold the mixture together, combining well. Cover the bowl and set it aside.

To cook the chicken using a gas grill, preheat the grill to high, covered. If using a charcoal grill, heat the coals and get the grill hot. If cooking indoors, turn on your exhaust fan and heat your stove-top grill pan(s) over high heat until very hot.

Grill the chicken, uncovered, turning once, until cooked through but not dry, 4 to 6 minutes total. Remove the chicken breasts to a serving platter and let them rest for a few minutes, loosely covered with aluminum foil.

Serve the chicken either hot or at room temperature, using a slotted spoon to top with the marinated tomatoes. Garnish each plate with a pretty basil sprig. Alternatively, the chicken and the bowl of dressed tomatoes can be passed separately at the table.
Timing is Everything
The chicken can be marinated up to 24 hours ahead and kept in the refrigerator, well covered.

The dressing for the tomatoes can be assembled early in the day, but to preserve best color and texture, don't add the tomatoes until just before grilling the chicken.

You can cook the chicken an hour ahead and serve it at room temperature.
2004 by Lauren Groveman
YOUR RECENTLY VIEWED RECIPES
Free recipes, giveaways, exclusive partner offers, and more straight to your inbox!