Everyday Chicken Shawarma
Cookbook
Published by Page Street Publishing Co.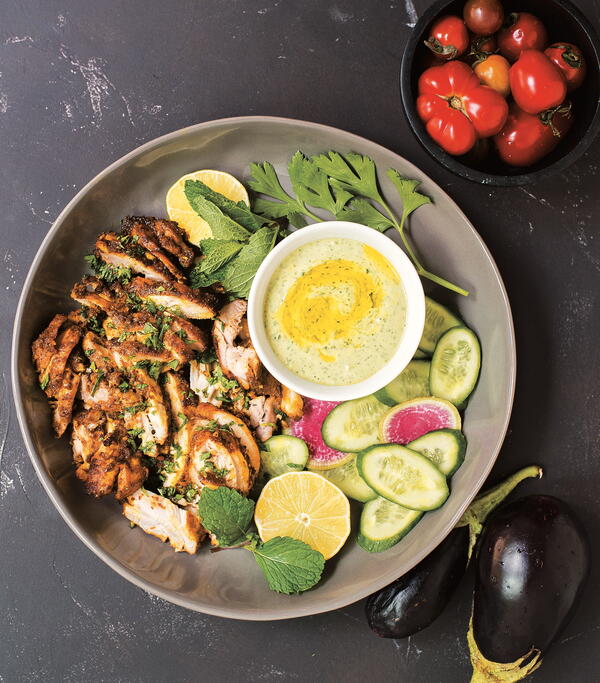 Everyday Chicken Shawarma
Everyone should have a go-to shawarma recipe that doesn't require having an upright spit in your kitchen. A loose interpretation of the New York Times version, my everyday shawarma is quick and easy to prepare and is one of those dishes where you dump the entire spice drawer into the recipe to infuse the meat with a deep savory flavor. Pair this with the Magical Herb Tahini Sauce and wrap it up in some crisp lettuce leavesor flatbread. This is also delicious shredded over Chopped Rainbow Salad with Crispy Lavash or Fennel Fattoush Salad with Pistachios.
Yields4 servings

Ingredients
2 lb (907 g) boneless, skinless chicken thighs
1/4 cup (60 ml) olive oil
5 garlic cloves, chopped finely
2 lemons, zested and juiced
1 ½ tsp (4 g) ground sumac
1/2 teaspoon Aleppo pepper flakes
1/2 teaspoon ground allspice
2 teaspoons (5 g) ground cumin
2 teaspoons (5 g) paprika
1 teaspoon ground turmeric
1/4 teaspoon ground cinnamon
1 teaspoon kosher salt

To Serve
Pita bread
Magical Herb Tahini Sauce
Chopped salad
Fresh herbs
Lemon wedges
Instructions
Preheat the oven to 400°F (204°C).
 

In a large bowl, combine the chicken thighs with the oil, garlic, lemon zest and juice, sumac, Aleppo pepper, allspice, cumin, paprika, turmeric, cinnamon and salt and coat everything well. Cover with plastic wrap and marinate in the fridge for at least 20 minutes and up to an hour, the longer the better.
 

Transfer the chicken to a foil-lined baking sheet. Pour the marinade over the chicken. Bake for 30 to 35 minutes until the chicken is cooked through. For extra crispy edges, increase the heat to 425°F (218°C) and continue cooking for 8 to 10 minutes.
 

Remove the chicken from the oven and allow it to rest for 5 minutes before cutting into it; then cut the chicken into slices.
 

Serve with pita bread, tahini sauce, chopped salad, fresh herbs and lemon.
 
Tip: If you'd like to substitute chicken breasts for thighs, use a rolling pin to pound the chicken to an even thickness. This will tenderize the chicken and help it to be just as moist as the chicken thighs.
 
Reprinted with permission from The Weeknight Mediterranean Kitchen by Samantha Ferraro, Page Street Publishing Co. 2018.
YOUR RECENTLY VIEWED RECIPES
Free recipes, giveaways, exclusive partner offers, and more straight to your inbox!