27+ Easy Chicken Recipes: Fried Chicken, Grilled Chicken, and More
Planning dinner will be a snap when you keep these recipes at your fingertips!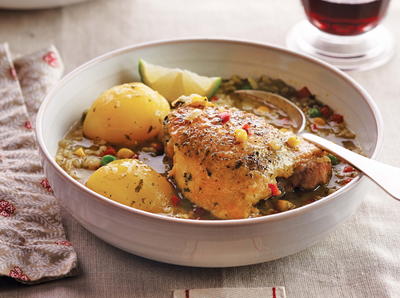 Chicken is the most popularly consumed meat in the United States, and for good reason — it's packed full of protein and nutrients that make it an ideal choice for a weeknight dinner. This collection of 27+ Easy Chicken Recipes: Fried Chicken, Grilled Chicken, and More will show you that when it comes to cooking chicken, the possibilities really are endless!

We've gathered together some of the best chicken recipes on our site, from stew to pot pies, to inspire you and get your stomach grumbling. Each of these easy chicken recipes is packed with flavor and, when cooked to perfection, creates a rave-worthy dish that the whole family will love. Chicken is especially great for kids — while they might get picky about pork or seafood, chicken is almost always a favorite. From fried chicken to the beloved chicken soup, these recipes will be a hit with the crowd. Whether you need some easy dinner ideas or are just craving some chicken, you're sure to find the chicken recipe of your dreams!
Chicken Soup Recipes to Make in Advance
Nothing warms up a chilly day like some homemade chicken soup! Hot and delicious, a comforting chicken soup always hits the spot, especially if you're feeling under the weather. These chicken soup recipes will leave you feeling warm and fuzzy, and can hit the spot when you're feeling down. If you would like to make life a little bit easier, then consider making and then freezing some of these soup recipes in advance. You'll never know when you might crave some homemade comfort food, so having a batch of soup on hand is never a bad thing! You'll even discover a few chicken stew recipes, too. 
Cilantro, red bell pepper, corn, and a number of other ingredients are used in this stew. You'll love the flavor in the soup, as well as the hearty portions. 
Feeling ill? Then this chicken soup is for you. Comforting as can be, this soup will warm you up inside and out.
You can't go wrong with basic soup recipes, and that's certainly true of this recipe. In addition to plenty of chicken, you'll use carrots, celery, onions, and other ingredients. 
Chicken Dinner Recipes for Every Night
If you need an easy weeknight dinner for your family, look no further than these chicken dinner recipes. Whether you're stuck in a meal-planning rut or just want to try something new, these recipes will deliver on flavor while also breaking up the monotony. From classic recipes to new takes on old favorites, each one is packed with savory spices to create a delicious dinner that everyone will enjoy! After all, isn't it fun to try something new for dinner? Your weeknight dinners will never be the same when you add these recipes to your plans.
Fried Chicken Recipes for Any Occasion
Whether you're cooking for a party or just looking for a little down-home flavor, these fried chicken recipes are always a hit! Crunchy on the outside but juicy and tender on the inside, fried chicken is one of those no-fail favorites you need in your arsenal that can please the crowd. Serve these chicken dishes with an assortment of your favorite salads, as well as homemade biscuits or mashed potatoes. If you want to add a bit of the South to your dinner table, then these recipes are the way to do it! 
Roast Chicken Recipes Anyone Can Make
Roast chicken can be difficult to master — you need the perfect balance of cooking it thoroughly without drying out the bird. These roasted chicken recipes will show you how to cook it just right every time! Don't be deterred by the long roasting times of these recipes; instead, think of the cooking time as an opportunity to work on other small projects around the house. Although you can't go wrong making these easy recipes for chicken any time of the year, you'll especially love how warm and cozy your kitchen will feel on a cold winter's day while these chicken dishes roast.
You'll love having this recipe at your fingertips the next time you want to try something new. Serve this recipe for game night, date night, you name it!
Chicken Pot Pie Recipes for Cold Winter Nights
Chicken pot pie and its close relative, chicken pie, are savory favorites all year long — but especially during the colder months. These chicken pot pie recipes are a complete dinner in and of themselves, but you can serve them with side dishes for an extra touch! These hearty and delicious pot pie recipes are truly one-pot meals and will keep you feeling full while warming you up inside and out. These recipes can be served for almost any occasion, including an informal get-together with friends or for a hearty weekend dinner. 
Classic and easy to make, this recipe has generous portions of chicken and vegetables that you are sure to love. If you're stuck in a rut, then add this recipe to your list!
Everyone will "Oooh" and "Aaah" when you bring this chicken pie to the table. You'll love scooping up each hearty serving from this recipe.
When it comes to comfort food, there's nothing like this recipe for Chicken Pot Pie! Sweater weather is as good of a time as any to make this recipe.
Grilled Chicken Recipes That Are Easy to Make
In the summertime, there's nothing quite like cooking on the grill. These grilled chicken recipes are great if you're looking for a leaner option than typical grill recipes, like a burger or ribs. These full-flavored recipes will impress your family and friends at your next cookout, so you'll definitely want to keep these easy chicken recipes in mind the next time you want to try something new. You'll love the variety of inspiration and ingredients in these recipes, too. Whether you're looking for a pesto dish or just want to keep things simple, you'll find plenty of great recipes that are perfect for the grill. 
New Australian Grilled Chicken
Understated and easy to make, this take on grilled chicken needs to be at the top of your list. You'll love the complex flavor profile in this recipe.
Baked Chicken Recipes for Busy Weeknights
When you're short on time, ordering delivery for dinner is almost too easy. What's a busy home cook to do? Consider keeping these baked chicken recipes in mind, of course! These recipes are easy to make and can bake in the oven, giving you plenty of time to tackle a few chores on your to-do list or even just relax with a good book. How is that for an easy dinner idea? Although these recipes are no-fuss, they are not short on flavor. Don't be surprised if these recipes become part of your weekly meal plans!
This recipe is just like mom's dish! Paprika, garlic salt, and plenty of mozzarella cheese are used to make this delicious take on the classic chicken parmesan recipe.
Poussin with Olive Puree and Sweet Peppers
The next time you visit your favorite butcher shop, ask for poussin so you can make this delightful dish. You can make this dish for a special occasion, or simply serve it for your next family dinner.
What is your favorite chicken recipe?
Let us know in the comments below!
YOUR RECENTLY VIEWED RECIPES
Free recipes, giveaways, exclusive partner offers, and more straight to your inbox!