Creamy Chicken Stew and Chive Dumplings
Cookbook
Published by Page Street Publishing Co.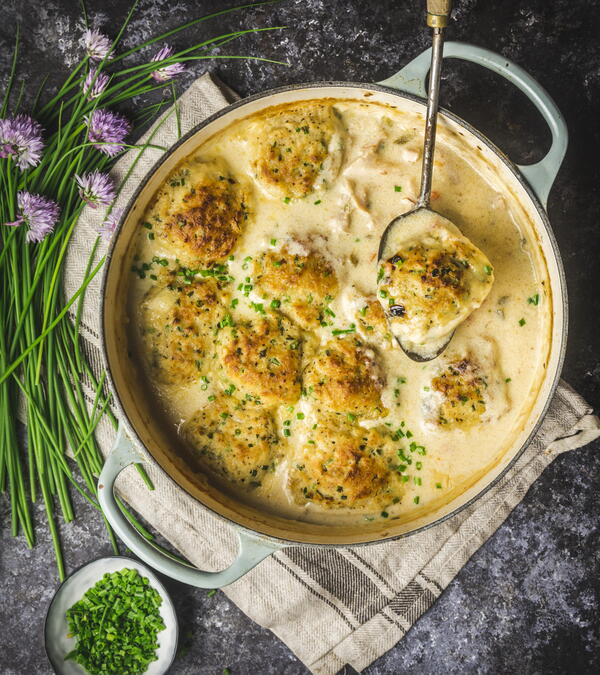 Creamy Chicken Stew and Chive Dumplings
Our version of this classic recipe results in tender chicken; a rich and creamy broth; and chive-flecked, light-as-air dumplings. While not traditional, popping the pot under the broiler for a few minutes gives the dumplings a beautiful golden brown crust, a great contrast to their pillowy center. This is Southern fine dining.
Ingredients
FOR THE STEW
4 tablespoons (56 g) unsalted butter
1 large yellow or Spanish onion, diced
2 celery ribs, diced
3 medium carrots, diced
Kosher salt and freshly ground black pepper, as needed
4 cloves garlic, minced
6 cups (1.4 L) Golden Chicken Stock (page 84) or store-bought stock
1 teaspoon minced fresh thyme leaves
1 bay leaf
3 lbs (1.4 kg) boneless, skinless chicken thighs or breasts
6 tablespoons (48 g) all-purpose flour
1 (12-oz [355-ml]) can evaporated milk
4 ounces (113 g) cream cheese, room temperature, cut into cubes

FOR THE DUMPLINGS
1 cup (125 g) all-purpose flour
2 teaspoons (6 g) baking powder
1/4 teaspoon baking soda
1 teaspoon kosher salt
1/4 teaspoon freshly ground black pepper
1/2 cup plus 2 tbsp (150 g) buttermilk
3 tablespoons (45 ml) melted unsalted butter, cooled
1/4 cup (12 g) finely minced fresh chives, plus more for garnish
Instructions
To make the stew, melt the butter in a large Dutch oven set over medium heat. Add the onion, celery and carrots, season with salt and pepper and cook, stirring often, until the vegetables are softened but not browned, 8 minutes. Add the garlic and cook until fragrant, 1 minute. Add the
stock, thyme, bay leaf and chicken, making sure all the chicken pieces are submerged. Bring the liquid to a full boil, cover the pot, turn the heat down to low and simmer for 10 minutes. Turn off the heat and let the chicken continue to poach in the hot broth for 10 minutes. Transfer the chicken to a plate and let it sit until cool enough to handle. Shred the meat and cover with foil to keep it warm. Set it aside.

Add the flour to a small bowl and whisk in the evaporated milk until the mixture is completely smooth. Turn the heat under the Dutch oven back to low and slowly pour the milk-flour mixture into the chicken stock, whisking constantly. Add the cream cheese, stirring until it melts. Add the shredded chicken back to the pot and let it simmer, stirring occasionally, while you make the dumpling dough.

To make the dumplings, in a medium bowl, whisk together the flour, baking powder, baking soda, salt and pepper. In a small bowl, stir together the buttermilk, butter and chives. Slowly pour the buttermilk mixture into the dry ingredients, stirring just until the dough comes together. Be careful not to overmix it, or the dumplings will be tough.

Drop tablespoon-sized (15-g) dollops of dumpling dough on top of the stew, leaving a little room between each one. Cover and simmer for 10 to 12 minutes. The dumplings should have grown in size by roughly fivefold, and the interior should look like a soft dinner roll. If they're not fully cooked, cover and cook for 2 minutes more. If you like browned dumplings like we do, preheat your broiler while the dumplings are poaching. Once the dumplings are puffed, place the pot in the oven, uncovered, and broil until their tops are golden brown, 2 to 5 minutes, depending on your broiler. Divide the chicken stew and dumplings among bowls, and top with more chives, if desired.
Reprinted with permission from The Ultimate Dutch Oven Cookbook: The Best Recipes on the Planet for Everyone's Favorite Pot by Emily and Matt Clifton, Page Street Publishing Co. 2021.
YOUR RECENTLY VIEWED RECIPES
Free recipes, giveaways, exclusive partner offers, and more straight to your inbox!