Coq au Vin
Updated October 10, 2022
Cookbook
Published by Bloomsbury USA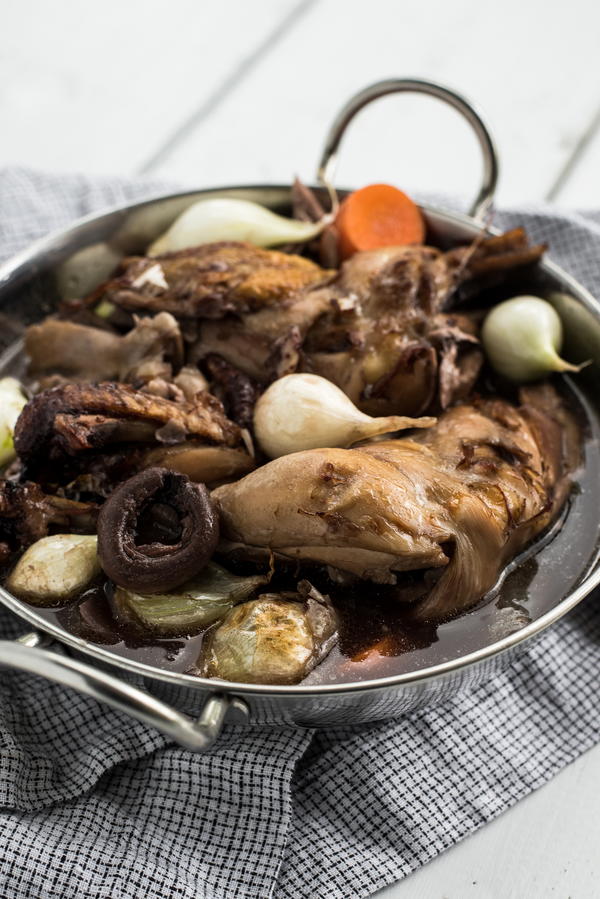 Coq au Vin
This image courtesy of Cookstr
Editor's Note: It's one thing to make a chicken recipe, but it's another if you're attempting Coq au Vin! This recipe takes several days to prepare, but don't let that stop you from trying it. Many of the steps are actually easy to do and require cooking skills you've likely used countless times in the past. This recipe is perfect for serving for a special occasion, so consider keeping this recipe up your sleeves the next time you want to impress that special someone. If you really want to impress your date, then serve Anthony Bourdain's recipe for Créme Brûlée for dessert!

Another easy dish that looks like it's hard. It's not. In fact, this is the kind of dish you might enjoy spending a leisurely afternoon with. There are plenty of opportunities for breaks. It's durable, delicious, and the perfect illustration of the principles of turning something big and tough and unlovely into something truly wonderful. I know it looks like a lot of ingredients, and that the recipe might be complicated. Just take your time. Knock out your prep one thing at a time, slowly building your mise en place. Listen to some music while you do it. There's an open bottle of wine left from the recipe, so have a glass now and again. Just clean up after yourself as you go, so your kitchen doesn't look like a disaster area when you start the actual cooking.

You should, with any luck, reach a Zen-like state of pleasurable calm. And like the very best dishes, coq au vin is one of those that goes on the stove looking, smelling, and tasting pretty nasty, and yet later, through the mysterious, alchemical processes of time and heat, turns into something magical.
Serves4
OccasionBirthday, Casual Dinner Party, Cooking for a date
Taste and TextureMeaty, Rich, Savory, Winey
Ingredients
Coq au Vin Ingredients
1 bottle (1 liter) plus 1 cup (225 ml) of red wine
1 onion, cut into a 1-inch (2.5-cm) dice
1 carrot, cut into ¼-inch (6-mm) slices
1 celery rib, cut into ½-inch (1-cm) slices
4 whole cloves
1 tbsp (14 g) whole black peppercorns
1 bouquet garni
1 whole chicken, about 3.5 lb (1.35 kg) "trimmed"–meaning guts, wing tips, and neckbone removed
Salt and freshly ground pepper
2 tbsp (28 ml) olive oil
6 tbsp (75 g) butter, softened
1 tbsp (14 g) flour
¼ lb (112 g) slab or country bacon, cut into small oblongs (lardons) about ¼ by 1 inch (6 mm by 2.5 cm)
½ Ib/225 g small, white button mushrooms, stems removed
12 pearl onions, peeled pinch of sugar
Equipment
3 large, deep bowls
Plastic wrap
Fine strainer
Large Dutch oven or heavy-bottomed pot
Tongs
Wooden spoon
Small sauté pan
Small saucepan
1 sheet of parchment paper (you can always beg a sheet off your local bakery–they've got lots)
Whisk
Deep serving platter
Instructions
The day before you even begin to cook, combine the bottle of red wine, the diced onion (that's the big onion, not the pearl onions), sliced carrot, celery, cloves, peppercorns, and bouquet garni in a large, deep bowl. Add the chicken and submerge it in the liquid so that all of it is covered. Cover the bowl with plastic wrap and refrigerate overnight.

Remove the chicken from the marinade and pat it dry. Put it aside. Strain the marinade through the fine strainer, reserving the liquids and solids separately. Season the chicken with salt and pepper inside and out. In the large Dutch oven, heat the oil and 2 tablespoons/28 g of the butter until almost smoking, and then sear the chicken, turning with the tongs to evenly brown the skin. Once browned, remove it from the pot and set it aside again. Add the reserved onions, celery, and carrot to the pot and cook over medium-high heat, stirring occasionally, until they are soft and golden brown. That should take you about 10 minutes.

Sprinkle the flour over the vegetables and mix well with the wooden spoon so that the vegetables are coated. Now stir in the reserved strained marinade. Put the chicken back in the pot, along with the bouquet garni. Cook this for about 1 hour and 15 minutes over low heat.

Have a drink. You're almost there …

While your chicken stews slowly in the pot, cook the bacon lardons in the small sauté pan over medium heat until golden brown. Remove the bacon from the pan and drain it on paper towels, making sure to keep about 1 tablespoon/14 g of fat in the pan. Sauté the mushroom tops in the bacon fat until golden brown. Set them aside.

Now, in the small saucepan, combine the pearl onions, the pinch of sugar, a pinch of salt, and 2 tablespoons/28 g of the butter. Add just enough water to just cover the onions, then cover the pan with the parchment paper trimmed to the same size as your pan. (I suppose you can use foil if you must.) Bring to a boil, reduce to a simmer, and cook until the water has evaporated. Keep a close eye on it. Remove the paper cover and continue to cook until the onions are golden brown. Set the onions aside and add the remaining cup/225 ml of red wine to the hot pan, scraping up all the fond on the bottom of the pot. Season with salt and pepper and reduce over medium-high heat until thick enough to coat the back of the spoon.

Your work is pretty much done here. One more thing and then it's wine and kudos …

When the chicken is cooked through—meaning tender, the juice from the thigh running clear when pricked—carefully remove from the liquid, cut into quarters, and arrange on the deep serving platter. Strain the cooking liquid (again) into the reduced red wine. Now just add the bacon, mushrooms, and pearl onions, adjust the seasoning with salt and pepper, and swirl in the remaining 2 tablespoons/28 g of butter. Now pour that sauce over the chicken and dazzle your friends with your brilliance. Serve with buttered noodles and a Bourgogne Rouge.

If you are a bold adventurer, and live near a live-poultry market or friendly pork butcher, you might want to play around a bit after doing this recipe a few times. By cutting back on the flour and thickening with fresh pig or chicken blood, you will add a whole new dimension to the dish. Be warned, though: add the blood slowly. It doesn't take much to make the sauce sit up like a rock. (Blood freezes nicely, by the way, so you might consider keeping a stash in small, individual packets. You never know when you'll need it.)
2004 Anthony Bourdain
YOUR RECENTLY VIEWED RECIPES
Free recipes, giveaways, exclusive partner offers, and more straight to your inbox!