Chicken and Spinach Ravioli
We love this delicious ravioli with wonton wrappers recipe!
Cookbook
Published by Page Street Publishing Co.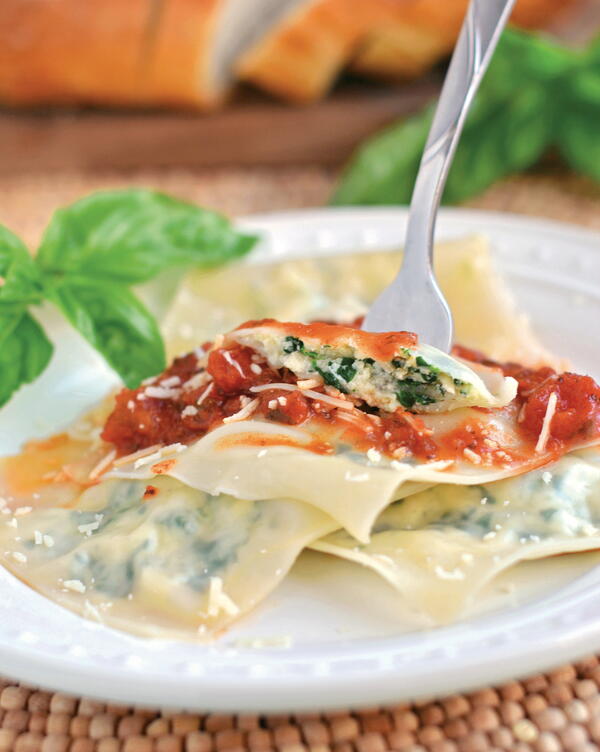 Chicken and Spinach Ravioli
Homemade ravioli is nothing short of heaven. In a perfect world, I would lovingly make my pasta dough from scratch while listening to Italian music and drinking a glass of wine. My reality, however, is quite a bit different—and that's totally okay. Why? I can still make homemade ravioli and look like the superstar that I am by using a shortcut that no one needs to know about. . . wonton wrappers!

Perfectly suited for ravioli, wonton wrappers are sold in both squares and rounds. Use whichever shape you prefer. The filling is creamy, cheesy and packed with spinach and chicken, making it a hearty meal. Top them with a drizzle of olive oil and a sprinkling of Parmesan cheese or, as my kids prefer, with your favorite pasta sauce. Mangiamo!
 
Ingredients
1 tablespoon (15 ml) olive oil
3 cups (121 g) baby spinach
1 cup (125 g) diced rotisserie chicken
1 cup (230 g) ricotta cheese
3/4 cup (135 g) grated Parmesan cheese
2 eggs, divided and lightly beaten
Salt and pepper, to taste
1 (12 oz [340 g]) package wonton wrappers, square or round
Directions
Heat the olive oil in a medium skillet over medium heat. Add the spinach and cook, stirring frequently, until the spinach has wilted, about 2 to 3 minutes. Remove the spinach and let cool for several minutes. Once cool enough to handle, roughly chop it. Then, set aside.

Fill a large pot with water and bring to a boil. Salt the water to taste.

Combine the diced chicken, ricotta, Parmesan and 1 egg in a medium bowl. Add the salt and pepper to taste. Stir in the chopped spinach until it's thoroughly combined.

Lay the wonton wrappers on a dry, flat surface. Spoon 1 to 2 teaspoons (5 to 10 g) of the filling onto the center of each wrapper. Using a pastry brush, brush the other beaten egg onto the exposed surface of the wonton wrapper, around the filling. Use the egg sparingly—one egg is MORE than enough for the job.

Lay another wrapper on top of the exposed filling. Starting at the center, gently press the top wrapper around the base of the filling, smoothing out to the edges of the wrapper. Be sure to eliminate any air bubbles. Repeat until all filling or wrappers have been used.

Drop four or five ravioli at a time into the salted boiling water. Cook for 3 to 4 minutes before removing with a slotted spoon.

Serve with your favorite pasta sauce or olive oil and Parmesan cheese.
Note
These ravioli freeze very well. I like to make a double batch and freeze half. Simply make this recipe up until the point where you cook the ravioli. Place the assembled ravioli in a single layer on a parchment-lined baking sheet and freeze for 45 to 60 minutes. Once frozen, the ravioli can be stored in a freezer storage bag. To cook, place in boiling water for 5 minutes. Easy!
 
Reprinted with permission from 100 Creative Ways to Use Rotisserie Chicken in Everyday Meals by Trish Rosenquist, Page Street Publishing Co. 2015.
YOUR RECENTLY VIEWED RECIPES
Free recipes, giveaways, exclusive partner offers, and more straight to your inbox!