Chicken Shawarma and Quinoa Bowls
This healthy chicken shawarma recipe is packed with flavor!
Updated June 08, 2022
Cookbook
Published by Page Street Publishing Co.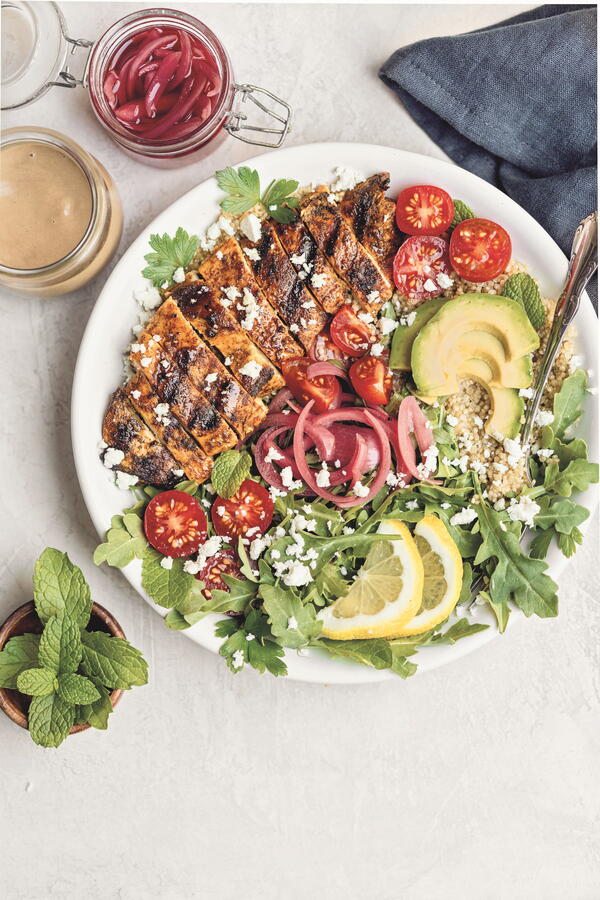 Chicken Shawarma and Quinoa Bowls
This is a fun, healthier spin on a classic Middle Eastern dish. Chicken shawarma is a popular Middle Eastern street food that typically consists of thin cuts of seasoned chicken cooked slowly on a skewer and served in a warm pita. I take all of those delicious flavors to make this nutrient-dense and flavorful bowl. Chicken is a popular dinner protein option when it comes to lean protein, as it packs a considerable amount into a single serving without a lot of fat. I use chicken breast marinated in an assertive marinade full of traditional spices like turmeric, cardamom, cinnamon, cumin and smoked paprika. Then the chicken is grilled to perfection, keeping it tender and juicy. The chicken is paired with quinoa, a nutrient-rich ancient grain and tons of veggies. Finally, it's topped with a bright, creamy balsamic-tahini dressing. This bowl is bursting with big, bold flavors and tastes amazing!
Yields4 Servings
Dietary RestrictionsGluten Free, Dairy Free, Nut Free, Egg Free
Ingredients
Chicken
1 1/2 pound (680 g) boneless, skinless chicken breasts
1/2 cup (120 ml) extra virgin olive oil
4 cloves garlic, coarsely chopped
1 1/2 teaspoon (8 g) salt
2 teaspoons (6 g) ground cumin
2 teaspoons (6 g) smoked paprika
1 teaspoon ground coriander
1/2 teaspoon ground cardamom
1/2 teaspoon ground cinnamon
1/2 teaspoon ground turmeric
1/2 teaspoon black pepper
Balsamic-Tahini Dressing
1/2 cup (112 g) tahini
2 tablespoons (30 ml) extra virgin olive oil
2 tablespoons (30 ml) good-quality balsamic vinegar
2 teaspoons (10 ml) agave or pure maple syrup
1 teaspoon Dijon mustard
1/2 teaspoon salt
1/2 teaspoon black pepper
2 to 4 tbsp (30 to 60 ml) water
Bowls
1 1/2 cup (255 g) quinoa, cooked
1/2 teaspoon salt
1/4 teaspoon black pepper
1/2 tablespoon (8 ml) extra virgin olive oil
2 cups (40 g) arugula
3/4 cup (131 g) halved cherry tomatoes
1/2 cup (65 g) pickled red onions
1 medium avocado, thinly sliced
1/2 cup (75 g) crumbled feta cheese
Instructions
To make the chicken, use a meat tenderizer to pound the chicken breasts until they are about 1 inch (3 cm) thick. Place the chicken in a ziplock bag.

In a small bowl, whisk together the oil, garlic, salt, cumin, smoked paprika, coriander, cardamom, turmeric, cinnamon and black pepper. Pour the marinade over the chicken. Seal the ziplock bag and place the chicken in the refrigerator to marinate for at least 1 hour but preferably overnight.

Remove the chicken from the refrigerator about 1 hour before you will be grilling it.

Preheat the grill to about 400°F (204°C). Cook the chicken for 4 to 5 minutes on each side, or until it achieves grill marks and its internal temperature reaches 165°F (74°C). Remove the chicken from the grill and allow it to rest for 5 to 10 minutes. Cut the chicken into strips of your preferred thickness.

To make the balsamic-tahini dressing, whisk together the tahini, oil, vinegar, agave, mustard, salt and black pepper in a small bowl until the mixture is smooth. Add the water, 1 tablespoon (15 ml) at a time, until you reach your desired consistency. Set the dressing aside.

To make the bowls, season the quinoa with the salt, black pepper and oil. Stir the quinoa.

Divide the quinoa, arugula, tomatoes, pickled red onions, avocado, chicken strips and feta cheese among four bowls. Top each serving with the desired amount of the balsamic-tahini dressing.
Reprinted with permission from The Healthy Swaps Cookbook: Easy Substitutions to Boost the Nutritional Value of Your Favorite Recipes by Danielle Davis, Page Street Publishing Co. 2021.
YOUR RECENTLY VIEWED RECIPES
Free recipes, giveaways, exclusive partner offers, and more straight to your inbox!