BBQ Broccoli and Chicken over Three-Onion Rice
Cookbook
Published by St. Martin's Griffin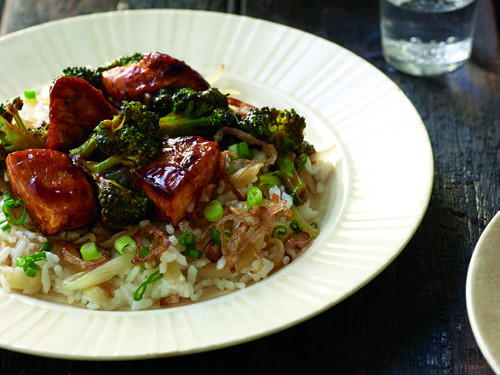 This image courtesy of Ellen Silverman
 During summer weekends my husband becomes master of the grill, cooking up dinner as he takes on the mosquitoes and spiders that I desperately try to avoid. (Me? I'm taking a well-deserved break inside, enjoying a good book and chilled wine.) One night, he was on a mission to make the most perfect ribs. After concocting his signature rub and smoking his ribs to tender perfection, he felt that it was just wrong to finish with a store-bought barbecue sauce. So (with much coercion!), I got my butt off the couch and whipped up a BBQ sauce that is so good it could never come from a bottle. And turns out, it's just as tasty on broccoli as it is on ribs, and thus this recipe was born.
Ingredients
For the BBQ Sauce:
1 tablespoon olive oil
1 small yellow onion, finely chopped
2 garlic cloves, minced
1 cup ketchup
¼ cup apple cider vinegar
2 tablespoons Worcestershire sauce
1 tablespoon molasses
1 teaspoon Dijon mustard
¼ teaspoon chipotle chili powder
½ teaspoon ancho chili powder
¼ teaspoon smoked paprika
For the broccoli and chicken:
5 cups broccoli florets
2 teaspoons kosher salt
3 tablespoons olive oil
2 skinless, boneless chicken breast halves (about 3 ounces each, cut into 1-inch cubes)
For the rice (makes 4 servings; halve the recipe if you wish):
½ cup chopped fresh flat-leaf parsley
2 tablespoons unsalted butter
2 large Vidalia onions, thinly sliced
1 to 2 teaspoons kosher salt, plus more if desired
3 cups chicken stock or water
1½ cups long-grain white rice
3 tablespoons canola oil
2 shallots, thinly sliced
4 scallions, green parts only, thinly sliced
Instructions:
BBQ Sauce
Briefly heat the oil in a small saucepan over medium heat. Add the onion and garlic, and cook until tender and fragrant, 5 to 7 minutes.

Add the ketchup, vinegar, Worcestershire sauce, molasses, mustard, chili powders, and paprika to the onion mixture and stir to combine. Reduce the heat to low and allow the sauce to simmer for 30 minutes; it will become darker in color. While the sauce is simmering, make the Broccoli + Chicken. When the sauce is done, cover it and keep warm over low heat.
Broccoli + Chicken
Preheat the oven to 450°F.

Toss the broccoli with 1 teaspoon of the salt and 2 tablespoons of the oil in a large bowl and spread it out on a rimmed baking sheet. When the oven is preheated, roast the broccoli until tender and slightly charred around the edges, 15 to 20 minutes. Turn off the oven, but leave the broccoli in it with the door cracked open to keep the broccoli warm.

While the broccoli is roasting, sprinkle the chicken with the remaining 1 teaspoon salt. Heat a medium skillet over medium-high heat with the remaining 1 tablespoon oil. Add the chicken to the skillet and cook until lightly browned and cooked through, 5 to 7 minutes.

Add the broccoli to the skillet. Stir in some of the BBQ sauce; how much depends on your taste, so I suggest starting with about half and then adding more as you wish. Toss so everything is coated and then, if the broccoli has cooled, continue to cook the mixture briefly until it is hot again. Serve over Three-Onion Rice, garnished with the chopped parsley.
Three-Onion Rice
Melt the butter in a large skillet over medium-low heat. Stir in the onions and 1 teaspoon of the salt. Cook, stirring only occasionally (you want to allow the onions to brown a bit before stirring them again) until the onions are very soft and medium-brown in color, 50 to 60 minutes.

Meanwhile, after the onions have cooked for 20 to 30 minutes, add the stock and rice to a medium saucepan and bring to a boil over medium heat. Reduce the heat to medium-low, cover the pan, and allow the rice to simmer until cooked through but still firm, 10 to 20 minutes, or as indicated in the package directions.

While the rice cooks, heat the oil in a small skillet over medium-high heat. Stir in the shallots and cook until browned, crisp, and sweet, 3 to 5 minutes. Using a slotted spoon, transfer the shallots to a paper towel–lined plate to drain.

When the onions are caramelized and the rice is done, stir the rice, along with the scallions, into the skillet with the onions and heat through. If you used water instead of chicken stock, add the remaining 1 teaspoon salt (or more as desired). Top with the crispy shallots and serve.
Notes
Onions need to be "cleaned up" a bit before they take center stage. To make them a star you can cook them low and slow until their hidden sugars come out and transform them from bitter to sticky sweet and meaty, or you can fry them. In a flash you'll have a completely addictive super-crunchy texture. To really appreciate onions you have to choose the right ones for the job. For instance, scallions and chives have a delicate, mild onion flavor—perfect for topping. This rice combines all these things, sweet onions, crunchy onions and fresh onions, making you so in love with onions that you'll want to pull one right out of the earth and take a bite; but please don't— dirt tastes bad, but this rice, well this rice tastes VERY good!
YOUR RECENTLY VIEWED RECIPES
Free recipes, giveaways, exclusive partner offers, and more straight to your inbox!