Buffalo Chicken Macaroni with Buttermilk Blue Cheese Sauce
Cookbook
Published by Hachette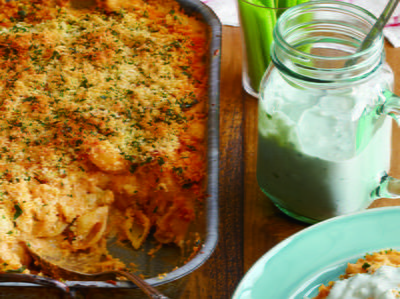 This image courtesy of Matt Armendariz
Stephanie and I almost came to blows over this recipe. She thought it would be a great jumping-off point, a twist on a familiar dish people could connect to. "Plus," she insisted, "it would taste outrageously good." I thought the idea had all the charm of a dilapidated Hooters bar. Lots of back-and-forth ensued, and finally Stephanie convinced me that we should give it a go. Honestly, I hate it when she's right. The recipe takes some patience and planning, but it is well worth the effort, the result is mind-blowing. Chicken marinated overnight in buttermilk and Buffalo sauce is tossed with celery and pasta in a zesty mornay. The entire thing is covered with a smooth, tangy blue cheese sauce. (The sauce is also great on salads, by the way. I promise you'll never buy the premade stuff again.) The resulting mac is saucy, spicy, and scrumptious. We love to use Roth Käse's Buttermilk Blue for this dish. It's a high-butterfat Wisconsin cheese with plenty of veining, a creamy blue with a gentle edge. -GM
Serves8
OccasionBuffet, Casual Dinner Party, Family Get-together, Game Day
Dietary ConsiderationPeanut Free, Soy Free, Tree Nut Free
Type of DishCasserole, Dry Pasta, Pasta
Ingredients
2 boneless skinless chicken breasts
1 ½ cups buttermilk
1 cup Buffalo wing sauce (such as Frank's)
10 ounces medium shell pasta
3 tablespoons olive oil, divided
2 stalks of celery, chopped
½ medium onion, chopped
1 clove garlic, minced
3 cups milk
¼ cup heavy cream
3 tablespoons butter
3 tablespoons flour
1 cup Buffalo wing sauce (such as Frank's)
Pinch of sea salt
Pinch of freshly ground black pepper
8 ounces aged firm Cheddar (such as Kerrygold), shredded
8 ounces Roth Käse Buttermilk Blue cheese, crumbled
8 ounces low-moisture (dry) mozzarella, shredded
1/3 cup chopped parsley
1 cup panko breadcrumbs
6 ounces Roth Käse Buttermilk Blue
½ cup buttermilk
1/3 cup sour cream or yogurt
¼ teaspoon Dijon mustard
Pinch of salt
Pinch of freshly ground black pepper
1 tablespoon white vinegar
1 tablespoon lemon juice
1 tablespoon chopped chives
1 tablespoon chopped parsley
Instructions
Place the chicken breasts in a shallow pan or bowl with the buttermilk and 1 cup of Buffalo sauce. Cover with plastic wrap and allow to marinate in the refrigerator overnight.

Grease a 9-by-13-inch baking dish and preheat the oven to 375°F. Cook the pasta in a large pot of salted boiling water until al dente. Drain through a colander and set aside.

Chop the chicken breasts into bite-size pieces (which will be easy, as the chicken is now super-tender) and discard the marinade. In a saucepan. heat 1 tablespoon of olive oil over high heat. Working in batches, add the chicken and sear it on all sides. If you want a bit more kick, feel free to add a dash of Buffalo sauce to the chicken toward the of the sear. Toss the chicken and the cooked pasta in the greased baking dish and set aside.

Add 1 tablespoon of olive oil to a saucepan over high heat. Toss in the celery and onion and cook for 2 minutes, Add garlic (and yet another dash of Buffalo sauce for more spice, if desired) and sauté for 30 more seconds. Remove vegetables from heat and add to the baking dish with chicken and pasta.

Prepare the mornay sauce. Heat the milk and cream in a small saucepan over medium heat. As soon as the mixture starts to steam and tiny bubbles form around the edges of the pan, turn off the heat. Place the butter in a medium saucepan and melt over medium heat. Add the flour and stir with a flat-edge wooden paddle just until the roux begins to take on a light brown color, scraping the bottom to prevent burning, about 3 minutes.

Slowly add the milk and cream mixture and stir constantly until the sauce thickens enough to evenly coat the back of a spoon-a finger drawn along the back of the spoon should leave a clear swath. Remove from heat. Add 1 cup of Buffalo sauce, salt, pepper, Cheddar cheese, and Buttermilk Blue and stir until smooth. Set aside.

Add the mozzarella to the baking dish and toss together with the other ingredients so it is evenly distributed. Pour the mornay sauce over the contents of the baking dish. In a small bowl, toss together the remaining 1 tablespoon of olive oil, parsley, and panko breadcrumbs, then distribute over the top of the baking dish. Bake for 35 to 40 minutes, or until thick and bubbly.

While the dish bakes in the oven, make the blue cheese sauce. Place Buttermilk Blue, buttermilk, sour cream or yogurt, mustard, salt, pepper, vinegar, and lemon juice in a blender and pulse a few times. Stir in the chives and parsley. Set aside until the pasta is done baking.

Allow casserole to cool for 5 minutes before serving. Serve topped with blue cheese sauce.
Notes
ALTERNATIVE CHEESES:

For blue: Gorgonzola, Shropshire, Stilton, Oregonzola, Point Reyes Blue

For Cheddar: Any aged, firm Cheddar will do.

WINE PAIRINGS: slightly sweet Riesling like a German Kabinett, an off-dry from Washington or New York state, Chenin Blanc from Vouvray

ADDITIONAL PAIRINGS FOR THE BUTTERMILK BLUE CHEESE: raspberry preserves, tea preserves, bacon, tomato
2013 Stephanie Stiavetti & Garrett McCord
YOUR RECENTLY VIEWED RECIPES