Mini Chai-Spiced Cheesecakes
Your whole family is going to love these mini keto cheesecakes.
Cookbook
Published by Page Street Publishing Co.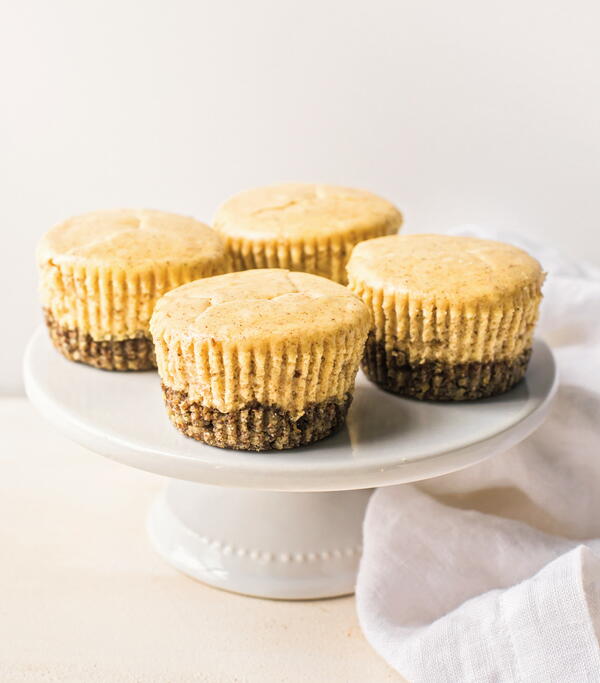 Mini Chai-Spiced Cheesecakes
These kid-approved mini chai-spiced cheesecakes are perfect for a fall holiday dessert, snack or breakfast bite. Try using different spices depending on the season or your preferences. Subbing in 1 teaspoon of ground cardamom for the spice mixture and serving with fresh blueberries is great for the summer. Replace the vanilla with caramel extract and substitute 2 teaspoons (5 g) of cinnamon for the spices for a mid-winter treat. These cheesecakes store well in the refrigerator so it is worth making a batch ahead of time.
Yields12
Ingredients
Crust
3/4 cup (78 g) ground flaxseed
3/4 cup (70 g) almond flour
1/4 cup (48 g) powdered erythritol (Swerve confectioners' preferred)
1/3 cup (75 g) butter, melted
1/8 teaspoon kosher salt
Cheesecake
16 ounces (454 g) cream cheese, softened
2/3 cup (130 g) powdered erythritol (Swerve confectioners' preferred)
1/8 teaspoon kosher salt
3 eggs
1 teaspoon vanilla extract
1/2 teaspoon ground fennel
1/2 teaspoon cinnamon
1 teaspoon ground ginger
1/8 teaspoon allspice
1/4 teaspoon ground cardamom
1/8 teaspoon ground cloves
Instructions
Preheat the oven to 350°F (175°C). Line a twelve-count cupcake pan with muffin liners.

To make the crust, combine the ground flax-seed, almond flour, erythritol, melted butter and salt in a mixing bowl. Spoon the mixture into the muffin liners, dividing evenly between the cups (each cup will get about 1 heaping tablespoon [15 g]) and press the mixture down firmly into each cup with the back of a spoon.

To make the cheesecakes, place the cream cheese, erythritol and salt in a medium-sized mixing bowl. Whip with a hand mixer or in a stand mixer with a paddle attachment until uniformly mixed, then add the eggs, one at a time, mixing well until combined after each addition. Add the vanilla and mix until slightly fluffy. Add the fennel, cinnamon, ginger, allspice, cardamom and cloves, and blend briefly until combined.

Divide the cream cheese among the twelve cups, using a spoon to scoop out the mixture, and a second spoon to scrape the cream cheese off of the first spoon.

Bake for 20 to 25 minutes, or until the cheese-cakes are set and slightly puffed.

Allow the cheesecakes to cool slightly at room temperature, then put them in the refrigerator for at least 30 minutes to chill completely. Served Chilled.
Reprinted with permission from Carb Manager's Keto Diet Cookbook, Page Street Publishing Co. 2020.
YOUR RECENTLY VIEWED RECIPES
Free recipes, giveaways, exclusive partner offers, and more straight to your inbox!