Marbled Hazelnut-Brownie Cheesecake for a Crowd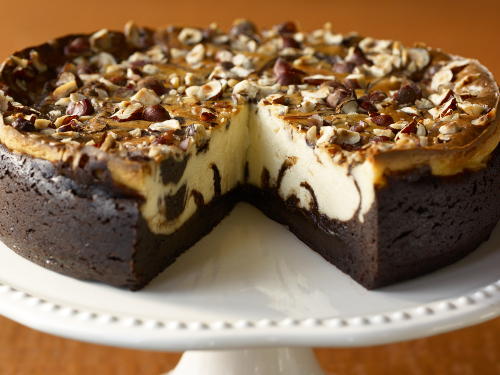 This image courtesy of Christine Schmidhofer
I am indebted to the hugely talented dessert-meister of the Palm, Jeff Bleaken, for the original recipe on which this variation is based. You will probably have to invest in a new pan the first time you make it, since so few people actually have a 10-inch spring-form pan lurking about the kitchen, but once you have the pan you can place the cheesecake firmly in your repertoire of formidable desserts (it travels well, in the pan, too). Note: don't be tempted to make it in a 9-inch pan; it'll be too thick to cook efficiently.

Ingredients
For the Brownie Mixture:
1 cup (2 sticks) unsalted butter
1 cup Dutch-process cocoa powder
2 cups sugar
4 large eggs
1 cup all-purpose flour
1 teaspoon best-quality vanilla extract
2 tablespoons fresh orange juice
For the Cheesecake Mixture:
2 pounds cream cheese, softened
1 1/4 cups sugar
4 large eggs
1 teaspoon best-quality vanilla extract
1/4 cup Frangelico
1/2 cup coarsely chopped hazelnuts
Instructions
Lightly coat a 10-inch spring-form pan with vegetable oil spray. Preheat the oven to 325°, and place a rack in the center.

Prepare the brownie mixture: In the top of a double boiler over medium heat, combine the butter and cocoa, stirring occasionally, until the butter is melted and the mixture is smooth. Remove from the heat and stir in the sugar. Stir in the eggs, one at a time, until the mixture is smooth. Fold in the flour, vanilla, and orange juice. Spread the brownie mixture evenly in the base of the prepared pan.

Prepare the cheesecake mixture: In a large bowl or with a standing electric mixer, beat the cream cheese with the sugar at low speed until smooth. Add the eggs one at a time, beating well after each addition. Add the vanilla and Frangelico, and beat on high speed until fluffy, about 5 minutes more.

Spread the cheesecake mixture evenly over the brownie mixture, dragging a little of the brownie mixture upward in several places to create a marbled effect.

Scatter with the hazelnuts and bake for 1 hour and 20 to 30 minutes, until puffed and golden, with just a slight tremble in the center. Remove from the oven, and run a knife around the edge of the cake to separate it from the pan. Cool in the pan on a rack for at least 1 hour; then transfer to a large platter, and remove the sides of the spring-form pan. Refrigerate for up to 24 hours; return to room temperature before serving. Serve in wedges.
Mise-en-Place
Soften the cream cheese at room temperature for a few hours before you begin. Squeeze the orange juice and if necessary, chop the hazelnuts.
Lagniappe
Top with a scoop of vanilla or hazelnut ice cream.
YOUR RECENTLY VIEWED RECIPES
Free recipes, giveaways, exclusive partner offers, and more straight to your inbox!