Spaghetti Squash and Shrimp Bake
This delicious keto casserole recipe is comfort food without the carbs!
Cookbook
Published by Page Street Publishing Co.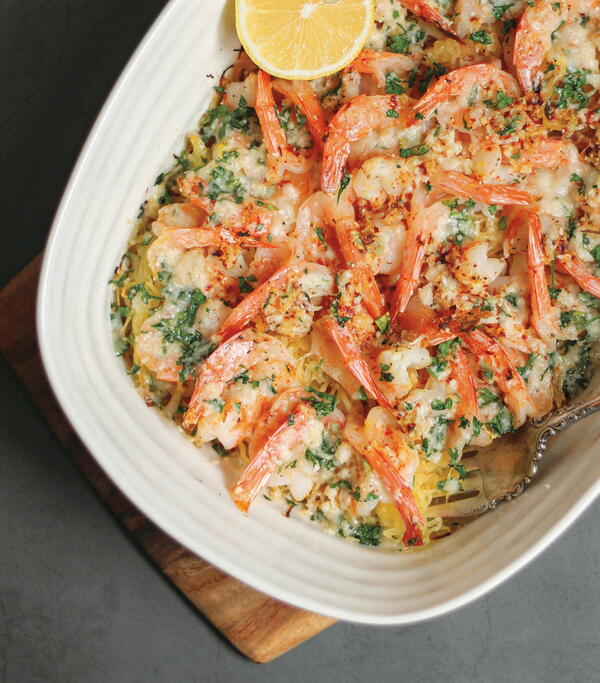 Spaghetti Squash and Shrimp Bake
Choosing a low-carb lifestyle does not mean we have to miss out on comfort food. This dish is the perfect example of that. All the buttery, warm and delicious flavors of shrimp scampi are paired with tender spaghetti squash noodles. You can also substitute zucchini noodles (page 161).
Ingredients
1 medium spaghetti squash
2 tablespoons (30 ml) avocado oil
1 pound (454 g) large shrimp in the shell
1/4 teaspoon sea salt
1/4 teaspoon black pepper
1/2 teaspoon lemon zest, plus lemon wedges to serve
1/4 cup (60 ml) melted organic grass-fed ghee
2 tablespoons (30 ml) lemon juice
1/2 teaspoon crushed red pepper flakes
2 cloves garlic, finely minced
1 cup (100 g) grated Parmesan cheese
2 teaspoons (2 g) chopped fresh parsley
Instructions
Preheat the oven to 400°F (200°C, or gas mark 6).

Cut the spaghetti squash in half lengthwise and use a spoon to scoop out all the seeds. Rub the inside of each half of the squash with the avocado oil and place the halves in a deep, oven-safe 12-inch (30-cm) skillet or a 9 x 7–inch (23 x 18–cm) casserole dish. Roast the squash for 40 to 45 minutes, or until it is fork tender. Use a fork to pull the strands of noodles away from the spaghetti squash rind. Scatter the spaghetti squash on the bottom of the skillet or a casserole dish and set it aside.

To prepare the shrimp, peel, devein and butterfly the shrimp, leaving the tail on. Toss the shrimp with the salt, pepper and lemon zest. Set it aside.

To prepare the butter sauce, add the ghee, lemon juice, crushed red pepper flakes and garlic to a small bowl. Whisk to combine.

To prepare the crust, toss together the Parmesan cheese and the parsley. Set it aside.

Arrange the shrimp on top of the spaghetti squash in a single layer, cut side down with the tail pointing up and toward the center of the dish. Pour the butter sauce all over the shrimp. Transfer the baking dish to the oven and bake for 15 minutes, or until the shrimp is pink and cooked through.

Remove the dish from the oven and turn the oven to broil. Scatter the Parmesan cheese and parsley crust on top of the shrimp and return the dish to the oven. Broil for 2 to 3 minutes to melt the cheese. Let the dish rest for 5 minutes before serving.
Reprinted with permission from One-Pot Keto Cooking by Charlotte Smythe, Page Street Publishing Co. 2020.
YOUR RECENTLY VIEWED RECIPES
Free recipes, giveaways, exclusive partner offers, and more straight to your inbox!