21+ Quick and Easy Casserole Recipes
Meals will be anything but boring with these casserole ideas!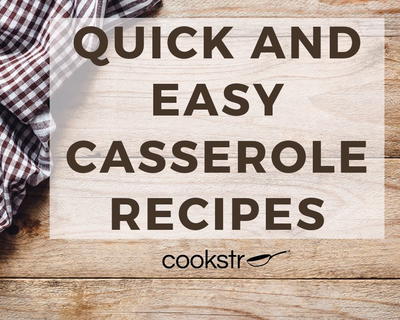 We've all been there before: you just got home from running errands or taking the kids to practice, it's getting close to dinner time, and you realize you haven't prepared anything yet. But there's no need to panic — these 21+ Quick and Easy Casserole Recipes are here to save the day (or at least, your dinner!) Simple and savory, these easy dishes are sure to inspire you and get your stomach rumbling.

When you're looking for an easy weeknight dinner, you can't go wrong with a casserole. They're a convenient dinner idea for a busy week — just throw the ingredients into a casserole dish and you're ready to bake it! It's a great way to get in all the protein and vegetables your family needs, and the kids love them, too. Whether you need an easy side dish to bring to a potluck or you're looking for a full and filling meal, these flavorful and easy casserole recipes are just what you and your family have been waiting for. We've also included a few recipes for breakfast that are perfect for a relaxing weekend at home, or for entertaining friends over brunch. With these recipes at your fingertips, you're sure to please the crowd!
Table of Contents
Are you looking for more easy dinner recipes? Then you'll love this collection of slow cooker recipes! Find your next favorite meal idea when you take a look at these  26+ Best Slow Cooker Recipes
Side Dish Casserole Recipes
Side dishes don't have to be fancy or too complicated. These easy side dish recipes are all put together in a casserole dish, making for one-pot side dishes that you don't have to stress about! They're also super portable if you're bringing them somewhere - just grab a casserole carrier and you're out the door. From potlucks to holiday dinners, these side dishes will be welcome additions to just about any menu.  You'll also find that these recipes are so easy to make, too. If you'd like, consider sprinkling some Parmesan cheese or dried herbs on top. 
Dinner Casserole Recipes
The casserole might be the easiest weeknight dinner idea of them all. These dinner casserole recipes are filling and full of tender meat and yummy vegetables, so you can get all of your food groups in one handy dish! You definitely won't hear any complaints when you serve up one of these delicious casserole recipes. If you're busy — and who isn't? — then you'll love that you can make these casseroles the night before. When it's close to dinner time, just pop the casserole in the oven and bake it through. You'll have a home-cooked meal that's ready to eat in no time!
Put a smile on everyone's faces when you make this delicious casserole! This fun and whimsical recipe is sure to delight everyone. It's also super easy to make.
Noodle Casseroles
Sometimes you just need a little pasta in your life. These easy noodle casseroles combine ingredients you love with the pasta you crave! They also keep well in the fridge or freezer, so you can have leftovers all week long. These recipes are also great options if you want to bring a meal over to a family member or friend in need. After all, you can't go wrong with classic comfort food just like mom used to make. Pasta + cheese = a definite win. With these recipes for casseroles at your side, dinnertime won't be boring again! 
Best Lasagna Recipes
Lasagna might be the most famous casserole of all, and it's easy to see why! Cheesy and creamy, these lasagna recipes are a feel-good favorite that everyone will love. It's no wonder lasagna is an American staple. Whether you're looking for a hearty vegetarian dish or want something that meat eaters will love, this selection of lasagna recipes will be just what you need. Although these dishes are easy to make, they have quite a bit of flavor. Make a lot and store the rest — your family will be clamoring for more!
If this is your first time making lasagna, then this recipe is definitely worth a look. Beef and pork are used in this easy idea for dinner.
Mushroom and Artichoke Lasagna
Vegetarians will love digging into this lasagna recipe! As this is a hearty dish, don't be surprised if the meat-eaters in your group want a serving, too.
Have a Relaxing Day at Home with Breakfast Casserole Recipes
You might be set with tonight's dinner plans, but what about breakfast tomorrow? These delicious breakfast casserole recipes are a great way to start your day — and it doesn't hurt that these recipes are easy to make, too! Bread pudding, baked French toast, and other options will be on the menu for breakfast when you take a look at these delightful casseroles! Get these casseroles in the oven, then relax with a cup of coffee while you wait for them to bake. You can easily serve these dishes for breakfast or a casual brunch with friends.
Tips for Freezing Casseroles
When it comes to freezing casseroles for later use, not just any container will do. If you're planning to stock up on frozen casseroles for dinner next week or even next month, then there are a few tips to keep in mind.

*Containers that are not intended for freezer storage may become brittle or even break. If you're planning to make casseroles for future use, then you will want to invest in freezer-safe containers that can also be placed in the oven.

*Don't forget to label the top of each container regarding the container's contents, the date that you made the recipe, as well as the cooking time and any other preparation instructions.

*Finally, you will need to keep track of when your stock of frozen casseroles will expire. According to the United States Department of Agriculture, frozen casseroles can be stored in your freezer for up to three months while retaining quality. Freezing your casserole for months on end might result in a dish that's flavorless.
What is your favorite easy casserole recipe?
YOUR RECENTLY VIEWED RECIPES
Free recipes, giveaways, exclusive partner offers, and more straight to your inbox!