Conch Salad Bahamian-Style
Learn how to make conch salad!
Cookbook
Published by W. W. Norton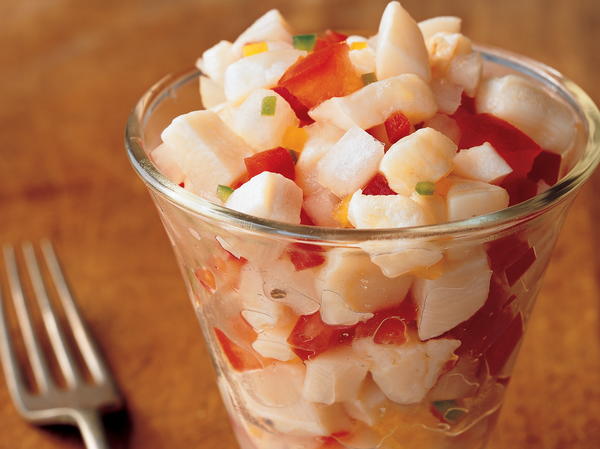 Conch Salad Bahamian-Style
Editor's Note: If you are a fan of seafood recipes and in the mood for something that gives you a tropical feel, you may be interested in trying a conch salad Bahamian-style to cool you off and please your palette.

We love this conch salad recipe because of its authentic flavors and simple preparation. The fresh citrus flavors really allow the raw conch to shine, creating a salad that is perfectly refreshing. We also love that this recipe comes with a variation if you're a big fan of spicy dishes! Serious heat seekers only shoud scroll down to the Scorch section.

In Florida and the Bahamas, as well as most of the Caribbean, conch is abundant, free to divers and affordable for most people, and it is often served raw. This salad and many different variations on it are common throughout the Caribbean, where lambis (Creole for conch) is prized both for its sweet flavor and for its power as an aphrodisiac. Many places in the Bahamas make this salad to order, cracking the conch when you ask for it. Conch has become more widely available now that it is farm-raised, a fairly recent development. One pound of conch meat will make a hearty appetizer for 4 to 6 people. If you are starting with conch in the shell, you will need 3 large or 4 medium conch to yield one pound of conch meat. Sea salt is very important to this dish. In the Bahamas they use a moist sea salt from the island of Abaco, which is similar to the French fleur de sel. There is no black pepper or oil in this salad.
Serves4 to 6 (generously) as an appetizer
Recipe CourseCold Appetizer
Dietary ConsiderationEgg-free, Gluten-free, Lactose-free, Peanut Free, Soy Free, Tree Nut Free
MoodAdventurous, Romantic
Taste and TextureChewy, Hot & Spicy, Juicy, Light, Tangy
Ingredients
1 pound conch meat (from 3 large or 4 medium conch)
Juice of 1 small juicy orange
Juice of 1 juicy lime
Juice of ½ juicy lemon
1 small onion (4 ounces), cut into 1/4 –inch dice
1 small tomato, cut into small dice
½ red or green bell pepper, cut into small dice
½ teaspoon minced habanero chile
1 Caribbean bird chile (or Thai chile), seeded and minced
½ teaspoon sea salt, or more to taste
Love Seafood Recipes?
We do too! Check out some of our favorite seafood recipes in this collection of tasty and fresh ideas.

This list includes recipes like:
→ New England Clam Chowder
→ Calamari Fritt
→ Crab and Salmon Cakes
→ And so much more!

Check it out here: 20 Easy Seafood Recipes
Instructions
Slice the thin side of the conch meat from the fatter trunk and cut it into ¼-inch dice. Slice the trunk into strips, cut the strips in half, and cut into ¼-inch dice. Place the conch (there should be about 3 cups) in a large glass bowl.

Add the citrus juices, onion, tomato, bell pepper, chiles, and salt and toss to combine. Cover with plastic wrap placed flush against the surface and chill for 1 hour before serving.
Variation: Scorch
If you go under the bridge that takes you from Nassau to Paradise Island, on the Nassau side, you will encounter many vendors selling fruits, vegetables, and seafood. Some are set up in little shacks where they cook local foods and sell beer. Each little restaurant can seat no more than ten or twelve people, making eating there a fun and intimate experience. I have tried a few of the places, but my favorite is #8, also known as The Burning Spot. You can get a beautiful conch salad there, but nine out of ten patrons (almost all local) sit down and order a beer and "scorch": similar to conch salad but simpler—no tomatoes or peppers, just conch, onion, juices, salt, and hot chiles—lots of hot chiles. This dish definitely falls into the "hotter than hell" category.

To make Scorch, omit the tomatoes and bell peppers from the salad and double the amount of habanero and bird chiles.
Notes
Working Ahead: You can prepare the ingredients for this salad a couple  of hours before you plan to eat it, but don't combine them until 1 hour  before serving. This salad is best eaten very fresh.

How to crack conch: To crack conch, you will need a small hammer and a small sharp knife. Find the spot where the abductor mussel is fastened to the shell almost directly behind the opening, and tap with the hammer to crack a hole there. Insert the knife and cut the conch away from the shell. It will slide right out. Cut away the soft viscera and discard. Wash the meaty part of the conch in saltwater or salted water. Drain well.
2007 Jasper White
YOUR RECENTLY VIEWED RECIPES
Free recipes, giveaways, exclusive partner offers, and more straight to your inbox!