The Necessities
Cookbook
Published by Tuttle Publishing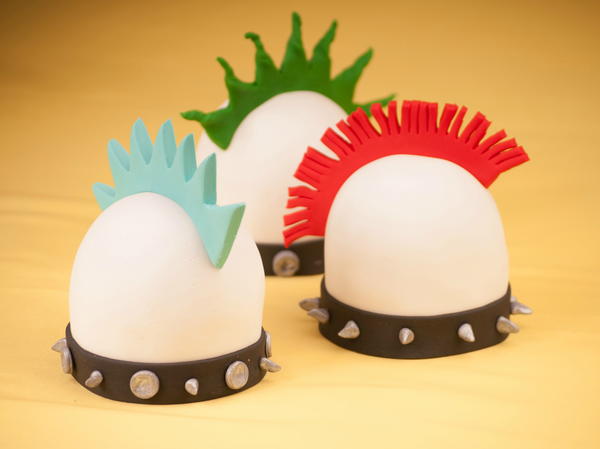 British Punk
This image courtesy of Corey Brinkmann
Editor's Note: It's one thing to slather frosting on a cupcake or cakelet and call it a day. But if you want to step up your decorating game, then you'll need a few essential tools at your disposal. This list of items will make all the difference when assembling and decorating your baked treats. From cornstarch to an X-ACTO knife and everything in between, these kitchen tools will help you create baked goods that will become the stuff of legend. These tools can be used in a number of cake decorating projects, including this one for British Punk from the cookbook Cupcake Envy, pictured on the right. The templates for some of the projects in the cookbok, as well as a list of resources for finding recommended materials, are included in the PDF, too.

Those old sets of decorating tips for piping buttercream roses are just the tip of the iceberg. Today, you can walk into a craft store and find at least two full aisles of cake decorating tools, pans, and gadgets. So with all of the choices, how do you know what you need? Who even knows what to do with some of these fancy decorating tools and shimmer dusts? In this chapter, I will go over everything you need to make the cakelets in this book. I'll show you which decorating tools are must-haves, and how to use them. 
Tools — The Necessities
Every project in this book requires this set of basic tools. 
Cornstarch: Used to keep your fondant from sticking to the mat when you roll it out, and it will keep your cutters from sticking, too. It's much whiter and finer than flour, which is not a good substitute.

Fondant Modeling Tool Set: These sets typically consist of various sized ball tools used to thin out the edges of flower petals, as well as veiners which you poke into the middle of flowers to add realism. In addition to a standard set, you should add a quilting tool to create stitch marks on your fabric- and fashion-themed designs. You will also need a double-sided flower veiner to create a realistic flower petal texture to both sides of a fondant flower cut out.

Gel Food Coloring: Think of these like an artist's paints. They come in an amazing array of shades, are more intense than liquid food coloring, and can be blended to make custom colors. I prefer those in soft plastic squeeze bottles so I can add a drop of color at a time.

Parchment or Waxed Paper: Essential for keeping your work surface free of stray crumbs and buttercream.

Pastry Wheel/Pizza Wheel: Pastry or pizza wheels make it easy to make precise cuts along a straight line or around the bottom of a cakelet. The best pastry wheels also include a scalloped blade, for those times when you need a scalloped edge to your fondant. 

Placemat: You are going to need a smooth, nonstick surface for rolling out fondant. Although many people use Silpat mats, they're expensive and easy to damage when cutting out shapes with an X-ACTO knife. Cheap placemats from a dollar store are a great option because they're affordable, easy to replace, and can withstand the X-ACTO blade rather well.

Plastic Wrap: To keep cakes and fondant from drying out before you work with them, you'll need to wrap them in plastic.

Rolling Pin: Rolling pins come in various sizes, weights and materials. You can even get bands to put on them to help you roll out your dough or fondant to a precise thickness. They can get pricey, so if you're looking to save a little money, or want to add a small or medium roller to your collection for rolling out tiny bits of fondant, head over to your home improvement store and ask an employee to cut a short length of PVC pipe. Sand both ends smooth, run it through the dishwasher and you have yourself a rolling pin!

Scissors: Don't use your kids' art scissors or that rusty pair from the junk drawer. Every kitchen should have a dedicated, sharp, food-safe pair of scissors on hand. 

Serrated Knife: A serrated edge cuts through cake without squashing or flattening it.

Spatula: When working with cakelets, I prefer a tapered angled spatula. I prefer the Ateco brand because the metal is very thin and flexible making it easy to ice contoured cake shapes.

Water and Paint Brush: These are essential for adhering fondant pieces to each other.

X-ACTO Knife: Commonly found in art supply stores and hardware stores, X-ACTO knives are essential for making detailed, precise cuts. 

Shortening: When working on fondant decorations, you may find that your fondant is drying too quickly, causing it to tear and wrinkle. Just put a little bit of shortening on your finger and work it into the fondant to make it workable again. 
Copyright 2015 Amy Eilert
YOUR RECENTLY VIEWED RECIPES
Free recipes, giveaways, exclusive partner offers, and more straight to your inbox!