Orange Peel Pound Cake
This delicious orange zest pound cake is bursting with fresh flavor.
Updated April 08, 2022
Cookbook
Published by Page Street Publishing Co.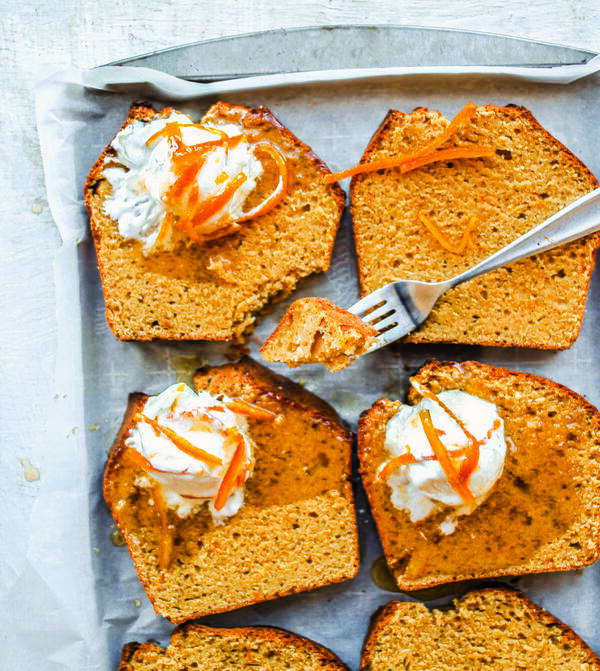 Orange Peel Pound Cake
I miss summer days at my Big Ma's house, when we'd sit in the driveway in an uncle or aunt's parked car—all four of us cousins, each propping a door open with an extended leg—peeling back the skins of the fresh oranges Granny'd bought from the man who'd ride his bike down the street selling produce. I could feel the bass from the rear speakers throbbing against my back as I'd dig my thumbnail into the navel of the fruit to puncture its peel. I'd listen over the music for the sound of the pith slowly tearing away from the fruit, I couldn't hear it and then I'd shuck away the inedible skin. If I were back there now, I'd collect those discarded peels from the backseat of the car and turn them into something good, like a glaze or a candied topping to pound cake. And so I am.
 
NotesLow sugar, whole wheat

Makes1 (One) 9-inch (23-cm) loaf
Ingredients
Pound Cake

2 cups (240 g) Whole wheat pastry flour
1/4 teaspoon Baking Soda
1/2 teaspoon Salt
3/4 cup (180 g) plain Greek yogurt or sour cream
2 ounces (60 ml) Orange Juice
1 tablespoon (10 g) orange zest
1/2 cup (112 g) softened butter
1/2 cup (100 g) pure cane sugar
2 teaspoons (10 g) vanilla extract
2 eggs, at room temperature


Orange Glaze
1 cup (235 ml) orange juice (from about 2 navel oranges)
Peel of 1 navel orange, white piths removed
3 tablespoons (36 g) pure cane sugar
Pinch of baking soda (optional)
Directions
Preheat the oven to 350°F (180°C or gas mark 4) and place a rack in the center of the oven. Spray an 8.5 x 4-inch (21 x 10-cm) loaf pan with cooking spray and line it with a 3 to 4-inch (7.5 to 10-cm)-wide strip of parchment long enough to stretch across the pan and up the sides with a little hanging over.

To make the cake, sift together the flour, baking soda and salt in a bowl and set aside. Combine the yogurt, orange juice and orange zest in another bowl and set aside.

Beat the butter, sugar and vanilla together in a large bowl with an electric hand mixer, or in a stand mixer with a paddle attachment, until fluffy. Add the eggs, one at a time, mixing until just combined before adding the next egg. Then add the flour mixture in 2 batches, alternating with the sour cream mixture. Pour the batter into the oiled loaf pan and bake for 40 to 45 minutes, or until a toothpick inserted into the center comes out clean. You can place a sheet of aluminum foil loosely over the cake toward the end while it bakes so it doesn't brown too much.

Remove the pound cake from the oven, and let it rest for at least 20 minutes before lifting it from the pan.

Transfer to a wire rack to cool for at least another 10 minutes before slicing.

To make the glaze, in a saucepan, combine the orange juice, orange peel and sugar. Bring the juice to a boil, then lower the heat to a simmer and let it cook until it's reduced to half, about 10 minutes. If the syrup tastes slightly bitter, stir in a pinch of baking soda to neutralize. Drizzle the syrup over the warm pound cake and serve.
Alternative Oranges
In the winter, I love to use blood oranges for their ruby red color and tartness. You may need to compensate with a little more sugar if using.
 
Reprinted with permission from Black Girl Baking: Wholesome Recipes Inspired by a Soulful Upbringing by Jerrelle Guy, Page Street Publishing Co. 2018.
YOUR RECENTLY VIEWED RECIPES
Free recipes, giveaways, exclusive partner offers, and more straight to your inbox!