Naked Cupcakes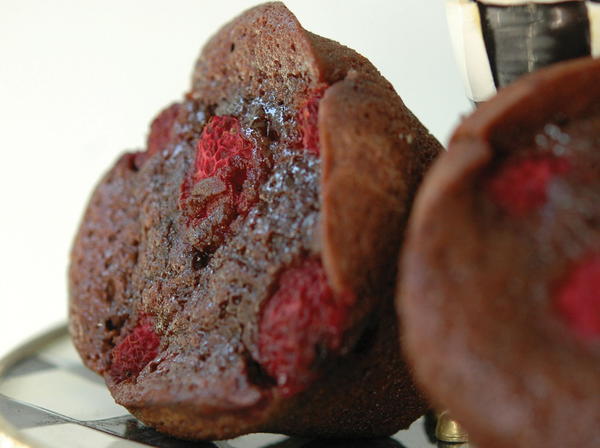 This image courtesy of Anna Blessing and Stephen Hamilton
Editor's Note: No frosting is necessary for these Naked Cupcakes - they're delicious all on their own! Raspberries and chocolate are a decadent combination that make this cupcake recipe a winner every time. Easy to make and even easier to eat, you'll love making these cupcakes for all your friends!
The comfort dessert to make after a rough breakup, the naked cupcake is perfect for a girl who has just realized she is going to be keeping her clothes on for a while! This chocolate-almond cupcake topped with fresh raspberries is not too sweet and stays fresh for two days. The cupcakes also freeze well, in case you plan on eating dessert solo for a while. This recipe comes from the French Pastry School, the culinary school I attended. It is actually a recipe for a traditional French petit four called a financier (pronounced FIN-AHN-si-ay). When I first opened my pastry shop, I couldn't understand why my cute little chocolate-raspberry financiers weren't selling. After I decided to make them six times larger and changed the name to naked cupcakes (since they don't have any frosting), they started to sell. We Americans have a soft spot for cupcakes, after all.
Serves6 cupcakes
Preparation Time - Text30 minutes plus at least 20 minutes (preferably overnight) for the batter to chill
OccasionCasual Dinner Party, Family Get-together
Dietary ConsiderationHalal, Kosher, Peanut Free, Soy Free, Vegetarian
Taste and TextureButtery, Fruity, Sweet
Type of DishCake, Dessert
Ingredients
1¼ cups confectioners sugar
½ cup almond flour (see Notes)
¼ cup all purpose flour
2 tablespoons cocoa powder
1/8 teaspoon salt
4 large egg whites, warmed to room temperature
1 tablespoon plus ¼ teaspoon applesauce
1 stick plus 1 tablespoon (9 tablespoons) unsalted butter, warmed to room temperature
6 ounces raspberries, fresh
Sifter
Whisk
Chinois or other fine mesh strainer
Wire rack
Cupcake pans
Instructions
Take your eggs and butter out of the refrigerator a couple of hours before you plan to prepare the batter.

Prepare the batter the night before you plan to bake the cupcakes, so it can chill overnight in the refrigerator.

Sift the dry ingredients together.

Preheat the oven to 350°F.

Mix all the dry ingredients (the confectioners' sugar, almond flour, all-purpose flour, cocoa powder, and salt) together by hand and sift them into a mixing bowl.

Add the egg whites and applesauce to the dry ingredient mixture. Mix well.

Heat the butter in a saucepan over medium-high heat until it has thoroughly browned (it should be light caramel in color with dark "burnt" specks).

Using a chinois or other fine mesh strainer, strain the browned butter into the batter. Use a hand whisk to mix until thoroughly combined.

Place the batter in the refrigerator and let it cool overnight.

Pour the batter into the greased cupcake pans, and place about 5 raspberries in the center of each cupcake.

Bake for 20 to 25 minutes at 350°F or until the edges of the cupcakes are firm (the center may remain a little "jiggly" because of the moisture in the raspberries).

Cool thoroughly on a wire rack. Store in an airtight box.

Based on the Chocolate Financier recipe from the French Pastry School
Shelf Life and Storage Instructions:
Store in an airtight container for 2 to 3 days at room temperature. The cupcakes can also be frozen for up to 6 months.

I recommend using a chinois when straining the butter into the naked cupcake mixture to ensure that burnt bits never reach your batter. A chinois is a very fine strainer—nothing's getting through that thing. You can buy them at specialty stores, such as Sur La Table, but any fine mesh strainer will work.

Almond flour is just ground-up blanched almonds. If you can't find it in stores, just buy slivered almonds and grind them yourself in a food processor or spice grinder-or the old fashioned way, with a mortar and pestle.

In order to get the rich nutty flavor just right, it's important to cook the butter until it reaches a deep brown color and you can smell its rich, nutty flavor. Don't be alarmed-you actually want the butter to burn and turn brown. One of my testers (she's also one of my coworkers), Annie Smallwood, had a great tip: As the butter browns, it makes a crackling sound. Pay close attention, because as soon as the sound stops, the butter should be just about right.
 

It's best to let the batter sit overnight in the refrigerator before baking, but if this is a naked cupcake emergency, they'll still taste good if the batter is freshly made.
2009 Sarah Levy
YOUR RECENTLY VIEWED RECIPES
Free recipes, giveaways, exclusive partner offers, and more straight to your inbox!