Marbleized Poppy-Seed Cake (Marmorierter Mohnkuchen)
Cookbook
Published by Ten Speed Press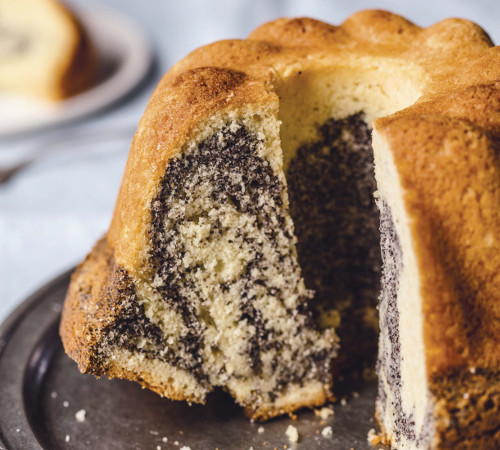 Marbleized Poppy-Seed Cake
This image courtesy of Aubrie Pick
Editor's Note: When it comes to cake recipes from scratch, you simply must try this recipe for Marbleized Poppy-Seed Cake (Marmorierter Mohnkuchen)! The recipe includes a number of ingredients you likely already have on hand, and can be ready to serve and eat within just a few hours. It also has just a few steps, and is the perfect way to flex your baking skills. What's not to love about this dessert recipe? This German poppy seed cake is one that is sure to delight family and friends. It can also be served at almost any occasion. 

What I have come to understand from my time in Germany is that you either love poppy seeds or hate them. I happen to love their haunting, stony flavor, and how it reminds me so strongly of childhood afternoons spent at my friend Joanie's apartment, where there was always something delicious baking in the oven. To use poppy seeds in cakes, you must grind them to crack their tiny little hulls, which releases their oils and delicate fragrance. Left whole, they just won't have the same flavor and creamy-nubby texture. To grind poppy seeds, use a hand-cranked poppy-seed grinder, an electric coffee grinder, or a high-powered blender. A food processor won't do, as the seeds are too tiny to be caught in the big blades.

This marbleized cake is made by swirling a creamy vanilla batter together with a sturdy poppy-seed batter flavored with vanilla and almond extracts to give the ground poppy seeds extra ballast. In the finished cake, the poppy seed crumb is textured and a lovely bluish gray, contrasting with the tender and buttery yellow crumb. It is an excellent candidate for afternoon teatime, pairing well with both tea or coffee.

In Germany, this kind of cake would be baked in a Gugelhupf pan, which is more compact and taller than a Bundt pan. I'm not big on spending money on specialty baking pans, but it's worth seeking out one for the satisfying wedges you can cut out of a Gugelhupf-shaped cake. Of course, the cake will taste equally good if made in a Bundt pan. Just remember that it won't need to bake as long. A dusting of confectioners' sugar will give the cake a nice finish at serving time, no matter which pan you use.

I call for cake flour in the recipe to achieve a delicate crumb. This cake can, however, also be made with all-purpose flour if that is all you have. It will result in a sturdier, denser crumb.
Makes1 (9-inch/23cm) cake

Ingredients
Poppy-Seed Filling
1⁄2 cup/120ml whole milk
3⁄4 cup plus 2 tablespoons/125g poppy seeds, ground
1⁄2 cup/100g granulated sugar
1⁄2 teaspoon vanilla extract
1⁄8 teaspoon almond extract
Cake Batter
18 tablespoons/250g unsalted high-fat, European-style butter, softened, plus more for the pan
1 cup/200g granulated sugar
4 eggs
1 teaspoon vanilla extract
3 2⁄3 cups, scooped and leveled, minus 1 tablespoon/450g cake flour, plus more for the pan
1⁄4 cup plus 1 teaspoon/40g cornstarch
1 tablespoon baking powder
1⁄4 teaspoon salt
2⁄3 cup/160ml whole milk
Confectioners' sugar, for dusting (optional)
Instructions
Preheat the oven to 350 degrees F/180 degrees C. Liberally butter a Gugelhupf pan or Bundt pan and dust it lightly with flour.

To make the poppy-seed filling: Heat the milk over medium-high heat until just boiling. Place the ground poppy seeds in a medium bowl and pour in the milk. Stir in the sugar and the vanilla and almond extracts until well combined. Set aside to cool; the poppy seeds will swell.

To make the cake batter: Place the butter and sugar in the bowl of a stand mixer fitted with the flat beater attachment. Beat together for several minutes, until the mixture is light and fluffy. Scrape down the sides. Beat in the eggs, one at a time, until well combined. Scrape down the sides. Beat in the vanilla extract.

In a separate bowl, whisk together the flour, cornstarch, baking powder, and salt. With the motor running on low speed, mix one-third of the flour mixture into the batter, and then one-third of the milk. Mix in another one-third of the flour mixture and one-third of the milk. Finally, mix in the remaining one-third of the flour mixture and end with the milk. Scrape down the sides and give the mixture another quick mix by hand. Scrape one-third of this mixture into the bowl with the poppy-seed filling and stir well, until no streaks remain.

Dollop half of the plain cake batter on the bottom of the prepared pan. Top with the poppy-seed batter and then distribute the remaining plain cake batter on top. Drag a knife in swooping motions through the batters to create a marbled effect. Place in the oven and bake for 1 hour, or until a tester inserted into the center of the cake comes out clean. (If using a Bundt pan, start testing after 45 minutes.)

Place the pan on a rack to cool for 30 minutes before turning it upside down and removing the pan. Let the cake cool completely. Dust with confectioners' sugar before serving, if desired. The cake will keep for 3 days at room temperature, wrapped in plastic wrap.
Reprinted with permission from Classic German Baking by Luisa Weiss, copyright 2016. Published by Ten Speed Press, an imprint of Penguin Random House LLC.
YOUR RECENTLY VIEWED RECIPES
Free recipes, giveaways, exclusive partner offers, and more straight to your inbox!