Marble Cake
Updated January 23, 2023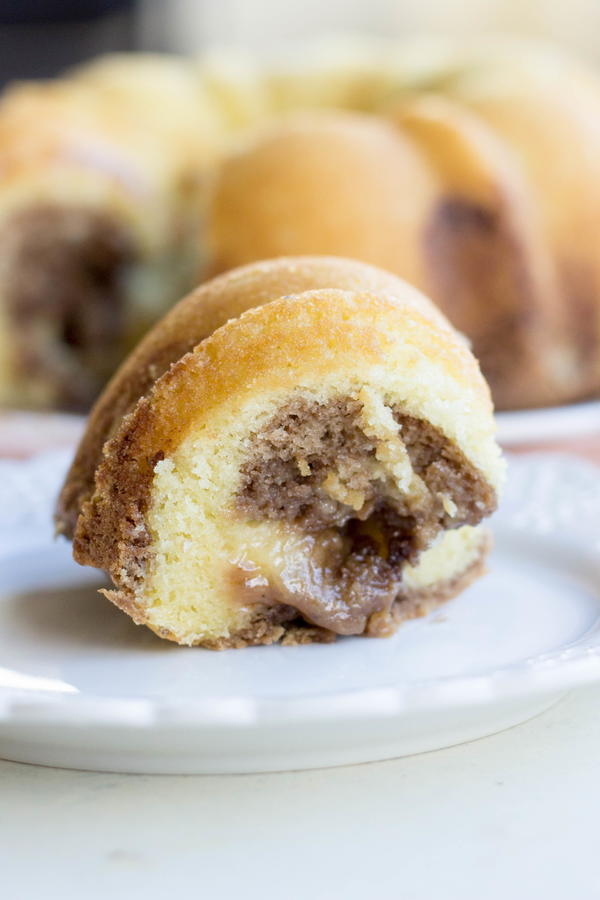 Marble Cake
This image courtesy of Cookstr
Editor's Note: If you need a cake that can be shared at almost any time, then this Marble Cake recipe by Nigella Lawson is just what you're looking for. This easy cake recipe uses a number of ingredients that you just might already have on hand. It can be baked and ready to eat in about an hour. You can bake this cake to share with a friend who is in need of comfort. It can also be given a festive look by serving with a scoop of your favorite ice cream. This recipe is perfect for almost any special occasion on your calendar. 

During the course of photographing this book, the mother of a very old friend of mine, Fiona Golfar, died, and this recipe is both a memorial to her mother, Joan, and a gift from her family. For this is the very cake made by Fiona's Auntie Ruth. She sent me the recipe, too, with the title Auntie Ruth's ("Shiver") marble cake. "Shiva" (the alternative spelling) is the traditional Jewish period of mourning, and she suggests that a marble cake is customary, perhaps because, as she said, "it looks so jolly in contrast to the bleakness." With respect, I'm not sure: to me it looks mournful, and I like that.

I wondered, perhaps fancifully, whether originally marble cakes were thought appropriate in anticipation of the marble headstone that was to be erected. I make marble cake in a ring mold, as the circle is also significant. There is a cycle that continues but — after all, the cake is sliced and the circle broken — another that has ended. I hope Auntie Ruth doesn't mind that I have fiddled a little with her recipe, and I thank her, and the shade of Joan Golfar, for allowing me to have her shiva cake for my book.

OccasionBirthday, Buffet, Buffet Meal, Casual Dinner Party, Family Get Together
MealDinner, Lunch, Snack, Tea
Taste and TextureButtery, Chocolatey, Sweet
Type of DishCake, Chocolate Dessert
Ingredients
2 sticks soft, unsalted butter
1¼ cups superfine sugar
1¾ cups all-purpose flour
½ teaspoon baking soda
1½ teaspoons baking powder
4 eggs
Zest of 1 orange, plus approximately 3 tablespoons juice
1 tablespoon unsweetened cocoa
1 teaspoon espresso powder
1 tablespoon milk
Instructions
Preheat the oven to 350 degrees F. Grease a ring mold 9½ inches in diameter, with 5 cup capacity.

Put the butter, sugar, flour, baking soda, baking powder, eggs and zest of orange into a processor and blitz to a batter. Pour the orange juice, with the motor running, down the funnel of the processor to make the cake mixture lighter and smoother.

Divide the batter between two bowls. Put the cocoa and espresso powder into a small bowl and whisk in the milk; fold this into one of the bowls of cake mixture to make it dark colored. Spoon a splodge of light-colored cake batter into the pan, and then a chocolate-colored spoonful working around the ring of the mold. 

Carry on with a second layer, but don't worry if it is haphazard and not terribly even as this is the whole point of the marbling. Once you have used up both the batters, give the contents of the ring mold a swirl with a spatula to create the marble effect, and bake in the oven for 35 minutes or until a cake tester comes out clean. ​

Let it sit on a cooling rack for about 10 minutes before turning out on to the rack to get completely cold.
Note
The espresso powder is really to enhance the requisite dark coloring, so if you do not want the coffee flavor, slight though it is, replace the teaspoonful of espresso powder with another tablespoon of unsweetened cocoa.
2004 Nigella Lawson
YOUR RECENTLY VIEWED RECIPES
Free recipes, giveaways, exclusive partner offers, and more straight to your inbox!