Enlightened Carrot Cake
Cookbook
Published by Vegan Heritage Press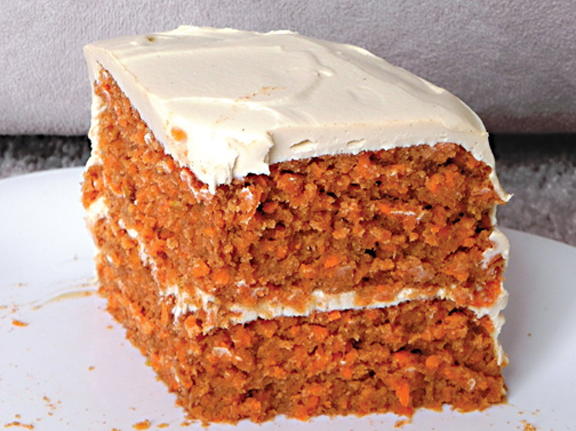 This image courtesy of Amber Shea Crawley
Who in their right mind would attempt to create a raw, vegan, gluten-free, grain-free, nut-free, low-calorie, low-fat, no-added-sugar, and no-bake - but still tasty - carrot cake? Well, me. It took some tinkering, but I think you'll love what I came up with. I recommend using a very sweet variety of red apple and the softest, moistest dates you can find. Keep in mind, of course, that this is no longer nut-free when you add the Tangy Cream Cheese Icing, but miraculously, it is still low-cal and low-fat!
Serves8 servings
OccasionCasual Dinner Party
Dietary ConsiderationEgg-free, Gluten-free, Halal, Kosher, Lactose-free, Peanut Free, Raw, Soy Free, Vegan, Vegetarian
Taste and TextureCreamy, Nutty, Sweet
Type of DishCake, Dessert
Ingredients
1 cup pitted dates, soaked in warm water for 15 minutes and drained
1 large or 2 small red apples, peeled if desired, cored, and chopped
¼ cup water
1 tablespoon lemon juice
1 teaspoon vanilla extract
1 teaspoon ground cinnamon
½ teaspoon ground nutmeg (optional)
¼ teaspoon sea salt
1 pound carrots, peeled if desired, shredded
¾ cup coconut flour
Stevia to taste (optional)
1 batch Tangy Cream Cheese Icing (recipe follows), for frosting
¾ cup cashews, soaked for 2 to 4 hours and drained
½ cup + 2 tablespoons non-dairy milk of choice 
1½ teaspoons lemon juice
½ teaspoon probiotic powder (see Notes)
2 tablespoons coconut nectar Pinch of sea salt
10 drops liquid stevia (or equivalent sweetener of choice), or to taste (optional)
Instructions
To Make the Cake: Combine the drained dates, apple, water, lemon juice, and vanilla in a food processor. Blend until fairly smooth. It may remain just slightly chunky. Add the cinnamon, nutmeg, and salt and blend again until combined.

Place the shredded carrots in a large bowl. Add the mixture from the food processor and stir well with a wooden spoon to combine. Add the coconut flour (if it's clumpy, sift it in). Stir until the batter is combined and uniform. Taste the bitter, and if you think it needs a little more sweetness, add stevia to taste. Set the batter aside for 5 to 10 minutes to allow the coconut flour to absorb the liquid mixture.

Divide the batter between two 5- or 6-inch round spring-form pans, pressing it in firmly and evenly, and freeze for A 4 hours or refrigerate overnight. (If you only have one pan, you can press half the batter into the pan and freeze it for 2 to 4 hours, placing the bowl with the rest of the batter in the fridge. When the half in the pan has firmed up, remove it to a plate and place it in the fridge. Press the remaining half of the batter into the same pan and freeze for 4 hours or refrigerate overnight.)

When both halves of the cake have firmed up, place one half on a plate or cake stand and frost the top only with Tangy Cream Cheese Icing. Carefully place the other cake half on top, and use the rest of the icing to frost the top and sides of the cake. Refrigerate overnight, or until ready to serve.

Snugly wrap leftover cake in plastic wrap and store in the refrigerator for up to 4 days.

To make easy work of all those carrots, shred them in a food processor fitted with the grating disc. To make a larger cake in an 8- to 9-inch springform pan, simply double the recipe. This cake tastes best after overnight (or longer!) refrigeration, and will keep well in the fridge for several days.

To Make the Tangy Cream Cheese Frosting: Combine the soaked cashews, nondairy milk, lemon juice, and probiotic powder in a high-speed blender and blend until smooth. You may need to use the tamper. Transfer the mixture to a medium bowl and cover with plastic wrap. Set the bowl in a warm place (such as in a dehydrator set to 110°F, on a sunny windowsill, or on top of the refrigerator) and let the icing culture for 5 to 6 hours.

When the icing has finished culturing, transfer it to a food processor or high-speed blender. Add the coconut nectar and salt and whip until smooth. Alternatively, you can refrigerate the icing after it has cultured and sweeten it the next day. Taste for sweetness and stir in the stevia if desired. Transfer to a bowl or container and refrigerate for at least 2 hours, or until ready to use.

Store in a glass jar or airtight container in the refrigerator for up to 5 days.
Cake Substitutions
Water: coconut water or nondairy milk of choice
Cake Variations
Nut-Free Carrot Cake: Top the cake with your favorite vanilla non-dairy yogurt or a thin layer of coconut butter in place of the Tangy Cream Cheese Icing.

Nutty Carrot Cake: Mix ½ cup chopped dry walnuts into the batter.

Polka-Dot Carrot Cake: Mix ½ cup soaked raisins into the batter.
Frosting Substitutions
Coconut nectar: agave nectar or any other liquid sweetener
Frosting Variations
Lower-Fat Cream Cheese Icing: Replace ¼ cup of the cashews with plain or vanilla nondairy yogurt and reduce the milk to ½ cup.

Lower-Sugar Cream Cheese Icing: Replace the coconut nectar with 3 tablespoons date syrup.

Quick Cream Cheese Icing: Omit the probiotic powder, reduce the nondairy milk to ½ cup, and skip the culturing step; instead, simply blend all ingredients together until smooth and refrigerate until ready to use.

Sweet Cream Cheese Icing: Culture the icing for only 3 to 4 hours, then double the amount of coconut nectar or add additional stevia to taste.
Notes
If you don't have loose probiotic powder, you could empty the powder out of 2 probiotic capsules (discarding the capsules after emptying) and use that instead. You can find dairy-free probiotic powder at natural food stores or bluebonnetnutrition.com.
2013 Amber Shea Crawley
YOUR RECENTLY VIEWED RECIPES
Free recipes, giveaways, exclusive partner offers, and more straight to your inbox!