Chili Chocolate Lava Cakes
Indulge in this uniquely delicious take on chocolate lava cake.
Cookbook
Published by Page Street Publishing Co.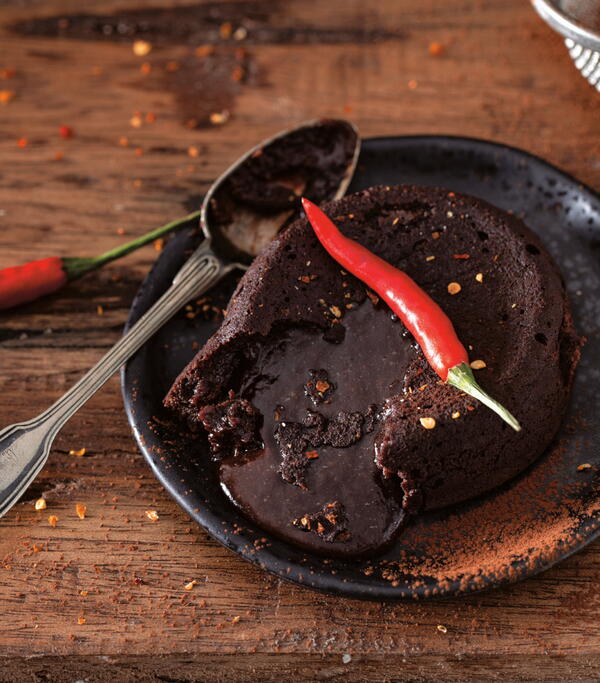 Chili Chocolate Lava Cakes
Hands down, these cakes are one of my absolute favorite desserts. I don't know what it is that makes me so stupid about them because they are so simple, but just thinking about the gooey hot and liquid chocolate makes me weak. This recipe is so easy to make, and you will be rewarded big time for making it.
Yields6 cakes
Ingredients
1 tablespoon cold butter, for ramekins
1/4 cup (23 g) unsweetened natural cocoa powder, for ramekins
9 ounces (255 g) bar-style semisweet chocolate, finely chopped
3/4 cup (170 g [1 1/2 sticks]) unsalted butter
3 large eggs
3 large egg yolks
1 teaspoon vanilla extract
1 fresh Thai bird's eye chile, finely chopped, with or without seeds depending on your sensitivity to hot foods
1/2 cup (100 g) sugar
1/4 cup (34 g) all-purpose flour, spooned and leveled
2 tablespoons (11 g) unsweetened natural cocoa powder
1/4 teaspoon salt
Serving suggestions: powdered sugar, cocoa powder, ice cream, red pepper flakes, whipped cream or berries
Instructions
Preheat the oven to 425°F (220°C). Butter the inside of six 1-cup (240-ml) ramekins and dust with cocoa powder so that the ramekins are completely covered on the bottom and sides. Place the ramekins in the freezer.

In a microwave-safe bowl, combine the chocolate and 3⁄4 cup (170 g) of the butter and microwave on a medium setting, stirring every 20 seconds for 1 to 2 minutes, or until completely melted and well mixed. Set aside.

In a large bowl, whisk together the eggs, egg yolks, vanilla and chile just to combine. Then, in a medium bowl, whisk together the sugar, flour, cocoa powder and salt to combine. Add the flour mixture and the melted chocolate to the egg mixture and whisk just to combine. Do not overmix the batter at any step.

Remove the ramekins from the freezer and spoon the batter into the ramekins to fill them equally. Bake for 9 to 11 minutes, or until the edges are dry and set, and the center still looks wet.

Remove from the oven. Place a dessert plate on top of each ramekin. Then, flip over and invert each cake onto its plate. Please be cautious not to burn yourself as you do this; wearing oven mitts is strongly suggested.

Garnish the cakes with powdered sugar, cocoa powder, ice cream, red pepper flakes, whipped cream or fruit. Lava cakes are best eaten fresh when still warm. However, you can leave leftover cakes in their ramekins and store them, covered, at room temperature for up to 2 days. The center won't be liquid anymore, but the cold cakes are delicious as well. You can reheat them in the microwave.
Notes: I'm used to eating hot food regularly, so I used the seeds of the Thai chile instead of discarding them. If you are sensitive to hot food and chiles, then remove the seeds. You could also add just 1/2 chile.

Be careful not to touch your face or eyes after cutting the chile and be sure to wash the cutting board, knife and your hands very well.
Reprinted with permission from The Chocolate Addict's Baking Book by Sabine Venier, Page Street Publishing Co. 2020.
YOUR RECENTLY VIEWED RECIPES
Free recipes, giveaways, exclusive partner offers, and more straight to your inbox!