Apple-Walnut Layer Cake with Swiss Meringue Frosting
Cookbook
Published by Page Street Publishing Co.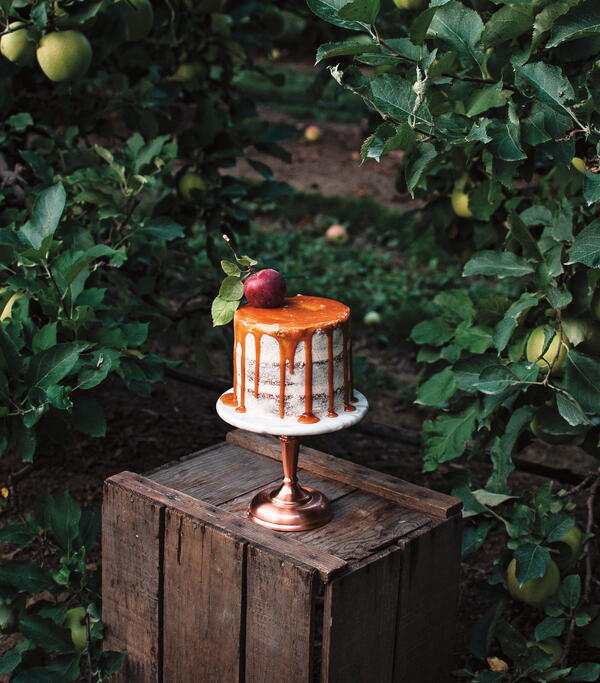 Apple-Walnut Layer Cake with Swiss Meringue Frosting
If you have a backyard apple tree, then you may already know that they naturally cycle through heavy years and lighter years. This biennial bearing is how trees balance their energy, but it can be managed with pruning and thinning! We prune all our trees in winter and hand-thin every tree in spring to help even out our harvest production from year to year and to protect our trees from bearing too much fruit. This apple-and-walnut-studded spice cake is layered with brown butter swiss meringue frosting and topped off with a salted caramel drip. My ideal fall cake. If layer cakes aren't your thing, you can bake this into a 9 x 13–inch (23 x 33–cm) cake and drizzle with caramel. I always recommend baking your cake one day, storing it in the fridge overnight to chill, and then make the frosting the next day and assembling. Bite-size chunks make it easier to tackle!
Yields1 (6-inch [15-cm]) three-layer cake
Ingredients
CAKE
1 cup (227 g) unsalted butter, softened
1/2 cup (110 g) packed brown sugar
1 cup (200 g) granulated sugar
1 tablespoon (15 ml) vanilla extract
3 large eggs
2 cups (250 g) all-purpose flour
2 teaspoons (9 g) baking powder
1 teaspoon ground cinnamon
1 teaspoon ground allspice
1/2 teaspoon ground ginger
1/4 teaspoon salt
1/2 cup (120 ml) full-fat plain Greek yogurt
1 medium tart apple, such as Elstar, Pink Lady or Granny Smith (1 cup [125 g] when prepared)
1/2 cup (59 g) chopped walnuts

BROWN BUTTER SWISS MERINGUE FROSTING
1 cup (227 g) unsalted butter, divided
1 tablespoon (15 ml) vanilla extract
1 tablespoon (15 ml) cream or milk, plus more as needed
3 cups (360 g) powdered sugar, plus more as needed

SALTED CARAMEL FILLING AND TOPPING
1 batch salted caramel sauce (click here for the recipe)
Flaked salt, coarse sugar, sprinkles, small apples, etc. (optional)
Note: If making homemade caramel sauce for this cake, it should be prepared and cooled first.
Instructions
Preheat the oven to 350°F (180°C). Grease three 6-inch (15-cm) round cake pans with straight, 2-inch (5-cm) tall edges, and set aside. Alternatively, use two 8-inch (20-cm) pans or one 9 x 13–inch (23 x 33–cm) pan.

To make the cake, in the bowl of a stand mixer fitted with the paddle attachment, cream the butter, brown sugar, granulated sugar and vanilla extract on medium-high, until light and fluffy, about 3 to 4 minutes. Add the eggs one at a time, and mix on medium until each is fully incorporated before adding the next one. Use a spatula to scrape down the sides and bottom of the bowl. In a medium bowl, whisk together the flour, baking powder, cinnamon, allspice, ginger and salt. Add half the dry ingredient mixture to the wet ingredients and mix on low until almost incorporated, about 1 minute. Add the yogurt and mix on low. Finally, add the rest of the dry ingredient mixture, mixing on low until just combined.

Chop the apple into 1⁄4-inch (6-mm) pieces (no need to peel it unless you want to) and measure to 1 cup (125 g). Using a spatula, fold the apple into the batter along with the chopped walnuts. Divide the batter evenly into the 3 greased cake pans. I like to use a kitchen scale to ensure the batter is distributed equally, but it's not necessary. Bake for 25 to 30 minutes, or until an inserted toothpick comes out clean. Cool for 10 minutes, and then carefully remove from the pans and cool to room temperature. If the cake layers have domed at all, you can use a long serrated knife to carefully level each one. Place the cake layers into an airtight container and chill them in the fridge before assembling. If not using right away, freeze the cake layers for up to 3 months.

To make the frosting, you'll first brown the butter and let it cool. In a medium light-colored saucepan, heat 1⁄2 cup (114 g) of the butter on medium heat. Cut it into tablespoon-size (14-g) chunks to help it melt more evenly. Swirl the pan occasionally as it starts to cook. The butter will start to foam a couple minutes in, so keep swirling, and don't walk away from the stove. Cook 3 to 4 minutes until you start to see brown flecks on the bottom of the saucepan and a nutty aroma fills the air. Remove from the heat and cool to room temperature before transferring to the fridge. This frosting works best if the brown butter comes back to the texture of softened butter, not fully melted.

In the bowl of a stand mixer fitted with the paddle attachment, place the resolidified brown butter and the remaining butter. Whip for about 5 minutes on high. Whipping the butter for that long helps aerate it and makes it super fluffy and silky. Add the vanilla extract and the cream. Mix on low until incor- porated. Add the powdered sugar and mix on medium for 1 to 2 minutes. Add more powdered sugar and/or cream until you reach the desired consistency. Store in an airtight container in the fridge or freezer until ready to assemble the cake. Bring to room temperature before using. The frosting may benefit from being re-whipped after being in the freezer.

Once the cakes are cool and level, place the first layer upside down onto your cake plate. (This reduces the number of crumbs as the cut part is facedown.) I use about 2 scoops of frosting from a 21⁄2-inch (6-cm) ice cream scoop between each cake layer so that I know my frosting layers will be even. Spread the frosting in an even layer, and then build the frosting up slightly along the entire border of the cake layer to create a small barrier for the caramel layer. (You can omit the caramel if you wish.) Spoon a few tablespoons of salted caramel sauce on top of frosting. Repeat for the next layer. When the final cake layer is placed on top (remember to place it upside down to reduce crumbs), spread a very thin layer of frosting over the entire cake as your crumb coat. Now is a good time to check how straight your cake is standing and gently adjust the layers if possible so that it's standing straight. I like to place my cake scraper along one side and push from the other side to get it perfectly level. Move the cake into the fridge for 15 minutes or the freezer for about 10 minutes to firm up. A chilled cake is more stable, traps the crumbs in the crumb coat more efficiently and is overall easier to handle.

To frost the cake, scoop more frosting onto the chilled crumb layer and use a cake scraper (also called an icing smoother) to smooth out the frosting as you carefully spin the cake. For a more rustic look, simply add more frosting and use an offset spatula or butter knife to create swoops and swirls in the frosting. If you choose to omit the caramel drip, you could pipe more frosting on the top of the cake and decorate it however you wish.

For the caramel drip, be sure to return the cake to the fridge for another 15 minutes (or freezer for 5 to 10 minutes) so that it is properly chilled. This helps the caramel firm up once piped onto the cake. The caramel should be about room temperature, but I always recommend trying a test drip on the back of the cake to see how it reacts. Too cold and you'll get candle wax–looking drips that don't run down the cake properly, and too warm will cause the cara- mel to be streaky and run off the cake. Place the caramel into a squeeze bottle for easy handling or a piping bag with a very small hole or round tip. Pipe the caramel around the entire cake, pushing the caramel over the side of the cake where you want a drip. Squeeze a bit more on for a longer drip or less for a shorter drip. Fill in the top of the cake with caramel, working quickly so that it has a smooth finish, and then transfer the cake back to the fridge to help the caramel set. Top with a bit of flaked salt, coarse sugar, sprinkles, small apples, etc. Bring to room temperature before serving. Leftovers may be stored for 2 to 3 days in an airtight container in the fridge, or cut into slices and frozen for 2 to 3 months. Bring frozen pieces to room temperature before serving.
Reprinted with permission from The Farmers Daughter Bakes by Kelsey Siemens, Page Street Publishing Co. 2020.
YOUR RECENTLY VIEWED RECIPES
Free recipes, giveaways, exclusive partner offers, and more straight to your inbox!