Rafael's Righteous Cream Cheese Brownies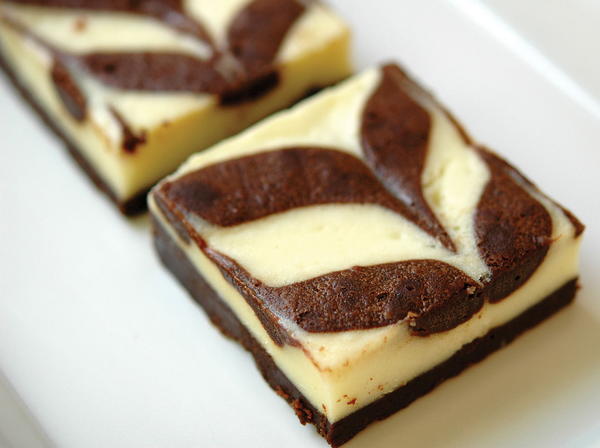 This image courtesy of Anna Blessing and Stephen Hamilton
Editor's Note: A tray of fresh brownies is one thing, but a tray of cream cheese brownies is decadence on another level! In this recipe for Rafael's Righteous Cream Cheese Brownies, chocolate and cream cheese create an unstoppable force. You'll love having this brownie recipe up your sleeve the next time you want to bake something special, unique, and a bit luxurious, too. As this recipe makes 36 brownies, you'll have plenty to share with coworkers, family, and friends. You can even make a batch to share at your next potluck or book club meeting, where these brownies are sure to be a hit.

My family has been friends with the Schulmans, owners of the famous Chicago institution Eli's Cheesecake, since—forever. When I first opened my pastry shop, Maureen Schulman made me look her straight in the eye and promise I would never make cheesecake. Well, I never break a promise. Our genius head pastry chef, Rafael Ornelas, created this delicious cream cheese brownie recipe, and it's the closest we will ever come to making cheesecake. 

How do you properly thank the person responsible for putting food on your table? With the gift of brownies, of course. A batch of luscious Rafael's Righteous Cream Cheese Brownies will put even the grumpiest of bosses in a good mood with its creamy, slightly tangy cream-cheese center and perfectly rich dark-chocolate swirl. They will stay fresh for several days if properly refrigerated and kept in a sealed container or bag, so it's also a gift that keeps on giving.

Make sure you allow plenty of time for these brownies, as you'll need to allow them to cool completely at room temperature and then refrigerate them for 4 to 5 hours before slicing the brownies.
Serves36 brownies
EquipmentBaking/gratin Dish
Taste and TextureChocolatey, Creamy
Type of DishChocolate Dessert, Dessert
Ingredients
2 sticks (8 ounces) unsalted butter, warmed to room temperature
¾ cup (3 1/3 ounces) unsweetened chocolate (I recommend Valrhona or Callebaut, but Baker's brand is much easier to find)
3 cups, granulated sugar, divided
½ cup all-purpose flour, sifted
6 large whole eggs, warmed to room temperature, divided
¼ teaspoon salt
2 teaspoons vanilla extract
2½ 8-ounce packages cream cheese, warmed to room temperature
Sifter
Double boiler or microwave
Whisk
Stand mixer fitted with the paddle attachment or a hand mixer
Two 9 × 13-inch greased pans
Piping bag fitted with ½-inch round tip (#804)
Paring knife
Instructions
Prep: Take your eggs, butter, and cream cheese out of the refrigerator a couple of hours before you make the dish. Preheat the oven to 300 degrees F. Grease two 9 × 13-inch baking pans. Assemble the piping bag, coupler, and tip (see Notes below).

Melt together the butter and chocolate in a double boiler or microwave. Transfer to a large mixing bowl.

Using a whisk, blend 2 cups of the sugar and the salt into the chocolate-butter mixture.

Slowly add 4 of the eggs to the mixture, 1 at a time.

In 3 separate batches, add in the flour.

In the bowl of a stand mixer fitted with the paddle attachment, or in a mixing bowl (if using a hand mixer), beat together the cream cheese and remaining 1 cup sugar until smooth (about 2 minutes), and then add the remaining 2 eggs, 1 at a time. (For this step, it is best to use a stand mixer fitted with the paddle attachment, but you can use a regular mixing bowl and a hand mixer if necessary.)

Measure out 1½ cups of the chocolate mixture and set aside to use as a topping.

Pour the remaining chocolate mixture into the greased 9 × 13-inch pans.

Spread the cream cheese mixture on top of the chocolate mixture.

Fill the piping bag fitted with the #804 tip with the reserved chocolate mixture. Pipe lines along the width of the brownies, about 1 inch apart.

Run the paring knife through the length of the brownies (in the opposite direction of the piped lines you created), creating a pretty streaking effect. You can also use the knife to make "swirls" of whatever design you would like.

Bake at 300 degrees F for 60 minutes. Cool completely in the pans. After they cool completely at room temperature, refrigerate them in the pans for at least 4 to 5 hours before slicing.
Notes
You can find Baker's brand unsweetened chocolate at most supermarkets.

Shelf Life and Storage Instructions: 4-5 days refrigerated in a sealed airtight container

Pastry bags (aka piping bags). I love inexpensive, disposable plastic pastry bags, and here's a cost-saving tip: you can use them several times before throwing them away.
* Piping bags are crucial for frosting cupcakes and decorating cakes.
* Always use a tip when using a pastry bag, and using different shaped tips can give your baking goods a more professional appearance.
* When using a pastry bag for detail work, like decorations on cakes, it's wise to use both a coupler and a tip, so you can quickly slip off one tip and use a different one. A coupler is a piece of plastic that can be used to slip tips off and on without emptying the contents of the piping bag.
* When decorating cakes, I like to cut off about a quarter of the bag (so it doesn't get in the way when piping) and then use a white plastic coupler with two pieces (one placed inside the bag, and one that screws onto the outer part of the bag after the tip is on to keep the tip in place). With the coupler in place, you don't have to empty out the whole bag in order to switch tips.
* A small, round tip is great to use for writing on cookies or cakes.
* Another note about tips: You'll notice when you start shopping that each tip has a product number that refers to the standard size and style of the tip. For example, the ½-inch round cake decorating tip used for Rafael's Righteous Cream-Cheese Brownies is style #804. All tip manufacturers use the same numbers, so no matter which company's tips you choose, you'll be fine as long as you look for that style number.
2009 Sarah Levy
YOUR RECENTLY VIEWED RECIPES
Free recipes, giveaways, exclusive partner offers, and more straight to your inbox!