Mom's Fudge Brownie Sundae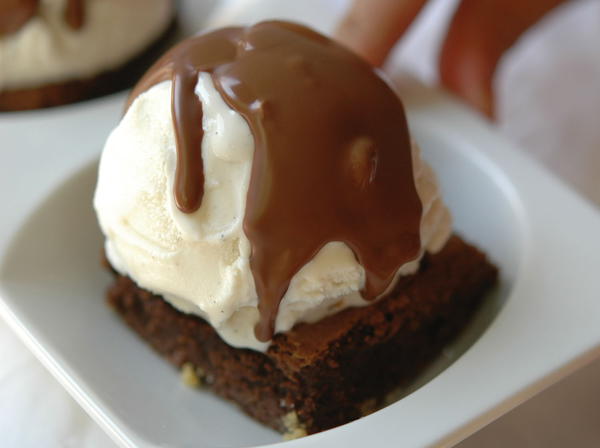 This image courtesy of Anna Blessing and Stephen Hamilton
Editor's Note: After a long day at work or a busy day of running errands, why not treat your family to Mom's Fudge Brownie Sundae? This recipe is easy to make and will satisfy just about every sweet tooth.

There's nothing better than chewy and nutty fudge brownie sundaes, and my mom's fudge brownie recipe is particularly good. If you don't care for nuts, you can easily omit the walnuts in this recipe. We make them without nuts at the shop because we have so many other items with nuts, and my mom never fails to say, "That's not my recipe!" With or without nuts, it's a perfectly fudgy brownie—not too gooey, not too cakey.
NotesYou can find Baker's brand unsweetened chocolate at most supermarkets. I recommend Valrhona or Callebaut chocolate.
Serves18 brownies

Taste and TextureChocolatey, Nutty, Sweet
Type of DishChocolate Dessert, Dessert
Ingredients
2 sticks (16 tablespoons) unsalted butter
4 ounces unsweetened chocolate
2 cups granulated sugar
1½ cups all purpose flour
4 large whole eggs
¼ teaspoon salt
2 teaspoons vanilla extract
1½ cups walnuts, toasted and coarsely chopped
Sifter
Double boiler or microwave Whisk
Stand mixer fitted with the whisk attachment or a hand mixer
One 9 × 13-inch greased pan
Paring knife
Cutting board
Chef's knife
Instructions
Preparation: Take your eggs out of the refrigerator a couple of hours before you make the dish.

Toast your walnuts in the oven for about 12-15 minutes.

Grease a 9 × 13-inch baking pan.

Preheat the oven to 350°F.

Melt the butter and chocolate together in a double boiler or microwave (see section below). Transfer the chocolate-butter mixture to a large mixing bowl or the bowl of a stand mixer.

Use a cutting board and chef's knife to coarsely chop the toasted walnuts.

Using either the whisk attachment of a stand mixer or a hand mixer on medium speed, mix the sugar and salt into the chocolate-butter mixture while it is still hot.

In four alternating batches, add the flour and eggs (one at a time) into the chocolate-butter mixture with the mixer running on medium speed.

Add the vanilla until it is thoroughly combined.

Bake the brownies at 350°F for 25 to 30 minutes, or until firm throughout.

Let the brownies cool and then cut into 2-inch squares. Add desired toppings and serve.

Okay, so maybe there is one thing better than my Mom's brownies—those brownies with ice cream on top! Load up this sundae with ice cream, fudge sauce, whipped cream, nuts, sprinkles, and fresh fruit.

Don't forget to warm up the brownie before making your sundae, and I recommend using Häagen Dazs or Ben & Jerry's vanilla ice cream and the Barefoot Contessa's fudge sauce.
Melting Chocolate in a Double Boiler
Melting chocolate in a double boiler. A double boiler is a specialized piece of kitchen equipment consisting of two fitted saucepans. The larger saucepan is partially filled with water brought to a simmer or boil (very important-the water should not touch the inner pan). The inner saucepan uses this indirect heat to melt the chocolate. This is a wise method to use for any recipe that requires extremely low heat, because it cooks items slowly and evenly. A double boiler can also be used to cook a custard, such as a lemon curd or crème brûlée. If you don't have a true double boiler, you can use a large saucepan filled with water with a metal bowl placed on top.
Shelf Life and Storage Instructions
Store 4-5 days refrigerated in a sealed airtight container.
2009 Sarah Levy
YOUR RECENTLY VIEWED RECIPES
Free recipes, giveaways, exclusive partner offers, and more straight to your inbox!