25+ Easy Breakfast Ideas
Rise and shine with these easy breakfast recipes for eggs, pancakes, and so much more!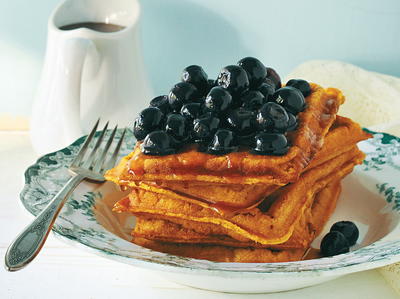 Everyone knows that breakfast is the most important meal of the day, but most of us don't have time for more than toast or a bagel first thing in the morning. That's all about to change with 25+ Easy Breakfast Ideas! Whether it's a sleepy Saturday morning or you're struggling to get out of bed to go to work on Monday, these quick and easy breakfast ideas will put some pep back in your step.

Whether you're craving eggs or waffles or French toast, or need some breakfast ideas that are entirely new, this collection of our best breakfast recipes has it all. From fluffy and delicious pancakes and waffles to breakfast breads that seriously change the game, you're sure to find something in this collection that appeals to your taste buds. The whole family might just find a new favorite! You'll discover classic recipes, as well as vegan takes on some of your favorites. These recipes are perfect for brunch with friends or a casual weekend at home with the family.
Table of Contents
Pancake and Waffle Recipes
Who doesn't love some fluffy pancakes or waffles first thing in the morning? These easy recipes for pancakes and waffles are a classic favorite! The kids love them, too, so it's a win for the whole family — be sure to make enough for seconds. Make your breakfast a bit more fun by setting out an assortment of toppings, too. Think sliced in-season fruit, maple syrup, whipped cream, and even chocolate chips! If you do have leftovers, let the pancakes or waffles cool completely, then store in a sealed container in the refrigerator. Simply reheat the breakfast item in the microwave the next morningk, and breakfast is ready!
Breakfast Ideas with Eggs
Egg recipes are a breakfast staple! If you're looking for fun new ways to cook them, these breakfast recipes with eggs are sure to inspire you. Don't settle for just fried or over-easy — try something unique and exciting! While some of these recipes are perfect for a busy weekday morning, there are a few that can be served as part of your next brunch with family and friends. In addition, some of these recipes can be made in advance. All you need to do is cook when you're ready to eat. Entertaining will be a snap with these recipes at your fingertips.
Breakfast Breads and Muffins
Sweet and delicious, these muffin and breakfast bread recipes almost taste like you're having dessert for breakfast! From your standard banana walnut muffin recipes to a berry breakfast cake, you'll love these scrumptious alternatives to a savory breakfast. These recipes are also easy to make and can be baked in advance of when you plan to serve them. Although there is nothing quite like tucking in to a cake that's just out of the oven, you can still serve these recipes hours after you bake them. As these sweet and delicious recipes prove, it's never too early to have some dessert!
Cereal Recipes
Cereal tends to fall by the wayside once we're out of childhood, but these cereal and oatmeal recipes are sure to add excitement back into this easy breakfast. You never thought that cereal could be this fun! While these easy breakfast recipes will definitely work for the morning, consider making them for a hearty dinner, too. Ranging from savory to sweet, these recipes will brighten your day and help you rise-and-shine. Shake up your breakfast routine when you add these recipes to your menu rotation at home.
Breakfast Hash
Breakfast is just better with potatoes, and a hearty breakfast hash recipe is a great way to start the day! You can even use leftover vegetables from last night's dinner if you're in a pinch. Fry it up and fill your home with the smell of a delicious breakfast. The beauty of the hash is that you can modify it to meet your preferences — and to use what's on hand. These recipes for vegetables, sausage, and more will keep you feeling full all day. 
This vegan recipe is sure to satisfy anyone's appetite! Loaded with vegetables, this skillet will keep you feeling full. 
If you have brunch on your mind, then you'll want to see this guide on  Brunch Menu Ideas
What is your favorite easy breakfast recipe?
YOUR RECENTLY VIEWED RECIPES
Free recipes, giveaways, exclusive partner offers, and more straight to your inbox!