Avocado Toast with Pickled Carrots, Garlic Cream, and House Spice Mix
Updated November 14, 2022
Cookbook
Published by Harry N. Abrams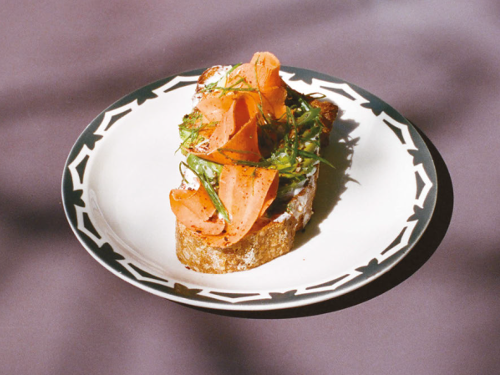 Mark Bittman came into Sqirl and said, "Oh, of course you have avocado toast." And yeah, of course we do. We're in California. We're surrounded by avocados, and they are delicious. So, the question for us is really, how do we make avocado toast special enough that maybe Mark Bittman would want to eat it? Our response has been to take an expected staple and turn it on its head.
Serves2
Ingredients
For the Garlic Cream
1 to 3 cloves garlic (depending on how much you like garlic), minced
½ small shallot, minced
2 tablespoons fresh lemon juice
Fine sea salt
½ cup (120 ml) crème fraîche
For the Spice Mix
½ teaspoon dried oregano
½ teaspoon white sesame seeds
½ teaspoon ground sumac
For the Avocado Toast
Melted unsalted butter, for brushing
2 (½-inch-/12-mm-thick) slices country-style bread
1 small ripe Hass avocado
1 scallion, thinly sliced on the diagonal
½ lemon
Fleur de sel
Instructions
Make the Garlic Cream: In a bowl, combine the garlic, shallot, lemon juice, and ½ teaspoon salt. Let the garlic and shallot soften for about 10 minutes. Fold in the crème fraîche, then taste and season with a bit more salt, if needed. Lightly whip until fluffy with body but still soft and spreadable.

Make the Spice Mix: Stir together the oregano, sesame, and sumac.

Assemble the Avocado Toast: Brush a friendly amount of melted butter on both sides of the bread, then toast in a toaster, toaster oven, or skillet until golden brown.

While the bread toasts, cut the avocado in half. Remove and discard the peel and pit. Set the avocado on a piece of parchment paper and cut each half lengthwise into thin slices.  Cover with another piece of parchment and press down to flatten the avocado halves like slices of bologna.

Lightly spread the garlic cream across each slice of toast. It'll melt into the bread; that's good. Arrange the avocado bologna on top, then add a tangle of pickled carrots, using your fingers to lift the carrots and create lots of height. (We like to call these "salad fingers.") Garnish with the scallion and spice mix. Squeeze a little lemon juice over everything and finish with a sprinkle of fleur de sel.
Vegan Option
We get a lot of requests to make this dish vegan. All you have to do is leave out the garlic cream and brush the toast with olive oil instead of butter.
Note on Garlic Cream
You'll end up with more garlic cream than you need for two servings of toast, but this stuff is good on a lot of things. We once whipped it for too long and it turned into garlic butter—that was seriously good. Then we took that garlic butter, spread it on toasted bread, and rubbed a smashed tomato across the toast. Eating that dish will transport you to Spain in two seconds.
YOUR RECENTLY VIEWED RECIPES
Free recipes, giveaways, exclusive partner offers, and more straight to your inbox!