Baked Buttermilk Beignets
Bookmark this baked beignets recipe, because you'll make it again and again.
Cookbook
Published by Page Street Publishing Co.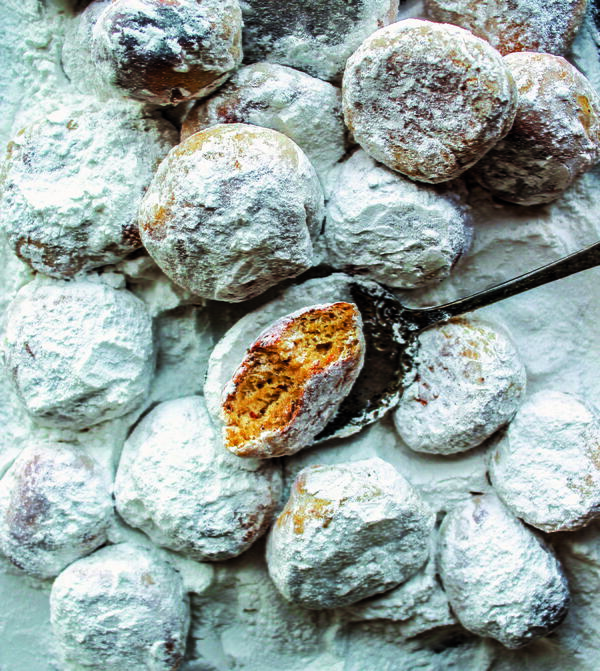 Baked Buttermilk Beignets
My daddy met a baker from New Orleans who wrote him a secret beignet recipe on the back of a napkin to pass along to me. My daddy took a picture of it with his phone and sent it to me, but I lost it. Years later, I wish I could tell you my photographic memory was better, but the reality is I'm forced to rely on my memories of mouthfeel and taste to guide me back to visits to the French Quarter.
 
Makes24 Beignets
Ingredients
1 cup (235 ml) buttermilk, warmed to 115°F (46°C)
1/4 cup (50 g) granulated sugar
2 teaspoons (7 g) active dry yeast
1 cup (120 g) white whole wheat flour
1¼–1½ cups (150–180 g) unbleached all-purpose flour, plus more for rolling
1 teaspoon Salt
1/4 cup (32 g) flax egg
4 tablespoons (56 g) softened butter, plus more for oiling
Lots of confectioners' sugar, for serving
Directions
Add the warm buttermilk and granulated sugar to a bowl. Sprinkle the yeast over the top. Allow the yeast to bloom until a thick cap of foam forms on top, 5 to 10 minutes.

In a large bowl or stand mixer with a dough hook attachment, stir together the flours and salt.

Add the bloomed yeast mixture and flax egg and knead on medium-low speed until a shaggy dough is formed. Add the softened butter, and knead until a sticky dough forms and it starts to stick on the bottom of the mixer but not the sides, 5 to 6 minutes. It should be tacky but not wet. Add more flour if you need to. Place the dough in a well-oiled bowl, cover with plastic wrap and keep in a warm place to double in size, 60 to 90 minutes.

Have 2 lined half sheet pans on hand. Unwrap the dough, punch it down in the center to release the air, and roll it out on a lightly floured surface with a lightly floured rolling pin until it's ¾-inch (2-cm) thick. Cut the dough into 24 squares. Fold each square over on itself 5 times, covering the rest of the dough with plastic wrap while you work.

Place the folded dough back on the baking sheet, cover with plastic wrap and let rest rise for another 45 to 60 minutes.

Preheat the oven to 375°F (190°C or gas mark 5) and position 2 racks in the center of the oven.

Unwrap the risen dough, and bake the beignets in the oven for 18 to 20 minutes, or until puffed and golden brown. Remove from the oven and dust with confectioners' sugar.
Vegan Option
Make dairy-free buttermilk by combining 1 cup (235 ml) of thick plant-based milk with 1 tablespoon (15 ml) of lemon juice or apple cider vinegar. Replace the butter with dairy-free butter or softened virgin coconut oil.
Note
I love to keep a small paper bag nearby and add my confectioners' sugar to the bag, then throw in 2 to 3 beignets, and shake vigorously to coat. Then serve. This is the way it's traditionally done.

Reprinted with permission from Black Girl Baking: Wholesome Recipes Inspired by a Soulful Upbringing by Jerrelle Guy, Page Street Publishing Co. 2018.
YOUR RECENTLY VIEWED RECIPES
Free recipes, giveaways, exclusive partner offers, and more straight to your inbox!