Sourdough Cinnamon Rolls
This recipe for sourdough cinnamon rolls comes with instructions for an amazing cream cheese frosting.
Cookbook
Published by Page Street Publishing Co.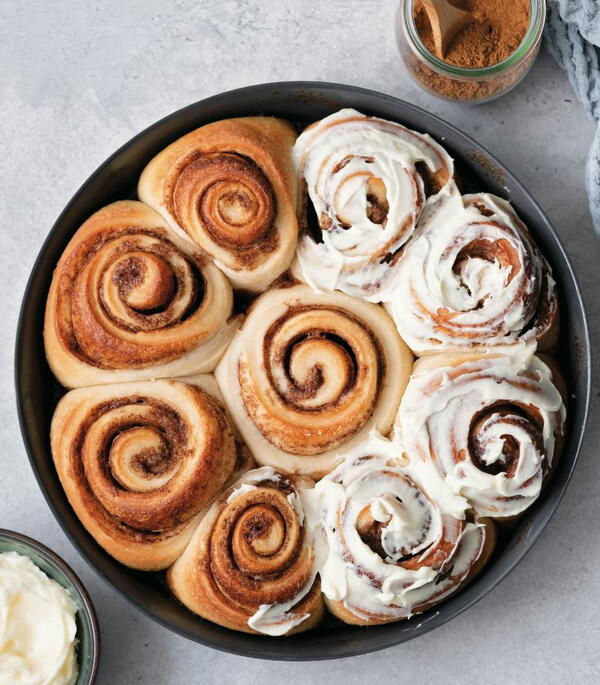 Sourdough Cinnamon Rolls
Editor's Note: Who knew that everyone's favorite weekend breakfast could be made even more amazing with a simple change in the dough? These sourdough cinnamon rolls are a true weekend treat that you should definitely make for yourself and your family. This simple (yet brilliant) recipe will have everyone asking you what your secret is to creating the best cinnamon rolls ever.

Luscious, swirly cinnamon rolls are my special occasion breakfast of choice— preferably warm, slightly gooey, and generously smeared with cream cheese frosting. For extra flavorful rolls, I use a slightly richer version of my Soft Sourdough Sandwich Bread (page 114) dough as the base. I typically form the rolls right before going to bed; the long proof time means they're ready to be baked when I wake up—the best kind of morning motivation!
Serves9 large rolls
Ingredients
Levain
18 grams (1 heaping tbsp) ripe sourdough starter (100% hydration)
31 grams (2 tbsp) milk
57 grams (1⁄3 cup plus 2 tbsp) bread flour

Final Dough
125 grams (1 cup) bread flour
125 grams (1 cup) all-purpose flour
34 grams (1⁄4 cup) spelt flour
48 grams (4 tbsp) granulated sugar
21 grams (3 tbsp) milk powder
1 large egg
104 grams (1⁄3 cup plus 11⁄2 tbsp) milk
88 grams (1⁄3 cup plus 2 tsp) heavy cream
All the levain
7 grams (13⁄4 tsp) kosher salt
45 grams (3 tbsp) unsalted butter, at room temperature

Filling
57 grams (1⁄4 cup) unsalted butter, at room temperature
100 grams (1⁄2 cup) brown sugar (light or dark)
8 grams (1 tbsp) ground cinnamon
Pinch of salt

Cream Cheese Frosting
90 grams (6 tbsp) cream cheese, at room temperature
56 grams (4 tbsp) butter, at room temperature
3/4 teaspoon pure vanilla extract
Pinch of salt
68 grams (1⁄2 cup plus 1 tbsp) icing sugar
Make the Levain:
In a medium bowl, mix the starter, milk, and flour together to form a stiff dough. Cover the bowl and ferment the levain at room temperature until more than doubled in volume, puffy, and domed, about 8 to 12 hours.
Mix the Final Dough:
In the bowl of a stand mixer fitted with the dough hook, mix together the flours, sugar, milk powder, egg, milk, cream, and levain until just combined. Cover and autolyse (rest) for 45 minutes.

Add the salt and knead on medium-low speed until the gluten is moderately developed, about 5 minutes. The dough will start out sticky and rough but should gradually come together and feel quite smooth and stretchy. Turn the mixer to low and add the butter about 1 tablespoon at a time, incorporating each batch before adding the next. Turn the speed back up to medium-low and continue kneading until the gluten is very well developed and the dough passes the windowpane test, about 10 to 15 minutes. The dough should be smooth and supple.

Shape the dough into a smooth ball and transfer to a lightly oiled container. Cover and let rise at room temperature for 2 hours. The dough will be noticeably expanded but not doubled. Stretch and fold the dough (see page 108), cover, and refrigerate for at least 8 hours and up to 24 hours.
Shape, Proof, and Bake the Rolls:
When ready to shape, in a small bowl, cream together the butter, sugar, cinnamon, and salt to form a spreadable paste. Lightly grease a 9 x 9–inch (23 x 23–cm) baking pan or a 9- or 10-inch (23- or 25-cm) round cake pan (preferably aluminum). Take the dough out of the fridge and transfer to a lightly floured surface. Roll into a 14-inch (36-cm) square, doing your best to maintain an even thickness.

Spread the filling mixture evenly over the dough, going all the way to the edges.

Roll the dough up like a jelly roll, pinching to seal. Turn the roll so the seam side is down.

Baker's Notes

For extra gooey rolls, use this trick from Sarah Kieffer of the Vanilla Bean Blog: Spread a small amount of frosting over the rolls as soon as they come out of the oven. Let cool, then spread on the remaining frosting.

These rolls keep well for 2 to 3 days in a sealed plastic bag. Reheat briefly in the microwave to refresh, and wait until just before eating to frost.
 
Reprinted with permission from Baked to Order by Ruth Mar Tam, Page Street Publishing Co. 2020.
YOUR RECENTLY VIEWED RECIPES
Free recipes, giveaways, exclusive partner offers, and more straight to your inbox!