Homemade Garlic and Herb Flatbread
This garlic flatbread recipe is about to become a new family favorite.
Cookbook
Published by Page Street Publishing Co.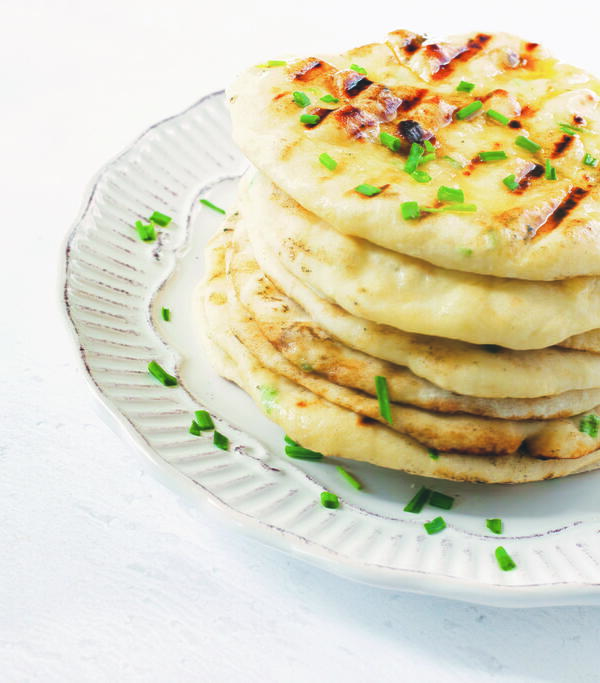 Homemade Garlic and Herb Flatbread
Editor's Note: "Homemade bread is one of those dishes that really elevates a meal. The flavors and textures are so lovely, and you can often manage the sublime experience of eating a piece when it's still warm from being cooked. This garlic herb flatbread recipe is absolutely perfect for making your homemade bread dreams come true. It's made with yeasted dough, so it's light and fluffy. And the warm garlic and herb flavors ensure that you don't need to top this bread with anything to enjoy it (although you're certainly welcome to)."

When I was in Greece, I couldn't get enough of the fresh, homemade flatbread they served at many restaurants. It was perfectly crisp on the outside and wonderfully tender and fluffy on the inside. After returning back home, I couldn't find anything similar, so I tried my hand at making it myself.

Turns out it's not difficult at all and the end result is the BEST flatbread ever. It's light, fluffy and made from real ingredients. The process does take a little time, but the end result is well worth the effort. My kids love helping me make this recipe, which also makes it a fun family activity that hopefully they'll pass on to their kids.
Serves8
Ingredients
1 package (1⁄4-oz [7-g]) active dry yeast
2 cloves garlic, minced
2 tablespoons (6 g) minced fresh chives
1/2 teaspoon salt
1/2 teaspoon sugar
1 tablespoon (15 ml) extra virgin olive oil
2 cups (250 g) all-purpose flour (plus additional for flouring the work surface)
Instructions
In a large mixing bowl, combine the yeast, garlic, chives, salt, sugar and flour. Whisk the dry ingredients together until well combined.

Make a well in the center of the flour mixture and add 1⁄2 cup (120 ml) of lukewarm water; be sure the water is not too hot or you will kill the yeast. Add the olive oil. Using a wooden spoon, stir gently to mix all the ingredients together. Slowly add more water as needed—up to 1⁄4 cup (60 ml)—until a sticky dough forms.

Lightly flour a clean work surface and gently transfer your dough onto the surface. Using the palms of your hands, gently knead the dough until it becomes smooth and elastic, about 2 minutes. Softly form it into a ball.

Wipe out your original mixing bowl and place your dough in the center, seam side down. Cover with a damp tea towel and place in a warm place to rise for 1 hour. After an hour, the dough will double in size. Remove the dough from the bowl and cut into eight equal pieces; I use a pair of scissors.

Roll each piece into a ball and then gently flatten into a flat circle. Allow the dough to rest while you heat a cast-iron skillet over medium-high heat. Once warm, cook each flatbread one at a time for about 2 minutes each side, just until the outside is golden brown. Remove the flatbread and allow it to cool slightly before use.
YOUR RECENTLY VIEWED RECIPES
Free recipes, giveaways, exclusive partner offers, and more straight to your inbox!