Updated September 23, 2017
Cookbook
Published by Workman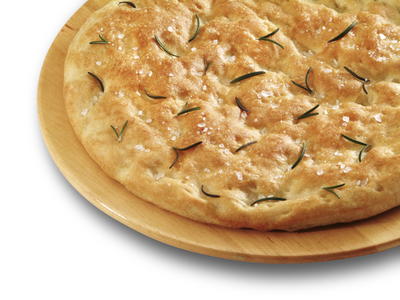 This image courtesy of Shutterstock
Editor's Note: Say goodbye to purchasing pre-made focaccia bread at the bakery, and say hello to making your own focaccia bread from scratch! This easy focaccia recipe requires some preparation — and plenty of waiting — but the results will be worth it. This versatile bread can be served as the base for a pizza or sandwich, or sliced as an elegant appetizer to share with family and friends. The focaccia uses the author's recipe for pizza dough as the foundation for this delicious take on the classic Italian dish.

This focaccia is no more than Basic Pizza Dough, rolled or patted flat, brushed with oil, and scattered with the simplest flavorings–from olive oil and sea salt to more esoteric combinations of herbs and fruit–just enough to adorn but not obscure the bread. These quickly made breads are some of my favorite hors d'oeuvres. This is the basic method for making one 12-inch focaccia, for 6 people. This classic focaccia, dressed only with olive oil and sea salt, is the base to which a variety of other toppings, such as rosemary, garlic, and olives, can be added. The only fixed quantity is the oil.

If you wish to make focaccia to feed more or less people, or make individual ones, figure on 2½ ounces of dough and ½ teaspoon olive oil per person. Increase or decrease the topping amounts listed below accordingly. You can roll out the dough in advance of assembling the focaccia. Arrange it on parchment, wrap well in plastic wrap, and freeze until ready to use. Thaw in the refrigerator for 1 hour before baking.

OccasionBuffet, Casual Dinner Party, Cocktail Party
Recipe CourseHors D'oeuvre
Taste and TextureCheesy, Garlicky, Herby, Savory
Ingredients
1 pound Basic Pizza Dough
About 1 tablespoon all-purpose flour for shaping the dough
1 tablespoon fruity extra virgin olive oil
3 to 4 garlic cloves, thinly sliced
1 cup thinly sliced Vidalia or Bermuda onions
Fresh herbs, such as 3 tablespoons fresh rosemary leaves or 50 small fresh sage leaves
1 cup pitted and coarsely chopped meaty black olives, such as Kalamata or Gaeta
1 teaspoon fennel seeds or crushed black peppercorns
1 ounce aged grating cheese, such as Parmigiano-Reggiano or Manchego, grated or thinly shaved
½ teaspoon flaked sea salt, such as Maldon, or kosher salt, or more to taste
Instructions
Thirty minutes before baking, preheat the oven to 450 degrees F and place a pizza stone or baking tiles, an inverted large cast-iron skillet, or a heavy baking sheet on the middle rack of the oven to heat. If the dough has been refrigerated, bring to room temperature 15 to 20 minutes before shaping.

On a floured work surface, flatten the dough into a disk and roll it, or press, pat, and stretch it into a rough circle, about 12 inches in diameter, adding a little more flour if necessary to keep it from sticking. Place a sheet of parchment paper roughly the size of the dough on a peel, rimless cookie sheet, or an inverted baking sheet. Transfer the dough to the parchment. Prick the dough all over with a fork and brush it with 1½ teaspoons of the oil. Cover loosely with plastic wrap and set in a warm place to rise until puffy, 15 to 20 minutes.

Arrange the optional toppings over the dough; if using cheese, add it after the dough has baked for 4 to 5 minutes and is just beginning to puff and brown. Using a slightly dampened brush, brush lightly with oil. Sprinkle with the salt.

Slide the dough, still on the parchment, onto the hot pizza stone. Bake for 15 to 20 minutes, until the bubbles that formed on the surface are golden and the edges of the dough are browned. Remove the focaccia from the oven and slide it off the parchment; brush with the remaining oil. With a heavy chef's knife, cut the focaccia into wedges. Serve at once.
Improvisations
Classic Rosemary Focaccia
Follow the guide above, using 3 tablespoons fresh rosemary leaves or 1 tablespoon dried crumbled rosemary as the topping.

Garlic and Sage Focaccia
Follow the guide above, using the sage leaves and garlic cloves as the topping.

Onion and Fennel Seed Focaccia
Follow the guide above, using onions as the topping. After brushing them lightly with oil, sprinkle with the salt, a pinch of sugar, freshly ground black pepper, and ¼ teaspoon ground coriander. Scatter 1 teaspoon fennel seeds over the top.

Black Olive and Herb Focaccia
Follow the guide above, using olives as the topping. Sprinkle the oiled dough with about 1 tablespoon minced fresh thyme or rosemary, then scatter the olives over and press them gently into the dough.
2001 Sally Schneider
Tags / Related Topics
YOUR RECENTLY VIEWED RECIPES