Double Everything Bagels
Cookbook
Published by Page Street Publishing Co.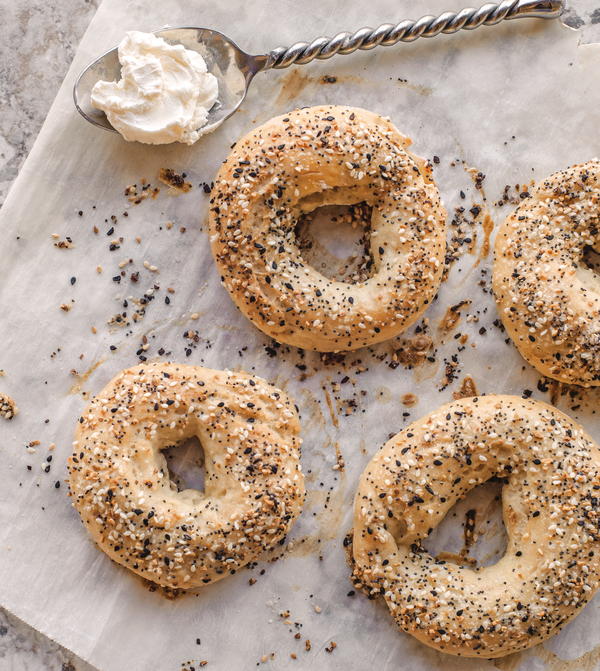 Double Everything Bagels
This image courtesy of Ken Goodman
You are already know that "everything" bagels are good, but these are doubly good. They've got the "everything" flavor of minced onions, garlic, sesame seeds and poppy seeds on the inside as well as the outside. If you really love the Everything Bagel flavor—like I do—mix a tablespoon or two into a few ounces of softened cream cheese for your bagel schmear—now you've got a triple Everything Bagel. If you can't find Everything Bagel Seasoning, see my note below.
Makes4 bagels
Ingredients
1 cup (120 g) self-rising flour, plus more for kneading
1 cup (250 g) plain Greek yogurt
1 tablespoon Everything Bagel Seasoning (see note), plus a couple of tbsp (20 g) more for sprinkling on top
1 egg, beaten
Cream cheese, for serving, optional
Instructions
Preheat the oven to 425°F (220°C). Line a baking sheet with parchment paper or foil and spray lightly with nonstick cooking spray and set it aside.

In a medium bowl, combine the self-rising flour, yogurt and 1 tablespoon (10 g) of the Everything Bagel Seasoning by stirring the dough with a wooden spoon until the mixture forms a shaggy ball. Set the wooden spoon aside and knead the mixture in the bowl by hand for about ten turns until the dough is well combined and no dry crumbs remain. Sprinkle in a little more flour if the dough remains sticky.

Gather the dough into a ball. Divide the dough into four equal sections, rolling each section into a smaller ball. Shape each ball into a bagel by either rolling it into a snake shape and joining the ends or by pushing your thumb through the center of the ball to create a hole in the dough for a bagel shape. 

Dip or brush the top and sides of the bagels in the beaten egg. Sprinkle the bagels generously with the Everything Bagel Seasoning. Place the bagels on the prepared cookie sheet. Bake the bagels for 16 to 18 minutes, or until they are golden brown and very fragrant. Let the bagels cool for about 10 minutes on the baking sheet. Serve them warm and fresh with a schmear of cream cheese, or cool them completely and toast them up. 
Note
If you aren't able to find Everything Bagel Seasoning, you can make your own by combining the following ingredients that are widely available in the spice section of grocery stores: 1 tablespoon (12 g) of minced onions, 1 tablespoon (10 g) of minced garlic, 1 tablespoon (10 g) of sesame seeds, 1 tablespoon (9 g) of poppy seeds and a teaspoon of kosher salt. Store in an airtight container. 
Reprinted with permission from 2-Ingredient Miracle Dough by Erin Mylroie, Page Street Publishing Co. 2019. Photo credit: Ken Goodman
YOUR RECENTLY VIEWED RECIPES
Free recipes, giveaways, exclusive partner offers, and more straight to your inbox!