Cracked Barley Sandwich Loaf
Make your best sandwich ever with this whole wheat sourdough bread recipe.
Cookbook
Published by Page Street Publishing Co.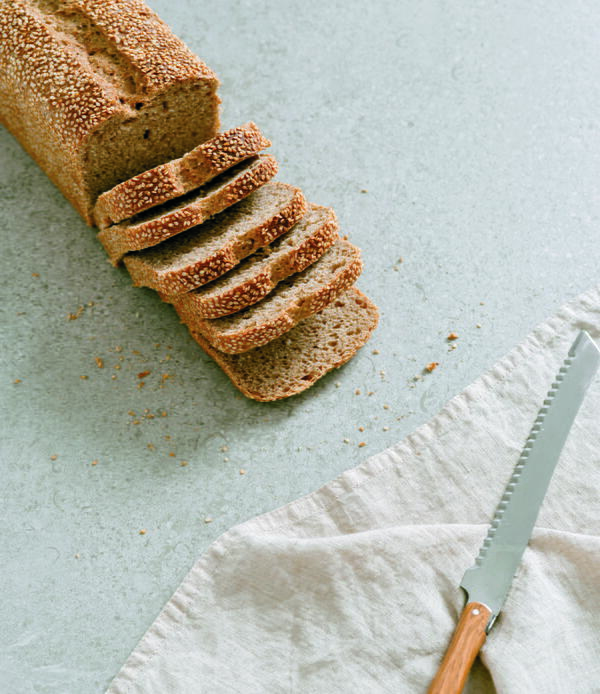 Cracked Barley Sandwich Loaf
Editor's Note: "Homemade sandwich bread truly elevates an everyday sandwich into something special. We love this whole wheat sourdough bread recipe for its hearty flavor and soft-yet-chewy flavor. It makes an amazing base for almost any kind of sandwich, including classics like ham and Swiss, roast beef and grainy mustard, and even a sky high veggie."

Cracked barley is barley that has been hulled and then put through a cracker to break the kernels into pieces. This is my version of the classic whole wheat sandwich loaf. This hearty bread has a nutty flavor, and thanks to an extended fermentation, you'll be able to take advantage of all the nutrients in barley and whole wheat. Baking with steam for the first few minutes prevents the crust from hardening and allows your loaf to have one final burst of expansion in the oven. I bake this loaf in a Pullman pan, a narrow loaf pan with straight sides. If you don't have one, a regular loaf pan will work just fine.
Makes1 loaf
Ingredients
Soaker
4 grams (1⁄4 cup) cracked barley
Boiling water
240 grams (2 cups) whole wheat flour
226 grams (1 cup) whole milk
Dough
120 grams (1 cup) bread flour
80 grams (1/3 cup) warm water
75 grams (1⁄3 cup) active sourdough starter (see page 15)
6 grams (1 tsp) salt
28 grams (2 tbsp) honey
42 grams (3 tbsp) unsalted butter, softened
17 grams (1 tbsp) vegetable oil
The Night Before
To make the soaker, in a small bowl, soak the cracked barley for 30 minutes in enough boiling water to cover it, then drain. Combine the whole wheat flour, milk and drained barley in a medium bowl and stir until everything is fully incorporated. Store in an airtight container overnight in the refrigerator.
Day 1
In a large bowl, combine the bread flour, water, active starter, salt and soaker. Stir the mixture with your hands or a spatula until it forms a cohesive dough. Turn the dough out onto a lightly floured work surface and knead it for 10 minutes. Return the dough to your bowl and stir in the honey, butter and oil until they are fully incorporated. On a lightly floured work surface, knead the dough for another 15 minutes. Return it to the bowl, cover the bowl with plastic wrap and set aside for 1 hour.

Your main goal in kneading is to fully incorporate the ingredients and create strength and elasticity in the dough. My favorite way to knead is to flatten and stretch the dough out, then fold it back on itself and repeat the process.

On a lightly floured work surface, knead the dough for another 10 to 15 minutes, until it passes the windowpane test (page 23). Return it to the bowl, cover the bowl with plastic wrap and allow it to rest on the countertop untouched for 2 to 3 hours, depending on the temperature of your kitchen. At the end of bulk fermentation, your dough should look bubbly and should have risen by 30 to 50 percent.

Turn the dough out onto a lightly floured work surface. Deflate it by pushing down on it, then flatten it into a 10-inch (25-cm) square. Fold the bottom up to the middle. Then fold each side toward the middle—your dough should look like an open envelope. Now grab the top edge and gently roll down so you have a long tube.

Transfer the shaped dough to a 9 x 4–inch (23 x 10–cm) Pullman pan. Wrap the pan in a plastic bag and let it proof in the refrigerator overnight.
Day 2
When you're ready to bake, set a rack in the middle of the oven and a baking pan on the bottom rack. Preheat your oven to 500°F (260°C). Bring 2 cups (480 ml) of water to a boil. Pour 1 cup (240 ml) of water into the baking pan, close the door and allow steam to build up in the oven.

Take your loaf out of the refrigerator and score the top. Place your loaf in the oven and quickly pour the remaining water into the baking pan. Bake the loaf for 20 minutes with steam, then remove the baking pan from the oven and bake the loaf for another 30 minutes without steam.

Place your loaf on a wire rack and allow it to cool for at least 4 hours or overnight before slicing. (If you cut your loaf too soon, it will be very gummy due to the high percentage of whole wheat.) Store the bread in a ziptop bag at room temperature for up to 1 week.
YOUR RECENTLY VIEWED RECIPES
Free recipes, giveaways, exclusive partner offers, and more straight to your inbox!