Ciabatta Rolls
Discover how to make fresh, square ciabatta rolls with this simple recipe.
Cookbook
Published by Taunton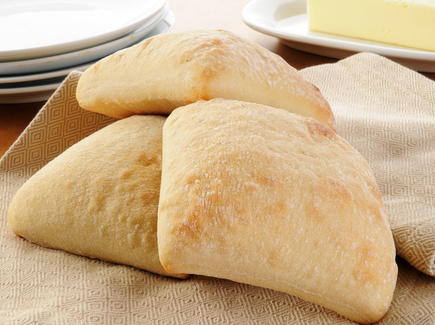 Ciabatta Rolls Recipe
This image courtesy of Shutterstock
Editor's Note: Chewy yet crisp, Ciabatta Rolls are the ideal bread to use for sandwiches or to eat on their own. Baking bread from a homemade bread recipe isn't hard at all. You don't even need a bread machine as this particular ciabatta bread recipe bakes right in the oven! They can even be made ahead and frozen until your next big dinner, and although they take a few hours to make, the finished result is well worth it -- homemade ciabatta rolls that no one can resist.

These simple rolls are the perfect shape for pressed sandwiches, with a crisp crust and an interior that's soft but not so thick and cottony that it will compete with the filling ingredients. If you'd like to flavor the rolls with fresh herbs, stir 1 tablespoon chopped fresh basil, parsley, oregano, or cilantro into the dough with the other ingredients. Use just 1 teaspoon of fresh rosemary, since it's more powerful than the others. If you know you are going to freeze the rolls, consider baking them for a shorter period-just until they are light golden. Then when you are ready to use them, put the frozen rolls in a preheated 350 degree oven for 10 minutes to finish the baking.
Makes6 Rolls

Dietary ConsiderationEgg-free, Halal, Kosher, Peanut Free, Soy Free, Tree Nut Free, Vegan, Vegetarian
EquipmentElectric Mixer, Food Processor
MealBreakfast, Brunch, Lunch
Type of DishBread, Rolls, Yeast Bread
Ingredients
¾ cup plus 1 tablespoon (180 grams/6.35 ounces) tepid water (70 to 78 degrees)
1 teaspoon (5 grams/.2 ounce) instant yeast
1½ cups plus 2 tablespoons (250 grams/8.8 ounces) unbleached all-purpose flour
¾ teaspoon (5 grams/.2 ounce) sea salt or kosher salt
¾ teaspoon (5 grams/.2 ounce) granulated sugar
2½ tablespoons (28 grams/1 ounce) olive oil, plus more for oiling the pan and brushing the rolls
Bread baking for beginners doesn't have to be intimidating with these tips in mind!

Novice and experienced bakers alike enjoy the thrill and challenge that comes when you make your own bread from scratch. Alternating between periods of intensity and long durations of waiting, bread-making is not for those who are impatient and expect to see immediate results. 

Check out our full article on baking bread from scratch for expert tips and yummy recipes >>  Make Your Own Bread: 6 Tricks to Baking Bread from Scratch
Instructions
Pour the water into the bowl of a stand mixer fitted with a dough hook. Add the yeast, flour, salt, sugar, and olive oil and stir with a rubber spatula just long enough to blend into a dough. With the dough hook, mix the dough on low speed (2 on a KitchenAid® mixer) for 3 minutes. Turn the speed to medium-high (8 on a KitchenAid® mixer) and knead until it clears the sides of the bowl and collects on the hook, becoming smooth and elastic, about 8 minutes more. At this speed, the mixer will "walk" possibly off the counter, so do not leave it unattended.

(Alternatively, in a food processor combine the yeast, flour, salt, and sugar and pulse 2 or 3 times to combine. With the motor running, pour the water and oil into the feed tube and process until the dough forms a smooth ball. To knead, continue to process for 30 seconds.)

Oil a 7 x 11-inch baking dish. Scrape the dough into the dish and pat it with oiled fingertips to flatten it. Let it rest and relax for 5 minutes, then use lightly oiled fingertips to push and stretch it across the bottom of the dish. Cover with plastic wrap and let the dough rise in a warm, draft-free spot until it has more than doubled in volume and reaches the top of the pan, about 2 hours.

Lightly oil a large baking sheet. Uncover the dough and place the baking sheet, right side down, on top of the dough. Invert the dish onto the baking sheet and shake once or twice to release the dough onto the sheet.

Use a sharp chef's knife to cut the dough into 6 squares, and use the edge of the knife to push the squares 3 inches apart on the baking sheet. Put 4 short drinking glasses near the corners of the pan and drape a sheet or two of plastic wrap over them so that it covers the dough pieces and keeps them moist but does not touch them. Let the dough pieces stand until they have expanded by about 50 percent, about 40 minutes.

Preheat the oven to 475 degrees. Remove the plastic and glasses and bake the rolls until dark golden brown, about 20 minutes. Brush the hot rolls with olive oil. Let cool completely on the baking sheet before slicing with a sharp serrated knife.
2008 Daniel Leader and Lauren Chattman
YOUR RECENTLY VIEWED RECIPES
Free recipes, giveaways, exclusive partner offers, and more straight to your inbox!