Straight-Up Roast Beef
This budget-friendly recipe shows you how to make beef top round roast a delicious dinner.
Cookbook
Published by W.W. Norton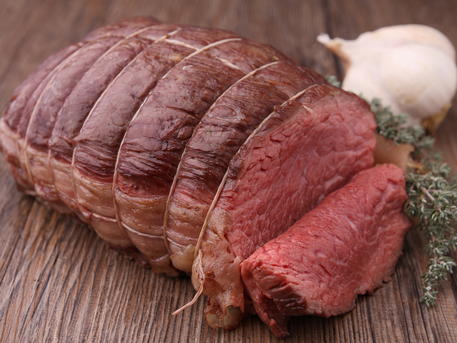 This image courtesy of Shutterstock
Editor's Note: Cheaper than cuts like prime rib or strip roast, a beef top round roast can actually make a delicious dinner recipe. Check out this impressive roast beef recipe to learn how to cook this budget cut like a pro. You'll love the tender taste almost as much as the price.

When I crave straight-up roast beef—you know, the kind that gets thinly sliced and piled high in a good deli sandwich—this is what I have in mind. This humble roast will never receive the accolades of more luxurious cuts, like prime rib and strip roast, but it won't break the bank and has an excellent beefy taste. I like to roast a top round for Sunday supper, knowing that the leftovers will make first-rate sandwiches for the coming week. To produce a roast that is juicy and rosy almost all the way to the edges, I roast it in a low oven (250 degrees). At this slow pace, you get nothing more than a drop or two of drippings, which is a good thing-all that juice stays right in the meat. To keep it tender, slice it as thin as you can; when carved into thick slabs, no matter how perfectly cooked, top round can be tough. If you're looking for an excuse to pull out the electric carving knife, here it is, as the thinner you can slice the beef, the more tender it seems. There is no better accompaniment to good roast beef than horseradish, but rather than serving it straight from the jar, I like to make an elegant little sauce by combining it with lightly whipped heavy cream and crème fraîche. (You can substitute sour cream for the crème fraîche, but the sauce will be denser and less creamy.) This is as good served with hot roast beef at the dinner table as it is slathered on bread for first-class roast beef sandwiches. It's also delicious with beef tenderloin. The sauce keeps for several days in the refrigerator.



Serves4 to 6, more if making sandwiches
OccasionCasual Dinner Party
Dietary ConsiderationEgg-free, Gluten-free, Halal, Kosher, Lactose-free, Peanut Free, Soy Free, Tree Nut Free
Ingredients
One 2½ to 3½-pound top round roast, tied at 1½ inch intervals (see Notes)
Kosher salt and freshly ground black pepper
1 tablespoon peanut oil or grapeseed oil
½ cup heavy cream
1/3 cup crème fraîche or sour cream
½ cup prepared horseradish, drained
½ teaspoon dry mustard
Squeeze of fresh lemon juice
Kosher salt and freshly ground white pepper
Instructions
To Make the Roast
Season the Beef: If seasoning in advance, sprinkle 1½ teaspoons salt and ¾ teaspoon black pepper over the entire surface and refrigerate, uncovered or loosely covered, for 24 to 28 hours.

Heat the Oven: Position a rack near the center of the oven and heat to 250 degrees (225 degrees convection). Fit a shallow roasting pan, baking dish, or heavy-duty baking sheet with a flat roasting rack, if you have one. You can also roast the meat directly on the pan.

Brown the Meat: Pat dry the entire surface of the meat. If you didn't season in advance, season it now all over with salt and pepper. Heat a large heavy skillet over medium-high heat (cast iron works nicely). When the skillet is hot, add the oil, let it heat for several seconds, and place the meat in the pan. (The meat should sizzle the instant it hits the pan. If it doesn't, the pan is not hot enough; remove the meat, wait a minute, and try again.) Brown the roast on all sides, turning with tongs as you go, until it is nicely browned with a few dark, crusty spots on the ends, 8 to 12 minutes total. Transfer the meat to the roasting pan, placing it fat side up. Season the top generously with black pepper.

Roast until an instant-read thermometer inserted in the center of the roast reads 115 degrees for very rare, 120 degrees for rare, and 125 degrees for medium-rare, 1½ to 2 hours. With top round, I don't recommend roasting beyond medium-rare.

Rest: Transfer the meat to a carving board, preferably one with a trough, and leave to rest for 15 to 20 minutes. If you are making this for sandwiches, let it cool at room temperature for 1 to 2 hours before covering and refrigerating.

Carve and Serve: Slice very thin and serve.
To Make the Horseradish Cream Sauce
In a medium bowl, whisk the heavy cream until it begins to thicken and form very soft peaks. Add the crème fraîche and whisk until thick. Fold in the horseradish and mustard. Season with lemon juice, salt, and pepper. Serve immediately or cover and refrigerate. You may need to give the sauce a quick whisk before serving if it has been refrigerated.
Variation: Slow-Roasted Top Round with Caraway and Mustard Seeds
This recipe pays tribute to the roast beef sandwiches, known as beef on weck, from my hometown, Buffalo, New York. There's nothing really special about the beef in a Buffalo beef on weck—it's all about the roll: a crusty kaiser roll topped with lots of pretzel salt and whole caraway seeds, known as a kummelweck roll (thus the nickname week). The legend of these sandwiches goes back to a German tavern owner who was looking to sell more beer to people on their way to the 1901 Pan American Exposition. Topping the sandwich rolls with extra salt made his patrons thirsty for more beer. The caraway was incidental, but that's the flavor pairing that endures. I've never been able to find good kummelweck rolls outside Buffalo, so I season the beef itself with caraway before roasting. The result is divine, either carved hot and served for dinner or sliced cold and piled on a crusty roll. Don't forget the horseradish-either the sauce, or, for a classic sandwich, reach for the jar.

Ingredients: 1 tablespoon caraway seeds, 1 teaspoon mustard seeds, yellow or black, kosher salt and freshly ground black pepper, one 2½ v- to 3½-pound top round roast, tied at 1½ inch intervals, 1 tablespoon peanut oil or grapeseed oil
Season the Beef: Crush the caraway and mustard seeds in a mortar or spice grinder just enough to crack open the seeds but not so much to make a powder. (I deliberately don't toast the spices here, since they get plenty toasted later when you sear the beef.) Combine with 1½: teaspoons salt and ¾ teaspoon black pepper. Rub this all over the entire surface of the beef and refrigerate, uncovered or loosely covered, for 24 to 28 hours.

Sear and roast as directed for Straight-Up Roast Beef above.
Notes
Method: Combination sear and low heat

Plan Ahead: For the best flavor, salt the meat a day or two ahead of roasting.

Wine for Straight-Up Roast Beef: Reds with forward fruit and softer tannins, such as a young California Merlot or Argentine Malbec.

Wine/Beer for Variation: Rhone-blend with ripe red fruits and herbal notes, such as Gigondas, Vacqueyras, or Australian Grenache; or malty brown ale from the U.S. or the U.K.
Shopping for Top Round
The Round corresponds to the thigh section of a steer, below the hip and sirloin and above the knee and shank. Every round (there are two, obviously, on each steer) can be broken down into three muscle groups: top round, bottom round, and eye of the round. The way I remember which is which is simple. When a carcass is split into two sides and the sides are laid down on the cutting table, the top round is the part of the leg that will be on top, and the bottom on the bottom. For roasting, I much prefer the top round (which is also called the inside round, as it sits on the inside of the leg), because it's a slightly less used, finer-grained muscle than the bottom round (also called, not surprisingly, the outside round).

A full top round can weigh close to 15 pounds, but most markets will sell the round broken down into chunky little 2½ -to 3½-pound roasts. If not, just ask. A top round roast shouldn't be difficult to come by, but it will need to be tied to keep its shape. The bottom round is even larger; a full one can weigh as much as 20 pounds. The eye of the round, incidentally, intersects the two rounds, running lengthwise. If you decide to roast either a bottom or an eye round, the only way to go is very slow and low, and plan to slice it thin.
2011 Molly Stevens
YOUR RECENTLY VIEWED RECIPES
Free recipes, giveaways, exclusive partner offers, and more straight to your inbox!