Skirt Steak and Hanger Steak
Cookbook
Published by W. W. Norton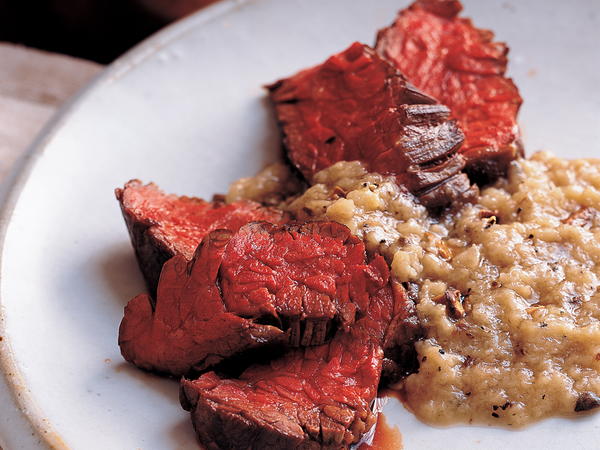 Skirt Steak and Hanger Steak
This image courtesy of Gentl & Hyers/Edge
Editor's Note: Have you always wanted to learn how to cook a steak, but never tried? Don't put it off any longer! With this recipe for skirt steak and hanger steak, you can impress family and friends by cooking a steak to perfection, then cutting and serving it correctly. The next time you feel like steak, you'll forget about making a reservation for your local steakhouse.

Both these cuts are hardworking abdominal muscles and are very flavorful. Ask for the "outside" skirt—it will be plumper than the "inside" cut. The "hanging tender" steak is a single convoluted muscle, among the select cuts that butchers everywhere used to try to keep for themselves. It has a rich flavor that more than makes up for its awkward shape. The French call it onglet and accord it an honored role in the traditional repertory; specifically, sizzled in butter and finished with lots of minced shallot, coarsely chopped parsley, a stingy splash of white wine, and then more unsalted butter.

Hanger steak and skirt steak both make great sandwiches. My favorite marries them with salsa and white bean purée. Either cut makes delicious pasta sauce.

Total TimeOne Day or More
Five Ingredients or LessYes
Taste and TextureJuicy, Meaty, Savory, Umami
Ingredients
5 to 6 ounces skirt steak or hanger steak
Salt
Mild-tasting olive oil, to coat, or as needed
Instructions
Trimming and seasoning the meat (for the best flavor, do this in advance, about 4 hours for skinny skirt steak, up to a day ahead for stumpy hanger steak):

Trim any fat or discoloration from the meat, then press lightly between dry towels to wick away surface moisture. Season evenly all over with salt (we use a scant ¾ teaspoon sea salt per pound). Cover loosely and refrigerate.

Just before cooking, press the meat dry between towels and rub with olive oil. Sear over high heat—on a preheated grill or in a hot skillet with a few additional drops of oil. Sear each side of the meat until splotched with a little color, a minute or so per side, then move to slightly lower heat, or reduce the burner heat, to cook to the desired doneness. Skinny skirt steak will take only minutes more at most; a thick hanger steak may take 8 more minutes to cook to medium-rare. But these times are hugely affected by the cooking medium, size of cut, how cold it is when you begin cooking it, how thoroughly you sear it, and so on. Hanger steak benefits from resting for a few minutes before slicing.

Slice straight across the grain, rather than on a uniform indiscriminate steep angle—this popular habit produces wide, elegant looking slices, but they can be pretty chewy, regardless of how well the meat is cooked. Cutting strategically across the grain minimizes the chewiness problem. Also in view of chewiness, I like to slice both skirt and hanger steak no more than 3/8 inch thick. Cutting skirt steak across the grain is easy, since the fibers run in regular, parallel formation across the full width of the muscle. Try to forgive the skinny slices and enjoy the improved texture. The grain of hanger steak is not so ruly; and most cooks puzzle over the cooked thing, flipping it a few times, before making a calculated, counter-intuitive stab. It may help to study the direction of the fibers before you cook the meat, when they are much easier to make out. The grain does alter course within the cut; be prepared to change the angle of your knife accordingly. Cutting the hanger steak this way you will get a collection of oval and oblong slices.
Wine
Chimney Rock Stags Leap District Reserve Cabernet Sauvignon, 1998.
2002 Judy Rodgers
YOUR RECENTLY VIEWED RECIPES
Free recipes, giveaways, exclusive partner offers, and more straight to your inbox!