Salisbury Steak with Mushroom Sauce
Cookbook
Published by Ten Speed Press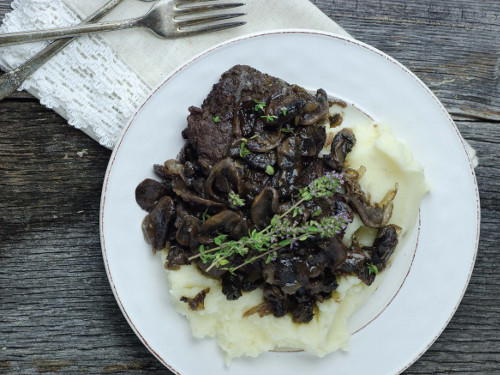 Editor's Note: If you're looking for a sophisticated take on the traditional Salisbury Steak, then this recipe is it! Ground beef, thyme, mushrooms, and red wine combine to create a dish that you and your family will love. This ground beef dinner recipe is both easy to make and ready to serve within about one hour. You'll love the textures and complex flavor profile of the ground beef, as well as the rich sauce drizzled on top as the crowning touch. You'll find this recipe is probably a far cry from the dish you enjoyed when you were a child! 

I remember Salisbury steak from the lunch lines at my elementary school, where it was served slopped on a bright orange melamine tray. Now that we buy a steer from a local rancher every autumn, I'm left with piles of beef bones and plenty of ground meat. Salisbury steak, smothered in mushroom and onion sauce and served with a pile of mashed potatoes, makes its appearance on our table often, particularly during winter months when we yearn for something hearty. Of course this isn't the stuff of TV dinners and elementary-school lunch lines; rather, it's rich with the bright flavor of minced shallots, robust wine, and earthy mushrooms.

Ingredients
1 pound ground beef
2 shallots, minced
1 egg yolk
1 teaspoon unrefined sea salt
1/2 teaspoon freshly ground black pepper
2 cups long-simmered roasted beef bone broth with its hardened cap of fat
2 cups dry red wine
2 sprigs thyme
2 tablespoons butter (plus more if needed)
1 large yellow onion, halved and thinly sliced
1 pound mushrooms, thinly sliced
Instructions
In a large mixing bowl, knead the ground beef and minced shallots together to coarsely combine them. Using a wooden spoon, beat in the egg yolk, salt, and pepper until thoroughly combined.

Form the seasoned meat into four patties and set them on a waiting plate while you begin preparing the mushroom and onion reduction sauce.

Spoon 4 tablespoons of fat from the cap that naturally seals the broth. If the cap doesn't yield a full 4 tablespoons you can supplement it with butter. Pour the broth and red wine into a saucepan and bring it to a boil over high heat. Drop in the thyme and continue boiling it until you've reduced the broth by three-quarters.

Melt 2 tablespoons of butter fat in a cast-iron or stainless steel skillet over a medium-high heat. Toss in the onion slices and sauté them until they release their fragrance and their edges begin to caramelize. Remove the onions from the pan to a bowl. Add the mushrooms to the pan and sauté until they are fragrant and brown. Spoon the mushrooms into the bowl with the cooked onions.

Melt 2 tablespoons more of the reserved fat in the skillet and add the beef patties to the hot fat, searing on both sides until nice and brown on the outside but still pink in the center. Smother them with the mushrooms and onions.

Once the wine and broth have reduced, remove and discard the sprigs of thyme. Pour the reduction sauce over the Salisbury steaks, mushrooms, and onions. Continue to simmer over a moderately low flame until the steaks are cooked through, about 3 to 4 minutes further.

Serve hot, with the pan sauce.
YOUR RECENTLY VIEWED RECIPES
Free recipes, giveaways, exclusive partner offers, and more straight to your inbox!