"Get a Book" Whole Beef Brisket
Cookbook
Published by APL Publishing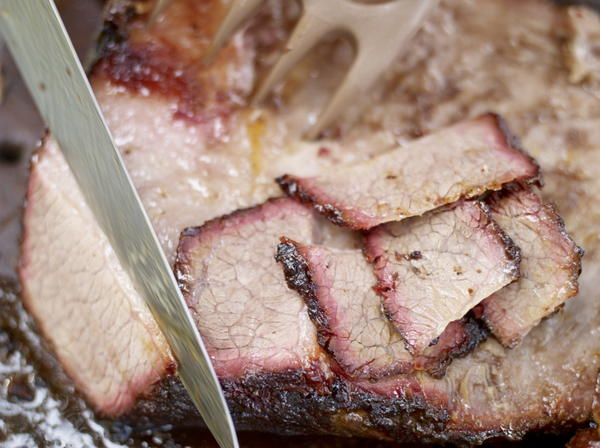 This image courtesy of David Loftus
My Texas barbecue revelation happened in New Mexico. The displaced Texans tending the ranch where I worked blew me away with the most elemental food. It was just brisket cooked for what seemed like forever with post oak and coals. It emerged with that dark, nearly black, bark encasing juicy meat, some of it meltingly tender and unctuous and some with an appealing chew. Each slice was bordered by a pinkish hue--the mark of a steady flame. Over years of meditatively cooking (and eating) brisket, I tweaked Texas tradition until I found this recipe, which I consider the ultimate version--I call it the "get a book" brisket because it'll have you cooking for a long time. But whether you pass the time by reading, chatting with good friends, or dozing off, I promise you: The wait will be well worth it.
Serves12
OccasionCasual Dinner Party, Family Get-together
Dietary ConsiderationEgg-free, Lactose-free, Low Carb, Soy Free
Taste and TextureHot & Spicy, Juicy, Meaty, Savory, Smoky, Spiced, Sweet
Ingredients
One 8- to 12-pound whole beef brisket, trimmed to fit your cooker (see Note)
About ¾ cup canola or vegetable oil
6 tablespoons mild chili powder, preferably Chimayo, Ancho, or Hatch
3 tablespoons prepared yellow mustard
3 tablespoons beef base in paste form, such as Better Than Bouillon
¼ cup garlic salt
3 tablespoons coarsely ground fresh black pepper
2 tablespoons chili powder
1 tablespoon lemon pepper
2 teaspoons kosher salt
¾ teaspoon cayenne pepper
1 cup unsweetened apple juice
1 cup water
½ cup honey
½ cup firmly packed dark brown sugar
4 tablespoons (2 ounces) unsalted butter or margarine, melted
1 cup APL BBQ Sauce, or your favorite BBQ sauce
1 1/2 teaspoon apple cider vinegar
1/2 cup canola or vegetable oil
5 garlic cloves, peeled and coarsely chopped
1 medium sweet white onion coarsely chopped
1 green bell pepper coarsely chopped
2 teaspoons kosher salt, plus additional as needed
1/4 cup bourbon
3 tablespoons chile powder
1 tablespoon coarsely ground fresh black pepper
1/4 teaspoon ground allspice, plus additional for seasoning
1/4 teaspoon ground cloves, plus additional for seasoning
1 cup firmly packed dark brown sugar
2 cups water
2 cups ketchup
1/2 cup unsulfured blackstrap molasses
1/2 cup prepared yellow mustard
1/2 cup apple cider vinegar, plus additional as needed
2 teaspoons hot sauce
1/2 cup apricot preserves
1 jalapeno chile, grated on a Microplane grater, stopping before the seeds
1/2 Granny Smith apple, grated on a Microplane grater
Fleur de sel
Instructions
Combine the paste ingredients and spread on all sides of the brisket. Combine all of the seasoning blend ingredients and sprinkle evenly on all sides of the brisket. You may not use all of the blend. Let sit at room temperature for 1 hour.

Preheat an indirect barbecue with a drip pan and hardwood (preferably hickory, oak, or pecan), a ceramic cooker with deflector plate and hardwood (preferably hickory, oak, or pecan), or a charcoal or gas grill with a box or packet of hardwood (preferably hickory, oak, or pecan) to 275°F.

Using your hands or a brush, evenly, but lightly coat the brisket with canola oil. Insert a remote thermometer in the thickest part of the brisket.

Place in the cooker, fat side down. After 2 hours spray every hour with apple juice spray. Cook until the internal temperature reaches 165°F, about 6 to 7 1/2 hours (the colder the meat is going into the cooker the longer it will take).

Meanwhile, combine the wrapping mixture ingredients.

Lay out a double sheet of aluminum foil, top with the brisket, and cover with the wrapping mixture. Securely wrap in the foil. Reinsert the thermometer. Place back in the cooker and cook until the internal temperature reaches 195°F, 2 to 2 ½ hours.

Meanwhile, line a small cooler with a beach towel or other large towels to insulate the inside of the cooler.

Remove the brisket from the cooker and carefully unwrap over a baking dish or disposable pan, reserving the liquid. Lay out a double sheet of aluminum foil and top with the brisket. Strain all of the juices from the pan through a fine-mesh strainer set over a liquid measuring cup. Discard any solids. Allow the fat to come to the top, pour off, and discard. For the enhanced sauce, reserve ½ cup of the beef liquid. Pour the remaining defatted liquid over the brisket. Securely wrap in the foil, place in a disposable pan and transfer to the cooler. Cover the top with towels, close the lid, and lest rest for 1 hour. After the brisket has rested for about 30 minutes, increase the temperature of the cooker to 300°F.

Meanwhile, combine the reserved beef liquid, BBQ sauce, and vinegar.

Remove the brisket form the cooler, carefully unwrap, coat with the sauce, place back in the cooler, fat side up, and cook for 30 minutes.

Paint with the remaining sauce on a cutting board, top with the brisket, and let rest for 10 minutes.

Slice the brisket against the grain into 1/8-inch slices, dredging in the sauce. When you're carving, you'll notice that the grain changes direction when you move from the flat to the point. Don't let it throw you-just make sure you're cutting against the grain at all times. Sprinkle with fleur de sel.

For Apple Juice Spray: Combine the water and juice and place in a spray bottle.

For APL BBQ Sauce: Pour the oil in a large saucepan and cook over medium heat until it starts to shimmer. Stir in garlic, onion, bell pepper and salt. Cook, stirring occasionally until the vegetables have softened, about 10 minutes.

Pour in the bourbon and cook until the alcohol has cooked off, about 5 minutes. There will no longer be the strong smell of alcohol.

Combine the chili powder, black pepper, allspice and cloves and add to the pan. Cook, stirring continuously, until fragrant, about 3 minutes.

Stir in the brown sugar, water, ketchup, molasses, mustard, vinegar, hot sauce and preserves. Bring the mixture to a boil, stirring occasionally to be sure nothing sticks to the bottom and burns. Reduce to a simmer. Continue to simmer, stirring often, until thickened, about 45 minutes.

Add the jalapeño and apple. At this point the sauce can be left chunky or blended in a blender (blend in small batches since it will be hot), or in a bowl using an immersion/stick blender until smooth.

Season to taste with additional allspice, cloves, salt and vinegar to taste.
Notes
Whole briskets often come encased in a thick layer of fat.  Trim this until you have a layer that's only about ¼ to 1/8 inch thick, depending on how thick a rim of fat you prefer on your sliced brisket.

If your brisket is too long for your cooker, trim off one end. That end will usually fit right next to it on the grate.
2013 Adam Perry Lang
YOUR RECENTLY VIEWED RECIPES
Free recipes, giveaways, exclusive partner offers, and more straight to your inbox!