Beef and Chorizo Empanaditas
Cookbook
Published by Stewart, Tabori & Chang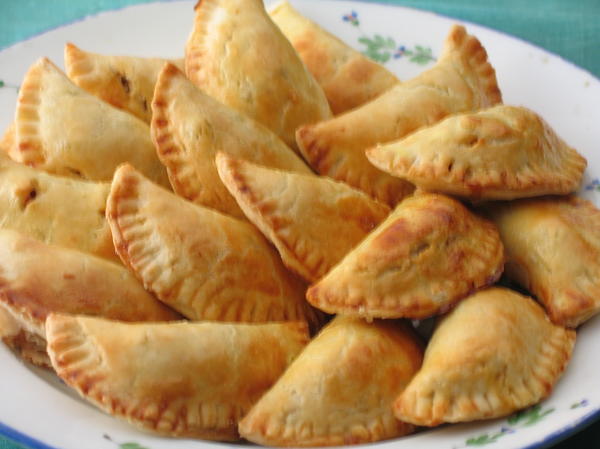 Beef and Chorizo Empanaditas
This image courtesy of Amy Besa
These miniature empanadas make perfect appetizers or hors d'oeuvres for cocktail parties. Using this basic recipe, you can, in place of ground beef, use diced chicken, duck, goose, shrimp, crab, or lobster. For vegetarians, combine the sautéed potatoes with sliced green papaya, bean sprouts, and mushrooms. Make sure that the filling is properly drained before wrapping it in the dough. Most empanadas found in the Philippines are deep-fried. These are baked, using a rich pastry that provides a tender, flaky crust. You can freeze some or all of the unbaked empanaditas before brushing with the egg wash. Brush with egg wash just before baking and add about 10 minutes to the baking time if using frozen empanaditas.
OccasionBuffet, Cocktail Party, Game Day
Recipe CourseHors D'oeuvre, Hot Appetizer
Ingredients
2 tablespoons vegetable oil
1/3 pound black trumpet or shiitake mushrooms, diced small
1 small onion, diced small
1 medium carrot, diced small
1 pound ground beef
1 cup peeled and diced sweet potato (about ½ small)
¾ cup peeled and diced russet potato (about 1 small)
3 tablespoons soy sauce
3 tablespoons rice wine
1 tablespoon rice vinegar, or to taste
1 large Spanish chorizo, diced small
3 tablespoons raisins
1/3 cup fresh or frozen green peas
Salt, to taste (optional)
All-purpose flour, for rolling
3 recipes Rich Pie Pastry, divided into 4 equal pieces, each flattened into a disc and wrapped in plastic wrap (recipe below)
40 fresh basil leaves (optional)
4 egg whites, whisked, for sealing
2 egg yolks, slightly beaten, for brushing
¼ cup whole milk, for brushing
1½ cups all-purpose flour
½ teaspoon salt
6 tablespoons chilled unsalted butter, cut into small pieces
1 large egg, beaten
Ice water, as needed
Instructions
Sift the flour and salt into a large bowl. Cut the butter into the flour using your fingertips or a pastry blender (or pulse in a food processor) until the texture resembles coarse meal with visible bits of butter. Stir the egg into the flour mixture and stir or pulse until incorporated. Pinch off a small handful of dough; if it doesn't hold together, add ice water ½ tablespoon at a time, stirring or pulsing after each addition.

Turn the dough out onto a lightly floured work surface and pat into a disk about ½-inch thick. Wrap the disk in plastic wrap and refrigerate until firm, at least 1 hour or up to 2 days.

Preheat the oven to 375°F and set 2 racks on the upper and lower thirds of the oven.

To make the filling, in a large sauté pan over medium heat, warm the oil. Add the mushrooms, onion, and carrot, and sauté until the vegetables have softened, about 5 minutes.

Raise the heat to medium-high, add the ground beef, and cook, breaking up with a fork, until the meat starts to brown, about 5 minutes. Add the sweet potato, russet potato, soy sauce, rice wine, and rice vinegar. Reduce the heat to medium, cover, and cook until the potatoes have softened, about 15 minutes. Add the chorizo and raisins and simmer until most of the liquid has evaporated, about 10 minutes. Stir in the green peas and heat just to cook through, about 3 minutes. Taste and add more vinegar and salt if necessary.

To assemble the empanaditas, remove 1 disc of the Rich Pie Pastry from the refrigerator. On a lightly floured surface with a lightly floured rolling pin, roll out the dough to about 1/8-inch thick. Using a 4-inch round cookie cutter, cut the dough into circles, saving the scraps to reroll at the end.

Using a spatula or your fingers, transfer the dough rounds to an ungreased baking sheet, setting the rounds 1 inch apart. (Alternatively, the dough can be rolled out and cut into rounds, then wrapped tightly in plastic wrap and refrigerated up to 1 day ahead.)

Spoon 1 heaping tablespoon of the filling into the center of each dough round and top with a basil leaf, if using. With a pastry brush, lightly dab the edges of the circle with the egg white. Fold the dough in half into a half moon, enclosing the filling. Crimp the folded edges decoratively with the tines of a fork, if desired, or gently press the edges together with your fingers to seal. Repeat this process, taking one disk of dough from the refrigerator at a time, and arranging the filled empanadas on 2 baking sheets, until all of the dough has been used, and the scraps have been rerolled.

In a small bowl, whisk together the egg yolks and milk. Brush the tops of each empanadita with the egg wash. Bake the empanaditas on the upper and lower thirds of the oven, switching the position of the sheets from top to bottom and back to front halfway through baking, until they are golden brown, about 25 minutes. Let cool slightly before serving warm or at room temperature.
2006 Amelita Besa and Romeo Dorotan
YOUR RECENTLY VIEWED RECIPES
Free recipes, giveaways, exclusive partner offers, and more straight to your inbox!