Beef Stew in Red Wine Sauce
Cookbook
Published by Stewart, Tabori & Chang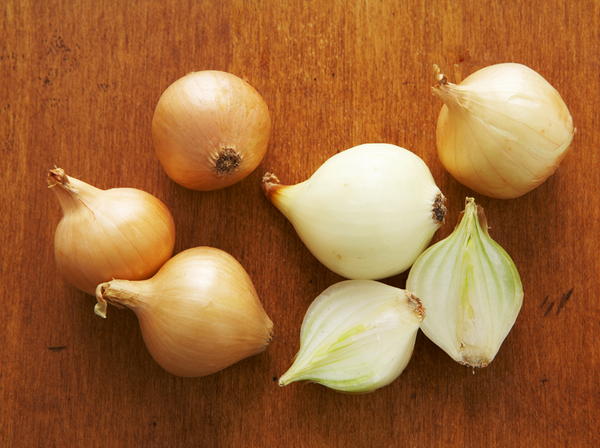 Beef Stew in Red Wine Sauce
This image courtesy of Joseph DeLeo
"For many Americans, the quintessential French stew is boeuf bourguignonne or beef Burgundy, beef cooked in Burgundy red wine (although it is often made with other wines instead of real Burgundy). In my aunt's and my mother's restaurants, the stew was featured regularly and was made from the tougher, cheaper, fattier cuts of beef, which had to be braised a long time to get tender and stay moist. In classic restaurants, chuck was often used. The beef was browned and the juices deglazed with red wine and brown stock or reduced brown stock (demi-glace), and the stew was finished with lardons (browned pieces of diced bacon), mushrooms, and tiny boiled onions. For my beef stew, I like to use a special piece of the shoulder called a flatiron, sometimes called a chicken steak, blade steak, or underblade steak. This long, narrow piece from the center of the shoulder is extremely lean and has gelatinous sinew in the center. It is excellent sautéed or grilled for steak. The meat is very tender and moist, and it makes an ideal stew. This stew is also very good made with chuck, which is the continuation of the rib eye into the shoulder. Instead of cutting the meat into small cubes, I cut it into large chunks, serving a couple of pieces per person. I do not use stock, demiglace, or even water. I make my stew strictly with red wine, and my preference goes toward a fairly robust, heavy wine in the style of the southern part of the Rhône Valley, like a Carignan, or an Australian or American wine, like a Syrah or Zinfandel. After I brown the meat on top of the stove, I add the liquid and finish it up in the oven for about 1½ hours, so it cooks equally all around. It is best made and served in a beautiful cast-iron pan. For the garnish, I use small, round, flat cipollini onions, flavorful but expensive; whole mushrooms, like small creminis; lardons made with pancetta; and baby carrots, which are not conventionally part of beef Burgundy. This rich winey beef stew is always a hit with my chef friends."
Cooking MethodBraising, Sauteeing
OccasionCasual Dinner Party
Dietary ConsiderationEgg-free, Low Carb, Peanut Free, Soy Free, Tree Nut Free
Taste and TextureMeaty, Savory, Winey
Ingredients
2 pounds beef, either flatiron or chuck
1 tablespoon butter
1 tablespoons olive oil
Salt and pepper
1 cup onion, finely chopped
1 tablespoon garlic, finely chopped
1 tablespoon flour
1 bottle red wine (3 cups)
2 bay leaves
1 nice branch fresh thyme
12 to 15 small-to-medium cipollini or pearl onions, peeled
12 to 15 small-to-medium cremini (Baby Bella) mushrooms, washed
12 to 15 baby carrots, peeled
1 piece pancetta, about 5 ounces
2 cups water plus ¼ cup water
1 tablespoon olive oil
A dash each of sugar, salt, and pepper
Fresh parsley
Instructions
Buy about 2 pounds of beef from the flatiron part of the shoulder, and remove the skin or sinew from the top. This is about half of a whole flatiron, depending on the size. Alternatively, use lean beef chuck in the same manner. Cut it into 8 pieces.

Preheat the oven to 350°F. Melt the butter and olive oil in a nice cast-iron pan attractive enough for the table. Arrange the pieces in one layer in the skillet, and sprinkle them with salt and pepper. Cook on top of the stove over medium-high heat for about 8 minutes, browning the meat on all sides. Add the onion and the garlic. Cook for another 2 minutes, stir to mix, and add the flour. Mix in well, so the flour doesn't form lumps, and stir in the red wine. Add the bay leaves, the thyme, salt, and pepper, and bring to a boil, Stir well and cover, remove from heat.

Place in the oven and cook for about 1½ hours. The meat should be soft and tender and the liquid properly reduced. The recipe can be prepared to this point up to a day ahead and the garnish added at the last moment.

For the lardons, bring the pancetta and 2 cups of water to a boil in a saucepan, cook for about 30 minutes, until practically cooked. Remove, and when cool enough to handle, cut the pancetta into ½-inch slices and then cut the slices into 1-inch-wide lardons. You should have about 1 cup.

Combine the lardons, carrots, mushrooms, and onions in a skillet with the olive oil, ¼ cup of water, a good dash each of sugar, salt, and pepper. Bring to a boil, and cook, covered, for about 5 minutes. At this point, there should be practically no water left. Uncover, and continue cooking over high heat, sautéing until the vegetables are nicely browned on all sides, about 4 minutes.

When ready to serve the stew (directly from the pot, or on a large platter), mix some of the vegetables into the stew and sprinkle the remainder on top as a garnish. Add a little fresh parsley, and serve immediately. Enjoy the stew with glasses of the same wine you used in cooking this dish.
2007 Jacques Pepin
YOUR RECENTLY VIEWED RECIPES
Free recipes, giveaways, exclusive partner offers, and more straight to your inbox!