Artichauts Farcis au Boeuf
Beef-Stuffed Artichokes with Saffron-Lemon Sauce
Cookbook
Published by CreateSpace Independent Publishing Platform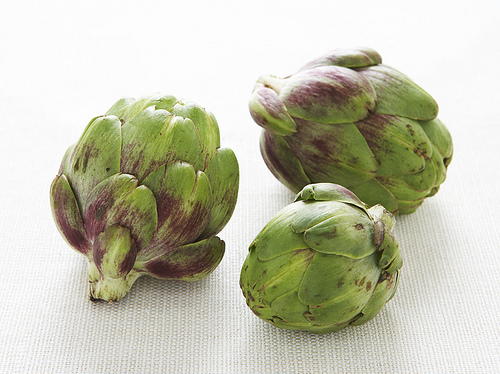 This image courtesy of iStockphoto.com
Editor's Note: For an unexpected but flavorful dinner, try these Beef-Stuffed Artichokes with Saffron-Lemon Sauce. Though the list of ingredients may seem intimidating, this recipe is surprisingly simple to make and well worth the effort. If you are able to make meatballs, then you will be able to make these beef-stuffed artichokes. After stuffing the artichokes with the meat, they are coated in egg and matzah meal before being fried until golden brown. As if these savory artichokes couldn't get any better, they are served with a lemony saffron sauce.
Serves6 , Makes 1½ Dozen Stuffed Artichokes
Ingredients
For Meat Filling:
1 1/2 pound lean ground beef
2 tablespoons vegetable or safflower oil
2 tablespoons cold water
1/4 cup finely chopped coriander leaves
1/4 cup finely chopped flat leaf parsley or coriander leaves
1/4 cup finely chopped yellow onion
1/2 teaspoon ground allspice
1/4 teaspoon ground cinnamon
1/8 teaspoon turmeric
1/4 teaspoon ground white pepper
13/40 teaspoon kosher salt
2 teaspoons chicken bouillon powder (about 1 large 12-gram cube)
1 1/2 tablespoon matzah/matzo meal
For Sauce:
1/2 cup vegetable or safflower oil
1 teaspoon saffron threads dissolved in 1/4 cup boiling hot water
1/4 teaspoon ground white pepper
13/40 teaspoon salt
1/2 cup freshly squeezed lemon juice
For Assembling and Frying Stuffed Artichokes:
1 1/2 dozen frozen artichoke bottoms (about 1 ½ to 1 ¾ pounds), defrosted (see Notes)
2 to 3 large eggs, lightly beaten, poured into a small plate
3/4 cup matzah/matzo meal, poured into a small plate
1/4 cup vegetable or safflower oil, plus 2 to 3 teaspoons for greasing the baking pan
Instructions
In a medium sized mixing bowl, combine all the meat ingredients by kneading and squeezing together until the mixture is soft (mixture should be very smooth with no pink color visible in meat). Cover bowl with plastic wrap and place into refrigerator for 1 hour.

Combine all sauce ingredients in small bowl and set aside.

Scoop out about 2 tablespoons of the meat filling and roll into a smooth ball (use cold water on the palms of your hands to prevent sticking to your hands while rolling). Place the ball on a large platter or plate and roll the rest of the meat into medium size balls.

Fill all of the artichoke bottoms by placing a meatball on top of each one, then pressing down with the palm of your hand to flatten slightly (artichoke bottom will be like a cup holding the meatball).

Roll entire stuffed artichoke in the beaten egg, then again in the ground matzah meal to coat all sides.

Heat ¼ cup of oil in a large skillet over high heat for 1 minute. Place several of the stuffed artichokes, meat side down, into the skillet and fry 4 to 5 minutes or until the matzah meal turns a dark brown. (If you have any extra meatballs, then fry these on both sides until dark brown without coating them in egg or matzah meal, about 2 to 3 minutes on each side.)

Gently remove each fried artichoke and place meat side down and close together in a large baking pan (along with any extra fried plain meatballs).

Preheat oven to 350 F.; Grease a baking pan with oil. (Ideally the baking pan should be just large enough to fit the stuffed artichokes snugly inside.)

Sprinkle the sauce over the artichokes and meatballs in the pan and place on the middle rack in the oven to cook 30 to 45 minutes, or until artichokes are soft and sauce is bubbling. Serve hot directly from the baking pan or transfer the artichokes to a decorative serving platter or plate and spoon the sauce over the tops.
Notes
Fresh artichokes may be used but they should be steamed whole for 35 to 45 minutes until bottoms are soft first, then leaves must all be removed and hearts cleaned.
Copyright 2018 Jennifer Abadi, excerpted from Too Good To Passover
YOUR RECENTLY VIEWED RECIPES
Free recipes, giveaways, exclusive partner offers, and more straight to your inbox!