Whole Roast Duck with Hoisin Sauce
Cookbook
Published by W.W. Norton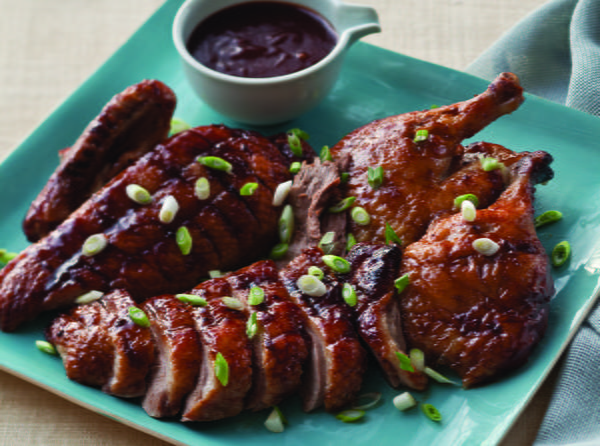 Hoisin Duck Recipe
This image courtesy of Quentin Bacon
Editor's Note: There are some truly delicious duck recipes out there, but none of them tops the classic Chinese recipes for Peking duck. This Whole Roast Duck with Hoisin Sauce recipe tastes even better than something you'd find at a Chinese food restaurant, and it's easy to make at home, too! You don't need to be a professional chef to recreate this Chinese cuisine.

If you're planning a get-together with family and friends, then you will definitely want to impress everyone by making this recipe. Whether you're celebrating a milestone birthday or other big event, you can make any occasion even more special by including this recipe on the menu.



Serves4

Ingredients
1 tablespoon kosher salt
2 cloves garlic, minced
2 teaspoons finely grated orange zest
1 1/4 teaspoon coriander seeds, lightly toasted
1 1/4 teaspoon Chinese five-spice powder
1/2 teaspoon freshly ground white pepper
1 Pekin (Long Island) duck (5 to 6 pounds), giblets removed (see Notes)
3 tablespoons hoisin sauce
2 tablespoons orange liqueur, such as Grand Marnier or Triple Sec (or you can substitute orange juice)
1 tablespoon honey
1 teaspoon toasted sesame oil
Instructions
Trim and season the duck: In a mortar or spice grinder, grind the salt, garlic, zest, coriander seeds, five-spice powder, and pepper into a coarse paste.

Make 20 to 30 small slits in the duck skin, using a sharp paring knife held parallel to the surface so that you pierce the skin and fat without cutting into the meat. Be sure to make slits on the back and thighs as well as the breast. Rub about two thirds of the spice mixture into the duck cavity and then rub what remains all over the skin. Set the duck on a rack set over a baking sheet and allow to air-dry in the refrigerator for at least 24 hours and up to 48 hours.

Heat the oven: Position a rack in the center of the oven and heat to 325 degrees F (300 degrees F convection). Let the duck sit at room temperature as the oven heats.

Roast the duck: Arrange the duck breast down on a roasting rack in a roasting pan (about 12 by 14 inches) and roast for 1¼ hours. Remove the pan from the oven and spoon or pour off most of the fat. (A turkey baster can make this job easier.) Using sturdy tongs inserted in the duck's cavity, flip the duck over. Pierce the skin again all over the breast and legs with a knife. Return the duck to the oven to continue roasting until the meat around the thighs feels tender when prodded (a skewer should penetrate the thigh with no resistance), the legs feel loose in their joints, and an instantread thermometer inserted into the thickest part of the thigh (without touching bone) registers 175 degrees F, another 1 to 1¼ hours. (You can roast the duck a day ahead to this point; see Notes)

Glaze and blast the duck: Remove the duck from the oven and increase the oven temperature, preferably to 500 degrees F convection, if you have it, or to 525 degrees F standard. In a small bowl, whisk together the hoisin sauce, orange liqueur, honey, and sesame oil. Carefully transfer the duck (on the roasting rack) to a rimmed baking sheet. Paint the breast and legs with about half the glaze and return the duck to the hot oven. Paint again after 5 minutes, and continue roasting until crispy and mahogany-colored, about 3 minutes in a convection oven, 5 minutes in a standard oven.

Let rest and carve: Transfer the duck to a carving board, ideally one with a trough, and let it rest for 5 to 10 minutes before carving. Carving a duck is much like carving a small version of a goose, so you can refer to the directions in Notes. Be sure each person gets both breast meat and a thigh or leg.

You can use the preseasoning and slow roasting method from the Whole Roast Duck with Hoisin Sauce recipe with just about any flavors you like, including just simple salt and pepper. Just be sure to use at least 1 tablespoon of salt per bird in the presalting step. Follow the trimming and roasting instructions (steps 1-3). Omit the glaze, but do give the duck that final blast of heat to brown it beautifully.
A Restaurant Make-Ahead Trick for Whole Roast Duck:
I learned a great make-ahead trick for roast duck—really for any roast bird— from Boston Chef Jody Adams. Things move quickly in a busy restaurant kitchen, and as Jody says, "It's hell to break down a whole duck when it's hot for service." So Jody and her cooks roast the ducks a day in advance. Then, before the customers arrive, they can calmly carve the ducks while cool (both the ducks and the cooks who are just starting dinner service). The ducks get portioned, and then when an order comes in, the portions are blasted in the hot oven to heat and crisp them up. This is a great technique for the home cook to keep in mind, especially for stress-free entertaining.

In the case of Whole Roast Duck with Hoisin Sauce, follow the recipe through step 3. After roasting, let the duck cool at room temperature (without glazing). Cover and refrigerate for up to 24 hours. To serve, carve the duck into pieces and put them skin side up on a heavy-duty rimmed baking sheet. Heat the oven to 500 degrees convection (525 degrees standard if you don't have convection). Let the duck sit at room temperature as the oven heats. Slide the duck into the oven and heat for 5 minutes, then brush with about half the glaze. Continue heating, brushing again with glaze after another 5 minutes. Expect carved pieces of cold duck to take 10 to 15 minutes to heat through and get crisp.
Shopping for Duck:
Whole Duck: Long Island duck, sometimes called Pekin, is the most widely available duck variety and can be found in most well-stocked markets. Fortunately, this popular breed makes fine eating, and its generous size (5 to 6 pounds) provides enough rich, dark meat to serve 4 people. Some producers apply the term duckling to their birds, but this is merely a marketing ploy meant to underscore their tenderness. Long Island ducks are a fast-growing breed that come to market at a young age, not more than 8 weeks, so whether the duck is labeled duck or duckling, you can expect the same tender, fatty bird. In most markets, look for whole ducks in the freezer section; when handled properly, freezing does nothing to diminish the quality of the meat. To defrost, leave the duck in its original wrapping, place it on a baking dish to catch any drips, and allow 2 full days in the refrigerator to defrost.

Some specialty markets and mail-order sources carry other breeds, such as the Muscovy, a smaller, leaner duck. I prefer the larger Long Island ducks, because when I roast a duck, I want enough meat to serve a small dinner party-which to me means at least 4 people. If you're the sort of cook who roasts a whole duck for 2 people, by all means seek out one of these smaller birds.

Duck Breast: Duck breasts, often labeled by their French name, magrets, can be found fresh or frozen in specialty markets and many upscale supermarkets and through mail-order sources. They are typically sold in vacuum packages of one or two to the pack. Unlike chicken, with which we face the choice among bone-in, boneless, skin on, and skinless, duck breasts are always sold boneless and skin-on. The most commonly available come from Moulard (or Mullard) ducks, the larger of the two species commercially available. (Long Island, or Pekin, is the second type, and is more often sold whole; see Whole Duck, above.) Moulard has a more robust, beefier flavor than Long Island, and I find its heftier size works perfectly for the sear-roasting technique in my recipe. On occasion I have seen a third variety of duck breast, those from Muscovy ducks, a smaller, South American breed (sometimes called Barbarie). Muscovy ducks share characteristics of the Moulard and Long Island in that they are robust and beefy like the former but smaller like the latter. Not all markets, however, specify species. The best way to tell is by size: If the breast is in the 12- to 14-ounce range, it's Moulard. If by chance you come across a smaller breast (around 8 ounces), it's Long Island.

Wild Duck: If you are a hunter, or friendly with any duck hunters, you know that wild ducks differ dramatically from their plump, fatty, domesticated counterparts. The few times I've been the benefactor of a hunter's bounty, I've received dressed ducks weighing as little as 8 ounces and none more than 2 pounds. The best way to roast these lean, bony birds is to brush them with some kind of fat (butter or oil) or wrap them in bacon and roast at relatively high heat (450 degrees) until the breast meat is rosy pink, about 30 minutes. (The slow-roast method I advocate for farm-raised ducks would leave wild duck dried out.) Let the ducks rest for 10 minutes or so, then carve off the breast and serve. The thighs are too tough and stringy to eat as is, so transfer them to a small covered pot with a little bit of broth and braise them in a 300-degree oven until they are tender, another hour or so. They make a fine lunch the next day, or the basis for pasta sauce.
More About Roast Duck
I love Peking duck, the kind you get at Chinese restaurants with its super-crispy skin and the accompanying paper-thin pancakes and hoisin sauce for wrapping it in. I love it so much that I thought I would recreate the dish at home for this book. I knew that authentic Peking duck requires a lengthy preparation process, including a step that involves stringing the duck up in front of a fan for a period of time, but I was gung-ho. At least at first. I went through the rigmarole of blanching a whole duck several times, then hanging it on my screen porch for hours to dry, and finally glazing it multiple times before roasting. In the end I was exhausted, and the results weren't measurably better than what I can get from my favorite Chinese restaurant. I decided to rethink what I was really after, which is this: incredibly crackly, crisp skin and the sweet Asian accent of the hoisin sauce.

Taking a cue from my roast chicken recipes, I decided to try presalting the duck to get that crisp skin. Though this takes some planning ahead—the seasoned duck needs at least 24 hours in the refrigerator—it's much easier, and less unsightly, than hanging a duck from the rafters. The duck then slow-roasts in order to render its fat and cook the tougher leg meat to tender, braiselike perfection. I start with the duck breast side down, as this helps render some of the thick layer of fat under the skin. Prodigious pricking of the skin with a sharp knife also helps release this fat as it melts. As with Peking duck, the meat will almost be falling off the bone, and it will be moist and tender thanks to the natural basting from the bird's own fat.

After carving, I like to serve each person a bit of breast meat and dark meat, rounding out the meal with steamed rice and crisp-tender stir-fried bok choy. For a full on Peking duck experience, chop or shred the roasted duck into bite-size pieces, making one platter of tender meat and another of crispy skin. Serve with warm Chinese pancakes (also called Mandarin pancakes and available in Chinese markets), chopped scallions, sliced cucumbers, and more hoisin. You can also take the minimalist route and enjoy the simple goodness of plain slow-roasted duck by following the directions in Notes.
If you're looking for more poultry recipes, then you will want to see this free eCookbook! Grilled chicken, chicken stir-fry, and so many more chicken recipes can be found in these  13 Easy Chicken Recipes for Dinner and Beyond
2011 Molly Stevens
YOUR RECENTLY VIEWED RECIPES
Free recipes, giveaways, exclusive partner offers, and more straight to your inbox!