Tofu Sushi
Cookbook
Published by Tuttle Publishing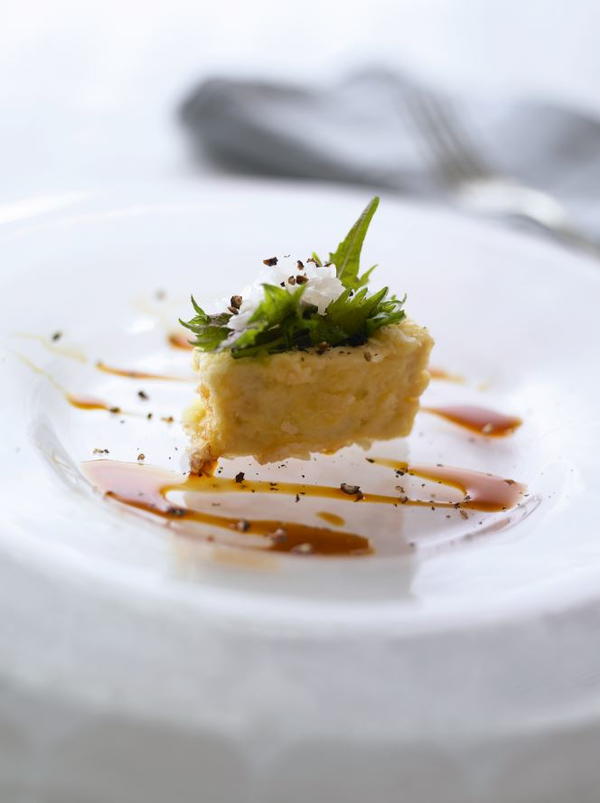 Tofu Sushi
This image courtesy of Norboru Murata
Editor's Note: Vegetarians and meat-eaters alike will delight in this recipe for Tofu Sushi. Topping the fried tofu sushi with the homemade rice instead of rolling up offers a fun twist on traditional sushi rolls. Pieces of firm tofu are coated in cornstarch and egg before being fried until golden brown. The tofu is then topped with herbs, black pepper, and delectable soy dressing that you can whip up in only a few minutes. Family and friends are sure to enjoy this unique recipe for Tofu Sushi.

This scrumptious morsel pushes the sushi envelope with its unconventional, rice-on-top design, but it is also a combination of solidly traditional elements: fried tofu, sushi rice and shiso leaves. The three go remarkably well together, especially if served while the tofu is still warm. The broad, frilly shiso leaves have a distinctly Japanese flavor that falls somewhere between basil and mint. If shiso is not available, you can substitute fresh basil leaves—the largest you can find—for different but still delicious and colorful variation.
Makes8 pieces
Preparation Time - Textminutes plus 1 hour for rice and tofu preparation
Ingredients
1/2 cup (120 g) prepared Basic Sushi Rice
1 14-oounce (400 g) block firm tofu
Oil for deep frying
1 egg
2-3 tablespoons cornstarch
8 fresh shiso (perilla) leaves or 16 basil leaves
Freshly ground black pepper
Sweet Soy Dressing:
1 tablespoon sake
1 tablespoon mirin
1 tablespoon soy sauce
1 teaspoon sugar
Instructions
Press the water from the tofu to make it firmer. To do this, wrap the tofu with a paper towel and place it on a cutting board under a small plate with a weight on top. The weight, roughly 1 pound (500 g), may be a stone no larger than your fist, a coffee mug filled with water, or even a can of soup. Prop up one end of the board so that the water will drain off. (The other end of the board should be in or over a sink.) Let it stand for about 30 minutes and then cut the tofu into 8 bite-size rectangular pieces. 

Pour at least 1 inch (2.5 cm) of oil into a saucepan and heat it to 350ºF (175ºC).

Beat the egg in a small bowl. Dip each tofu piece in the egg, roll it in the cornstarch, and then deep-fry it in the oil until the surface looks golden and crispy. Remove the fried tofu from the oil and let the pieces drain on a paper towel. 

Make a deep slit in the center of each piece of fried tofu. Place 1 tablespoon of the Basic Sushi Rice in the center of each shiso leaf and fold the leaf around it. Insert each leaf-wrapped portion of rice into the slit in one piece of tofu.

Prepare the Sweet Soy Dressing by mixing the sake, mirin, soy sauce and sugar in a saucepan and bringing it briefly to a boil. Drizzle the Dressing onto a serving plate and arrange the sushi pieces on top. Sprinkle with freshly ground black pepper.
Copyright 2014 Yumi Umemura
YOUR RECENTLY VIEWED RECIPES
Free recipes, giveaways, exclusive partner offers, and more straight to your inbox!