Roast Beef and Asparagus Rolls
Updated November 29, 2017
Cookbook
Published by Tuttle Publishing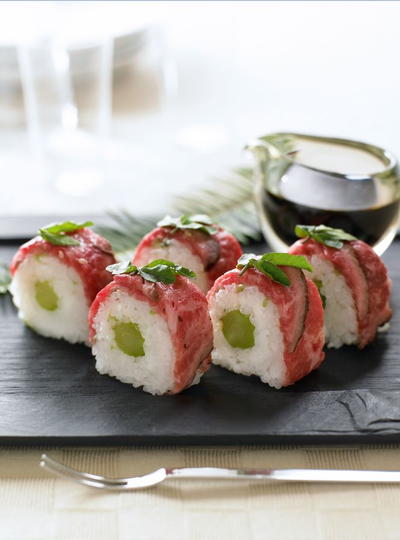 Roast Beef and Asparagus Rolls
This image courtesy of Norboru Murata
Editor's Note: British and Japanese cultures collide in this unexpected recipe for Roast Beef and Asparagus Sushi. You may have seen asparagus used in sushi rolls before, but this easy sushi recipe also replaces the nori with thinly sliced roast beef. The traditional combination of roast beef and horseradish gets a fresh upgrade when combined with bright sushi rice, asparagus, and homemade citrus dipping sauce. This beef sushi roll is the perfect thing to make for pickier eaters who don't love traditional sushi. Sushi purists will enjoy the innovative use for basic sushi rice. 

The use of asparagus as a sushi ingredient is said to be a British invention. But a far more iconically British food is a mouthwatering slab of juicy roast beef with a dab of stimulating horseradish on the side. In this Anglo-Japanese recipe, roast beef and asparagus come together in sushi, with horseradish standing in for wasabi.
Makes2 rolls
Cooking Time - Textminutes plus 1 hour for rice preparation
Ingredients
1 standard quantity Basic Sushi Rice
4 tablespoons finely chopped watercress stems
3 stalks asparagus, boiled in salted water
5 ounces (150 g) thinly sliced roast beef
2 teaspoons horseradish
5 watercress leaves for garnish
Fragrant Citrus Sauce:
2 tablespoons yuzu juice or lemon juice
1/2 teaspoon grated yuzu peel or lemon peel
2 teaspoons soy sauce
1 teaspoon sugar
Instructions
Mix the finely chopped watercress stems with the Basic Sushi Rice. Divide the rice into two portions.

Place a sheet of plastic wrap over a bamboo mat. Spread one of the portions of rice to cover a rectangular area about 7 inches (18 cm) square. Place half of the asparagus in the center of the rice and roll up the rice around it. Tighten the mat around the roll by holding the rolled-up mat with one hand and gently pulling at the mat's free end with the other. The resulting roll should look like a solid white cylinder of rice.

Remove the plastic wrap from the roll and dab a little horseradish all along the top of the roll. Then, layer half of the roast beef diagonally along the length of the roll. Work your way down the roll, placing each piece at the same 45-degree angle to the roll, allowing the pieces to overlap enough to cover the rice.

Drape the roll with the plastic wrap again, followed by the bamboo mat. For this step, don't actually roll it again. Instead, leave it upright (beef on top) and apply gentle pressure to the bamboo mat along the bottom of the roll, so that the mat pulls the toppings firmly down onto the rice roll and gives the top of the roll a smooth, uniform surface.

Repeat with the remaining ingredients to make a second roll.

Mix all of the ingredients for the Fragrant Citrus Sauce, and serve it alongside the rolls. Garnish the top of the rolls with the watercress leaves.
Copyright 2014 Yumi Umemura
Tags / Related Topics
YOUR RECENTLY VIEWED RECIPES