Mediterranean Chickpea Salad
Cookbook
Published by Tuttle Publishing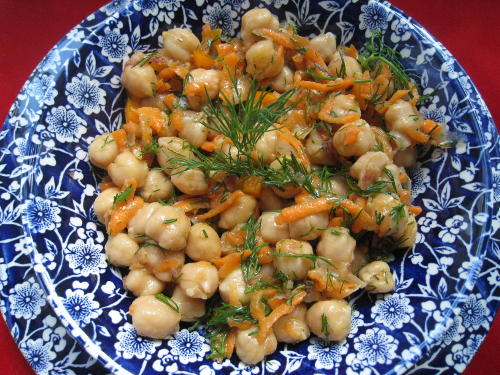 Mediterranean Chickpea Salad
Editor's Note: This delightful salad will be the perfect dish to serve this summer! Hearty and refreshing, this recipe for Mediterranean Chickpea Salad can be served as a filling lunch or as a light dinner, or even as a side dish. Vegetarians and meat-eaters alike will enjoy the combination of flavors in this salad recipe, and you will love incorporating fresh veggies purchased at your favorite farmers' market. This make-ahead salad recipe is one that every busy cook will love to include in their repertoire! Is this your first time cooking chickpeas or beans? Then you will want take a look at the instructions on how to cook the beans and chickpeas that are included below the recipe.

This Middle Eastern treat is a popular offering on the region's meze plates. Meze is a wonderful custom of serving a collage of little nibbles as a pre-dinner snack with drinks. This chickpea-based concoction relies on dill for freshness, onion for zest, and a sprinkling of lemon juice for tang. The creamy richness of the chickpeas balances perfectly with the lively dressing. The dressing has just the right ratio of lemon juice, olive oil, and salt to cling lightly to the chickpeas. The flavors blend even better if you marinate the salad for a few hours in the fridge before serving. 

Preparation Time: 10 minutes, plus 12 hours for soaking the beans
Cook Time: 45 minutes for the beans
Serves4

Dietary ConsiderationVegetarian
Ingredients
¾ cup (175 g) dried chickpeas or one 15-oz (425-g) cooked chickpeas, drained
1 carrot, grated
1 stalk celery, grated
½ red onion, grated
½ green, red or yellow bell pepper, seeded, pith removed, and finely diced
3 tablespoons finely chopped fresh dill
3 tablespoons extra-virgin olive oil
Freshly squeezed juice of 1 lemon
¼ teaspoon salt
¼ teaspoon sugar
Instructions
If you are using dried chickpeas, soak, skin and cook them according to the directions below.

 Combine the chickpeas, carrot, celery, onion, bell pepper, dill, olive oil, lemon juice, salt, and sugar in a medium-size bowl. 

Toss all the ingredients together, cover and refrigerate for at least an hour to allow all the flavors to meld. Serve at room temperature.
Basic Methods for Cooking Beans and Chickpeas
Pick through the dried beans, discarding any discolored or shriveled ones or any foreign matter. Wash the beans in a strainer under cold running water, and drain.

To soak, place the beans in a bowl of fresh cold water. A good rule of thumb is to addthree cups (750 ml) of water to each cup of dried beans. The liquid should be about 1 to 2 in (2.5 to 5 cm) above the top of the legumes, and the bowl should be big enough so that the beans can expand a bit. Soak for 12 hours or overnight. [Note: If you are short on time, you can use the quick-soak method instead of the long soaking process. First cook the beans in boiling water for 2 minutes; then remove the pot from the heat. Cover and soak for about 2 hours. Drain and rinse.] 

Once you have soaked the beans, transfer them to a pot, add enough water to coverthe beans by 2 inches (5 cm) and bring to a boil. Reduce the heat to a simmer, partially covering the pot, and simmer for one hour, adding more water if too much evaporates and beans become uncovered. If any foam develops, skim it off during the simmering process. If the beans are still hard and no more water remains, add ½ to 1 cup (125 to 250 ml) of hot water and continue to cook until soft. [Note: You must skin the chickpeas after cooking: Drain the hot water and fill the pot with cold water. Let the chickpeas sit until they cool down and the skins of the chickpeas crack open. Rub to loosen the skins and discard them. Pat the chickpeas dry with a paper towel.]
Tips for Cooking Beans
• Be careful to add salt or acidic ingredients, such as vinegar, tomatoes, or juice, near the end of the cooking time, when the beans are just tender. If these ingredients are added too early, they slow the cooking process.

• Beans are done when they can be easily mashed between two fingers or with a fork.

• To freeze cooked beans for later use, immerse them in cold water until cool, then drain well and freeze.

• One pound of dried beans yields about 5 or 6 cups of cooked beans. A 15-oz (450-g) can of beans makes about 1½ cups (340 g) of cooked beans.

• In some cases, the skin of the bean is too tough to eat. Chickpeas must be skinned after soaking. With fava beans, the skin becomes tough after cooking. You can shell favas using a knife or your fingers; slice into the skin and then it's easy to squeeze out the bean inside.
Copyright 2014 Dahlia Abraham-Klein
YOUR RECENTLY VIEWED RECIPES
Free recipes, giveaways, exclusive partner offers, and more straight to your inbox!