Korean Barbecued Beef Short Ribs
Cookbook
Published by Sasquatch Books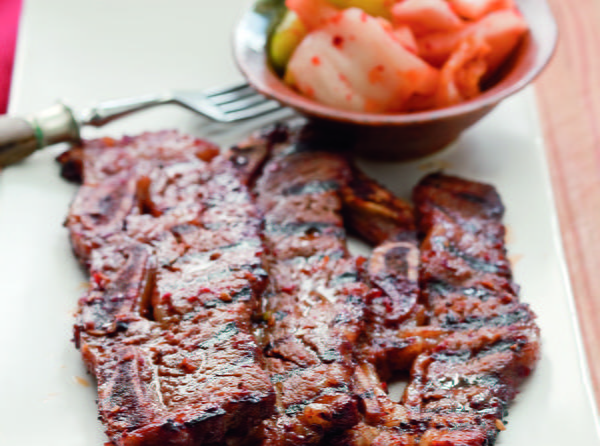 This image courtesy of Laura Ferroni
Editor's Note: Fire up that grill and make this recipe for Korean Barbecued Beef Short Ribs! Loaded with flavor, this easy beef recipe is one that is sure to be a hit with just about everyone in the crowd. You can also adjust this recipe for beef short ribs to suit your tastes and preferences, with a quick tip posted in the Notes section following the recipe's instructions. This recipe for beef short ribs will quickly become a favorite dish in your household. Make some time to read the section "Profile of a Grandma: Sang Jung Choi," which is located after the Notes below.

All Korean grandmothers have their own little secrets for making and tenderizing kalbi. Soda, sugar, and Asian pears are all common tenderizing agents. Grandma Sang Jung Choi (see Notes below) massages kiwis into Korean-style short ribs—beef ribs cut about ¼ inch thick across the bone (instead of between bones) with three bones per slice—they are often available in Asian markets. Your butcher may also have the similarly cut flanken-style or cross-cut beef chuck short ribs; just ask if the slices can be cut a little thinner.
Makes6 to 8 servings as part of a multicourse family-style meal

OccasionBuffet, Casual Dinner Party, Game Day
Taste and TextureGarlicky, Meaty, Savory, Sweet, Umami
Ingredients
4 pounds Korean-style beef short ribs
2 kiwis, peeled and puréed in a blender
2 tablespoons light brown sugar
½ cup soy sauce
6 cloves garlic, finely chopped (2 tablespoons)
1-inch piece fresh ginger, grated (1 tablespoon)
2 tablespoons toasted sesame seeds
2 tablespoons toasted sesame oil
1 tablespoon honey
1 tablespoon Korean red pepper powder
¼ teaspoon ground black pepper
20-ounce bottle lemon-lime soda (see Notes)
Vegetable oil for brushing
Instructions
Using your hands, massage the short ribs with the kiwi purée. Sprinkle each piece evenly with sugar and let sit while you make the marinade.

In a medium bowl, mix together the soy sauce, garlic, ginger, sesame seeds, sesame oil, honey, red pepper powder, pepper, and soda. Place the ribs in a single layer in a wide shallow pan and pour the marinade over, turning to coat. Cover with plastic wrap and marinate in the refrigerator, turning occasionally, for at least 1 hour, or preferably 12 hours.

Prepare a medium charcoal fire (you can hold your hand over the rack for no more than 3 or 4 seconds) with the rack 4 to 6 inches from the coals, or preheat a gas grill to medium. While the grill is heating up, drain the ribs from the marinade. Reserve the marinade for basting, if desired.

​Brush the grill rack with oil and grill the ribs in batches until they turn caramel brown and develop slightly charred edges, 6 to 8 minutes on each side. Baste with the reserved marinade during the first 10 minutes of grilling if you like.

Serve with freshly steamed short-grain rice and kimchi.
Note
If you prefer, omit the soda and add more sugar or honey for a little extra sweetness. 
Profile of a Grandma: Sang Jung Choi

As told by Susan C. Kim 

My 90-year-old grandmother, Sang Jung Choi, grew up in Korea during the Japanese occupation. As a result, her language skills, and her cooking, are Japanese-influenced. 

At thirteen, my grandmother started working in a silk weaving factory to help support her family, and she continued to work even after she married. When her husband died early, she became the sole breadwinner and worked even harder to support her four young children. In fact, my grandmother won an award for her diligence, never having missed a day of work in her 20 years with the factory. 

Since she worked from a young age, my grandmother didn't learn to cook until she was about twenty, considered late for Korean women back then. She didn't have formal training, but rather perfected her skills over the years by tasting other people's cooking, tweaking ingredients, and, of course, practicing. A lot. 

In the 1970s, my grandmother moved to the United States and worked at my aunt's Korean market in Troy, Michigan. Most Korean markets in the United States, as well as in Korea, sell home-cooked foods along with groceries. My grandmother ran the back kitchen and whipped up popular dishes such as korean barbecued beef short ribs, seaweed-wrapped rice and vegetable rolls and stir -fried glass noodles on a daily basis. Customers loved to stop in and pick up her daily specials, wrapped up fresh and hot and ready to go, along with their groceries.

My grandmother also catered for Korean parties and events. She made large quantities of everyday foods as well as special occasion dishes. One example was sweet rice dumplings, a popular item for a Korean baby's first birthday (actually celebrated when the child is 100 days old). People ordered them in huge quantities, and my grandmother formed each and every dumpling by hand. In fact, everything she made was homemade and handmade—no food processors, no prepackaged anything. I remember watching in awe as my tiny, old grandmother hauled vats of boiling water across the kitchen, or stirred a pot of thick gelatin with a wooden spoon for hours on end. My grandmother was, and still is, an absolute perfectionist in the kitchen. She slices, dices, wraps, stirs, and fries with exact precision. And if something doesn't look perfect, she makes me eat it so that she doesn't have to serve it. 

When I was young, my grandmother would have dishes like short ribs and glass noodles waiting for me when I arrived home from school each day. She even timed it so that the food would be hot off the stove right when I walked through the door. To her, serving cold food is unacceptable. 

Today, even my non-Asian neighborhood friends remember my grandmother's cooking. They would sample her food as they ran through our kitchen, even if they had no idea what it was. They tried foods their parents weren't even aware of at the time, such as rice rolls wrapped in nori (seaweed). (Before sushi became en vogue, black sheets of nori were a little intimidating for many American palates.) My playmates were too young to know any better, but now, as adults, many brag that they've been eating Korean cuisine since they were kids. One Jewish boy used to come over and devour an entire jar of kimchi, plain, without rice. We would stand there horrified. Not even Koreans would do that! But the fiendish boy loved the hot, spicy sourness of the famous pickled cabbage. 

My happiest memories are of sitting on the kitchen floor with my mother, grandmother, and siblings wrapping mandu (Korean dumplings), cleaning soybeans, slicing cabbage, and sharing the day's stories. Those moments were more than about making things to eat; cooking was a family gathering ritual, a methodical rhythm of comfort, and, most important, a way to share one's love with others.
2009, 2011 Patricia Tanumihardja
YOUR RECENTLY VIEWED RECIPES
Free recipes, giveaways, exclusive partner offers, and more straight to your inbox!